September 16, 2015, 15:25
Bila Wirriganwalters
18s Ball-Elgin Commerical Standard 16 Jewel Questions
Would someone be able to tell me the production numbers of the 18s Ball 16 Jewel Commercial Standard made by Elgin (grade 331)? Also was it adjusted and what purpose did it serve for Ball, i.e. just for his jewellery division or rail road use?
Thanks to All.
September 16, 2015, 19:21
Buster Beck
I believe the
TOTAL PRODUCTION
for the 16 Jewel, OF, P/S, Model 11, Grade 331 Ball Elgins were 2,000 from serial number 11,853,001-11,855,000. These 2,000 were all made in one run in 1904.
As to "adjustments" I don't believe they were marked. They did have the "J" shaped swan-neck regulator which would make you believe they were "adjusted". However the commercial standards were
NOT
to be confused with the Official RR Standard [ORRS] which was Ball's trade mark grade name for railroad grade watches, as opposed to those that weren't adjusted highly enough to pass inspection, the "commercial standard" grade watches. Those that weren't required to have a RRG/RRA watch could simply order a "near" example from Webb C. Ball in the commercial grade spectrum. They were very nice gentlemen watches of the times.
Webb C. Ball stopped ordering 18sz watches from his "manufacturers" in 1910-1911. He was instrumental in promoting company "trade-ins" for the new 16sz Ball watches by May of 1917 and continued to do so until 1919. The new 16sz Ball watches were not well accepted but through the trade-in programs by Ball and other watch inspectors and putting the new 16sz in "Loaner" cases to be loaned out to the RR men when they brought their 18sz RR watches including Ball watches in for servicing, the 18sz watches were soon taken out of service and out of the "time service rules". These old 18sz "bangers" were then re-sold to carmen, pitmen, car cleaners, and others of that class who didn't come under time service rulings.
Interestingly Ball called his Hamilton line "999's", whereas Ball called the Elgin line "333's". Many jokes were common among RR men that the Elgin Ball's were "1/3" the watch of Hamilton Ball's

Ball didn't use "666" for the very obvious reason

Actually Hamilton 999 took the name from the new locomotive fleet leader, Engine 999 which was a NYC&HRR out of the West Albany shop, a 4-4-0 with tall 86" driver wheels with a top speed of 112.5 MPH in 1893. This was an unheard of and heralded speed for 1893 as the top locomotive train speed then was around 50-60 MPH

That grade number 999 was inspired by the new locomotive and trademarked by Webb C. Ball in 1896.
Elgin 331 was only one of several grade numbers already in use by Elgin, the others were 327, 328, 329, 330, 331, 332, 333, and 334.
regards,
bb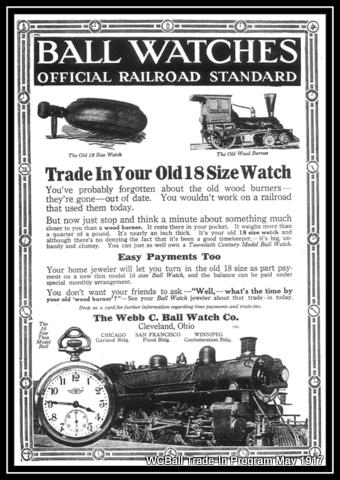 September 16, 2015, 23:13
Lindell V. Riddle

Thanks Buster, you brought up some interesting points about these often overlooked watches.

Ball Commercial Standards are outside of my usual Railroad Watch interests, but having this penchant to have "one of each" kicked in when an unusually pristine Ball Commercial Standard number 11853105 became available a few years ago. Elgin built these somewhat odd watches as part of its Class 120 and designated them as a Grade 331 whereas the Railroad Grade ORRS 17-Jewel was Elgin's Grade 332 although those movements carried "333" markings.

The 21-Jewel Open-Face ORRS Ball-Elgins were their Grade 334 but carried "333" on the movements.

Here is a section where we show and describe the Open-Face 17 and 21-Jewel "333" Ball-Elgins...

Ball-Elgin Open-Face ORRS Watches (all were 18size) Images

At some point we will add pictures and descriptions of the Hunter-Cased Ball-Elgins along with the 16-Jewel Commercial Standard.

Prior to the 18-size Elgin Commercial Standards Ball sold 16-Jewel "Railroad Watch Company" marked movements in that same Non-Railroad Approved category for those who wanted a dependable watch but were not required to have a watch that passed the standards required for Railroad Time Service. Those were Ball-Hamiltons and we show number 20843 which is the lesser Railroad Watch Company version. Click to see: Unadjusted 16-Jewel number 20843 from 1896 production.

These 16-Jewel Commercial Standards had no center jewel on the dial side, in other words the 17th Jewel on a 17-Jewel movement is on the dial side of the movement. By the mid-1890s a "fully-jeweled" American Watch was 17-Jewels or greater, nothing less could enter Railroad Time Service and only 17-Jewel or greater movements were fully adjusted to positions.

Now, while we're into Ball-Elgins, think about this for a moment... In the 1904-1905 period when 18-size Ball-Elgins were produced they had for the previous decade been full-bore into production of 18-size Ball-Hamiltons...
SO THE QUESTION OF WHY THERE WERE ANY BALL-ELGINS MADE

has puzzled collectors for years. My theory is that Ball was exercising leverage with Hamilton by showing he could choose to go elsewhere, after those 2 years there would never again be Ball-Elgins, but they sure are interesting. Ball-Elgin 16-size movements were also considered but never produced.

As you can see, anyone unfamiliar with Ball Watches will find this a very complex subject, it requires a lot of time and attention to master. Collectors like Buster and I have studied them for many years and I believe he would agree with me, the fascination never fades therefore the learning never really ends!

Hope this additional information is found helpful, more 18-size Ball Watches are shown in these topics...
Ball-Howard, 1890s Beauty
Early Ball-Hamilton 18-size Images
Ball-Elgin (all were 18-size) Images
Later Ball-Hamilton 18-size Images

Enjoy all the information at IHC185™ and if you are not yet a member, consider joining us!

Lindell



September 16, 2015, 23:58
David Abbe
Only Elgin reached the pinnacle of 18s. This one I restored for my late collection was one of my most favorite examples . . .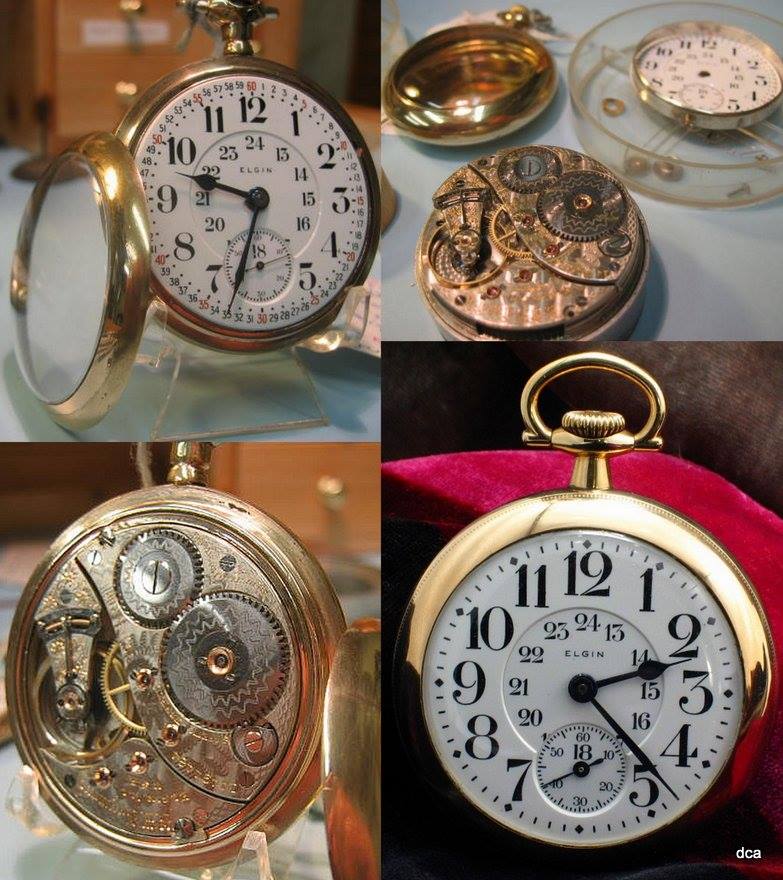 September 17, 2015, 05:55
Bila Wirriganwalters
Thank you greatly Buster and Lindell for the excellent information, looks like I have a lot of research to do. Thanks David for the pictures of that nice Elgin, not as popular for some but they sure are nice eye candy.
Cheers,
Bila
September 17, 2015, 13:32
Mark Cross
Dave, did Ethan get that Elgin Veritas from you, if I may ask? If not, I have its twin in MY collection.
Regard! Mark
September 17, 2015, 13:35
William D. White
That is quite a watch!
September 17, 2015, 16:16
David Abbe
Mark that one I pictured is a grade 240 19J B.W.Raymond s/n 14494484 but I do not remember who bought it. When I finished restoring it, it was very accurate.
At that time I had a few, and sold them all . . .
S/N's; 8578569, 9777766, 11201355, 12935865, 14233367, 14411515, 14494484, 14814659, 14866852, 21925915
Most had 24 hr. Canadian dials and cases, seemed to be very popular amongst the "Canuck Railroaders"
September 17, 2015, 16:21
Mark Cross
Ah, a BWR! Mine has exactly the same dial and case, but is a 23j Veritas 214 with diamond end stones from 1911.
BEAUTIFUL movements!
Regard! Mark
September 17, 2015, 16:25
David Abbe
I had 2 of those 23J Gr 214's, s/n's 10482953 & 13425321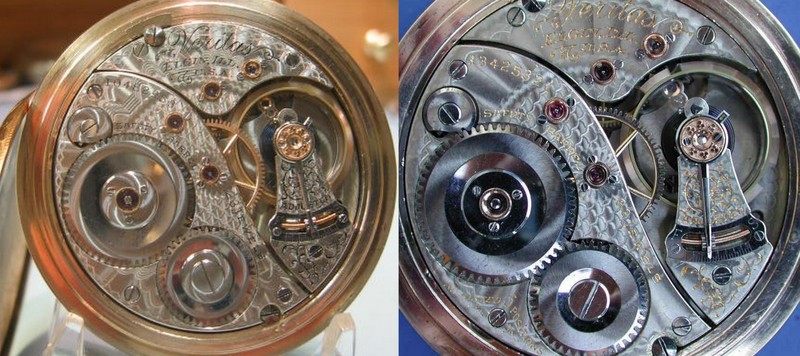 September 17, 2015, 17:10
Mark Cross
Beautiful movements, aren't they?

Regard! Mark