Internet Horology Club 185
Request for a watchmaker that can repair Vintage Bulova Accutrons
March 05, 2020, 19:43
Bill Manders
Request for a watchmaker that can repair Vintage Bulova Accutrons
Hi all, I am really searching for a person to repair my Bulova Accutron Astronaut MarkII.
I have had little success in BC, so now will go out of province, and to the US if necessary.
Thanks for any info,
Bill
March 06, 2020, 07:42
Dr. Debbie Irvine

Bill,

Try contacting IHC Member Chris Abell I know he has in the past worked on Accutrons.

Either he can take it on or refer you to someone reliable who can.


May 08, 2020, 17:33
Geary Hurst
Good luck with it, I hope Chris can help. Yours is the only other one I've seen. This one survived as new because it is missing the luminous dot at 4.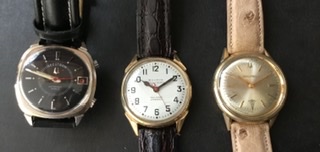 July 01, 2021, 10:32
Mark Cross
Came across this site in my ramblings. No clue who they are or if they're any good, but they're out there.
https://www.accutrons.com/
At the time I found this site, I was looking for someone to clean my 214, as it started keeping AWFUL time, even though I had replaced the battery. I decided to just try putting in ANOTHER new battery, and danged if it didn't fire up and has been keeping perfect time ever since. That was over 6 months ago.

Regards! Mark
July 07, 2021, 15:27
Bill Carlson
Mark.. Good that you have the 214 working again. They are a neat watch. I discovered there are more Accutron repairmen out there than we realize. Maybe no storefronts, but good recommendations and don't cost an arm an a leg.


Bill Carlson
July 08, 2021, 09:31
Mark Cross
Yeah, checked it just this morning and it's still keeping perfect time. When in doubt, check the battery.

Regards! Mark
July 09, 2021, 19:46
Billy Kuhn
Bill the Accutron you have for repair has a different circuit board then the 218. Does the watch hum when you put a new battery in it?
October 29, 2021, 13:04
Dr. Debbie Irvine

Don't forget to check out this topic...

ACCUTRON, BASIC TOOLS AND IMPORTANT INFORMATION