September 13, 2004, 22:24
Ralph Rehner
Seth Thomas Brighton
I thank Tom Seymour for the fantastic job of rebuilding the engine on this restoration.
The Brighton project is now completed and hangs on the wall instead of being tossed in the fireplace.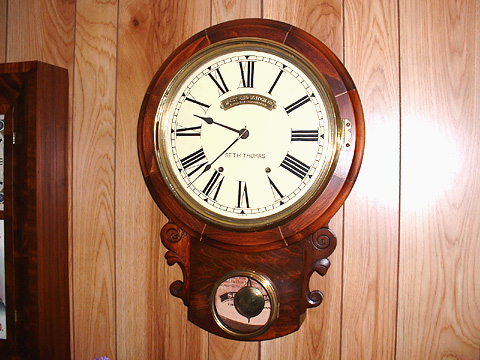 September 13, 2004, 23:19
Jim Cope
....hear!!hear!!!(many honourable members)...

September 14, 2004, 06:14
Rich Kuhn

It has been a long time comming. The amount of work on both the case and the movement was huge.
Great job Ralph and Tom.
September 15, 2004, 17:25
Phil Dellinger
Ralph and Tom,
It has been very interesting to watch this restoration in progress.
The results look terrific!
( Jim Cope: I sure like those applauding hands!

)
September 15, 2004, 21:03
Kevin Pestor
Great job Ralph and Tom.Two very skilled clock guys.That is a very good looking clock.There are many hours of work and thought put into that clock.
It would have been a shame to see it thrown out.