Internet Horology Club 185
My New South Bends
July 21, 2012, 15:29
Jared Brinker
My New South Bends
About a little over a month ago, I picked an 18s 327 South Bend movement that was in need of a deep cleaning and put back together. I am still waiting to find a dial for the movement but here it is. Serial number is 555,012.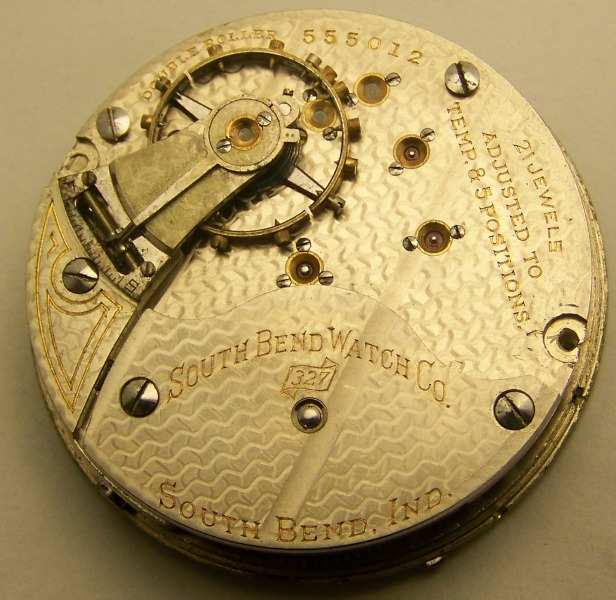 July 21, 2012, 15:32
Jared Brinker
With only a little over 300 made, it is difficult to find these. To my surprise, a little over a week ago, I had an opportunity to pick up another 327 South bend. I jumped on it without any question. Why you ask? Its all about the serial numbers. The second one is serial number 555,011, making it consecutive to the one I bought about a month ago! It is a complete watch just needing a little cleaning, otherwise minty dial and beautiful case.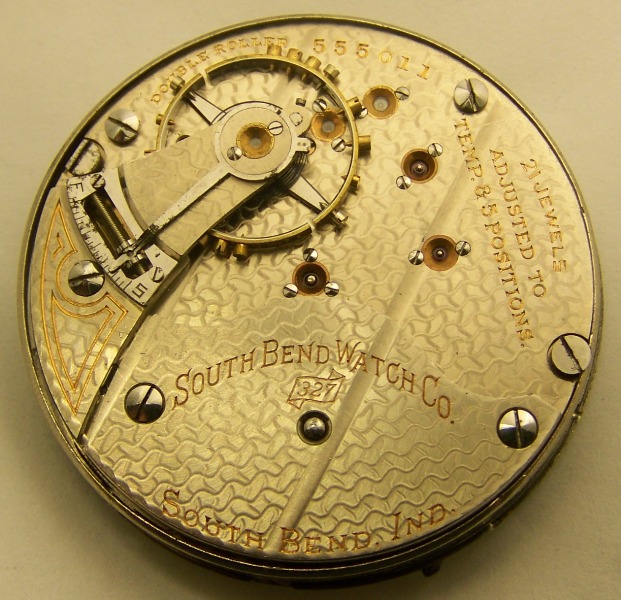 July 21, 2012, 15:34
Jared Brinker
And last but not least, two consecutive 327s pictured together. To say the least, these two are now the centerpiece of my collection! I will try to post some pics when I have them both cased and get a dial on the first one. This may be a while as the correct montgomery dials are far and few between.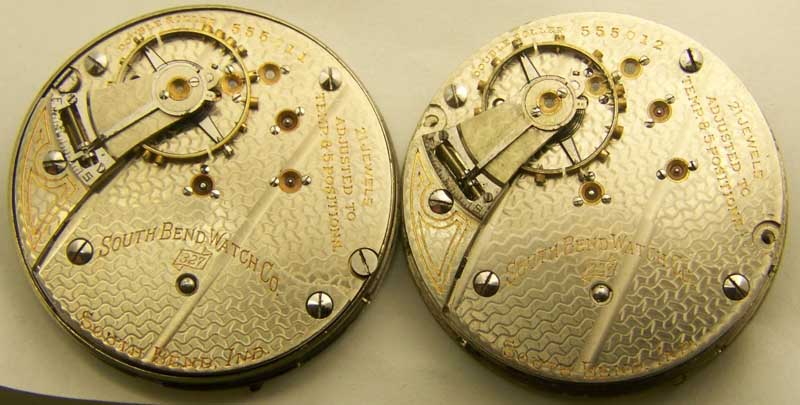 July 21, 2012, 18:06
Roger Stephens
With that kind of luck you need to play the lottery odds are probably about the same.A home run hit for sure!!!

July 21, 2012, 18:26
Dan Miller
Holy crap!!!!! Thats amazing!!! I just picked up 2 grade 223s today and i thought i did good sheesh!!! You are the man for sure.
July 21, 2012, 18:34
Jon Hart
Jared,
Interesting...

'Cause I've got friends in low places
Where the whiskey drowns
And the beer chases my blues away
And I'll be okay
I'm not big on social graces
Think I'll slip on down to the oasis
Oh, I've got friends in low places
July 21, 2012, 18:41
Jim Bielefeldt
Very nice. I wish I had enough luck to even get one south bend.
July 24, 2012, 21:30
John J. Flahive III
Great 327s Jared! Amazing that they are consecutive too. Congrats!
July 25, 2012, 11:24
Jared Brinker
Thanks everyone. I will try to post some pics of the newest one after I run thru it. They are a very pretty watch overall as almost all I have seen have a montgomery dial. I would assume the ones without have been changed and I've only seen one I can think of without a montgomery dial.
Jared
July 25, 2012, 21:22
Theodore J. Brown Sr.
Jared-Your'e a lucky man!Nice 327's.Those are nearly impossible to find, let alone w/ consecutive numbers.I've always wondered why so few 327s were built, when at the time they came out, 18 sizes were still selling and the 16s version, the 227, was really popular.Thank you for showing them...Ted
July 26, 2012, 11:55
Donald Trumble
Great finds Jared, congratulations on finding them and on your restoration work.
Lindell calls the South-Bend 327 their "other" 21-Jewel 18-size RR Grade movement. Here in this topic "
18 Size 21-Jewel Grade 327 Information
" he gets into that a bit more and provides some numbers. This additional quote from "
SOUTH-BEND WATCHES, HISTORY OF THE COMPANY AND THEIR PRODUCTS
" is also enlightening:

"A practically unknown 18-size South-Bend Adjusted 5 Position RR Grade watch is the Grade 327 of which little more than 300 were likely produced. In fact the 327 grade is so very uncommon, not many years ago some collectors tended to question their existence!"

Thanks to this forum all the information is readily available to everyone.
Don
August 21, 2013, 22:22
Jared Brinker
Well...
Got twins again... I haven't gone thru these both yet, but both want to run. A pair of 419 South Bends, consecutive serial number 628,959 and 628,960. These will go nicely with my consec 327's. Now only about 75 more grades to go.... This again brings back my thoughts that it is easier to get consecutive numbers found with grades of watches that there are less of. If you own one and see another watch of the same grade, the odds are in your favor on a low production grade!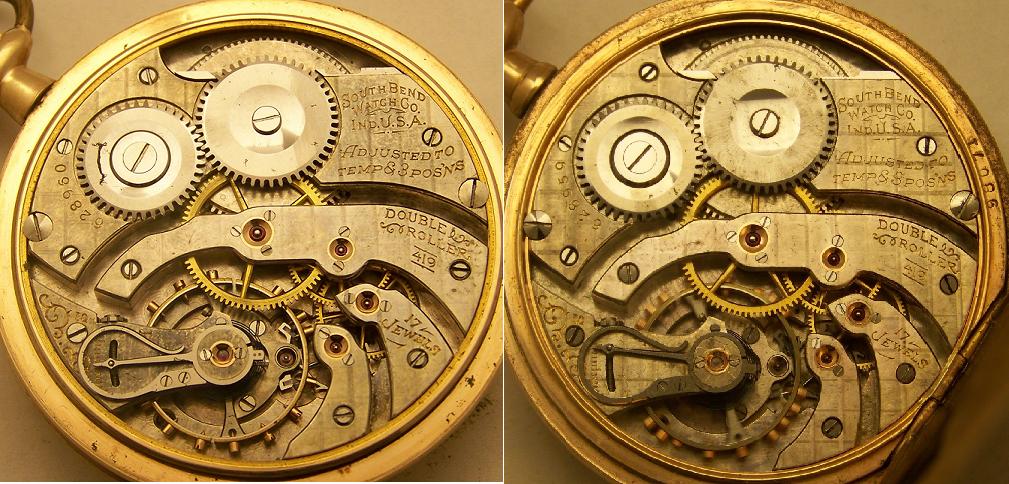 August 22, 2013, 18:28
Rafal Woler
nice one, let me know if you have any spare one to sell please. I cant see it on ebay at all.
August 22, 2013, 19:02
Jared Brinker
Rafal-
They only made 1,500 of them so they dont come up very often. I do have 4-5a extra around here, so ill see what i can come up with. Planned on selling a couple since i have consecitive now.
Thanks,
Jared
August 22, 2013, 21:00
Gary E. Foster
Nice watches Jared. Look forward to seeing them after you get them tuned up.
Gary
August 23, 2013, 03:54
Rafal Woler
Thanks Jared, this would be great, I have all 12s except 417, 419 and 431 so Im almost done with this size hehe

August 23, 2013, 12:27
Jared Brinker
Rafal-
The 417 is basically non-existant with 500 serial numbers blocked out. I have one, but it is currently non-running. Maybe one of these days i'll get it going. I do know that my father has a studebaker display watch that was made from a serial numbered set of 417 unfinished plates somewhere in the middle of the run, so i don't think there were more than about 200-300 actually made. The rest probably never made it to the market before some of the later grades ran over over the 417 grade and it became obsolete...
The 431 is somewhat uncommon, again I have multiples, so I'll look thru them too.
Jared
August 23, 2013, 17:37
Jack Marsh
Really Cool Jared I like Em !!
August 24, 2013, 10:19
Leonard Abbott
jon
i know that song ! ya know country music singers have always been a real close family. !
August 25, 2013, 17:44
Rafal Woler
Jared, Ive dropped you an email (Im not sure if you received it).