September 23, 2021, 17:27
Leo Horishny
South-Bend Purple Ribbon Watch
I noticed last night, on one of the pages of ads I scanned, there was one, mid 20s?, referencing South Bend and a purple ribbon standard of some sort with a watch chain included.
Does anyone have an actual South Bend Purple Ribbon watch device? I have noticed occasional watch ribbons, when searching around for watch chain images, but that I remember, most I believe I've noticed have been black.
Any comments or information to add?
Leo Horishny
Sun Valley, NV
October 21, 2021, 13:17
Bill Stockton
Hi Leo
Not sure what you were looking at but to my knowledge there was never a purple ribbon "device". What the purple ribbon refers to is a cloth ribbon that was over the front of South Bend watches in the original display box. Just a marketing thing. I don't have an available photo but if you search "South Bend Watch Purple Ribbon" I assume one will come up.
October 23, 2021, 02:18
Leo Horishny
Thank you both. I have to track the ad down again, I'm remembering what I saw different and what I think I was seeing was a watch fob, with a swallowtail edge, that was a purple ribbon.
Maybe I misremembering what I saw, but I thought there was a purple ribbon watch fob. That was the "device" I was thinking of. I'll have to dive back in and try to find it. It was a circa 1920s era drawing, as I recall.
Those purple ribbon photos are cool looking though, definitely a distinctive ad campaign!
Leo
October 23, 2021, 10:59
Ethan Lipsig
I don't think the purple ribbon was anything more than a marketing ploy, as shown in this ad.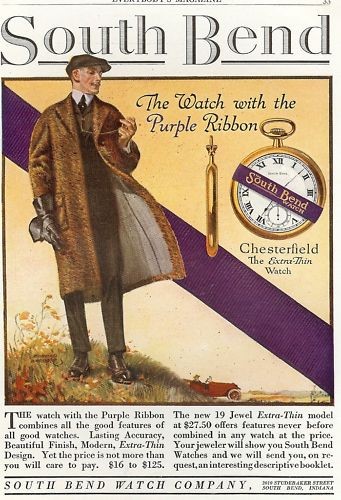 October 23, 2021, 18:12
Leo Horishny
That seems to be the case[sic]. A clever one though.