December 27, 2018, 20:12
David E. Booth, Jr.
Type A 13A AIrcraft Clock Manual
Searching for a copy (print or electronic) of USAF Technical Manual TM 55-6645-200-50, which covers servicing the Waltham Type A-13A Aircraft Clock. This is a size 22 clock, with 22 jewels and stopwatch/chronograph function. Some civilian variants also have a day/date complication. They were manufactured from 1962 to present, and furnished in a variety of US military (and civilian) aircraft.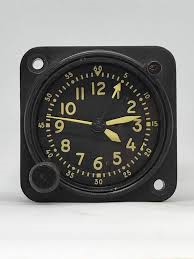 March 17, 2021, 09:59
Mike Ritchey
Old Post I know but did you ever come across a copy of this TM? Anybody else have an idea where one might get a copy?
March 18, 2021, 02:07
Jim Hester
There is a small inaccuracy in the original posting. The Model A-13A aircraft clocks were first made in 1953 by the Waltham Watch Company. Then starting in 1957 they were made by the Waltham Precision Instrument Company. As I recall they were continued to be made up until about 1990 but successor companies. The Technical Manual was printed in 1955, hence its beginning numbers TM 55.