Internet Horology Club 185
Hamilton Model 23 Questions
February 11, 2012, 21:08
Jim Hester
Hamilton Model 23 Questions
That is a very nice example. The date the guy gave you of 1935 - 1936 does not make much sense in that the Army Air Corps was very small at that time and there would have been little need for such a fine timepiece. I would go along with the early 1940s as more likely as that was when the war was just getting started and contracts for all kinds of war materiel including timepieces were being competed and handed out as fast as possible.
Did you get a paper from the guy documenting this great timepiece? It is self explanatory as it is, but a letter on company letterhead from the ex-Hamilton President would be a major plus to go with it.
February 11, 2012, 21:18
Hugh John Pinto
Jim, I don't have any document from the president I got it from, he was actually no longer with Hamilton when I purchased it. I am trying to follow up on this now, but its a longshot!
Your right,it is almost certain that 1940, is about right for its origin.
I could also get some idea, from the Sample 49 in the Columbia museum, mentioned above.
Thanks for your input.


JOHNHPINTO
February 12, 2012, 10:09
Jim Hester
If you still have the guy's contact information it would be worth the effort to write to him to ask him to send you a letter with what he knows about it. Such documentation can really add to the historical value and the monetary value as well if you ever sell it.
January 15, 2014, 21:42
Robert Boll
I have a really interesting watch. It is from the Hamilton Watch Co. a Model#23 chronograph, sample #50. Just wanted to share and get additional information on this piece...
January 16, 2014, 08:24
Robert Boll
Here is a photo of the sample watch #50.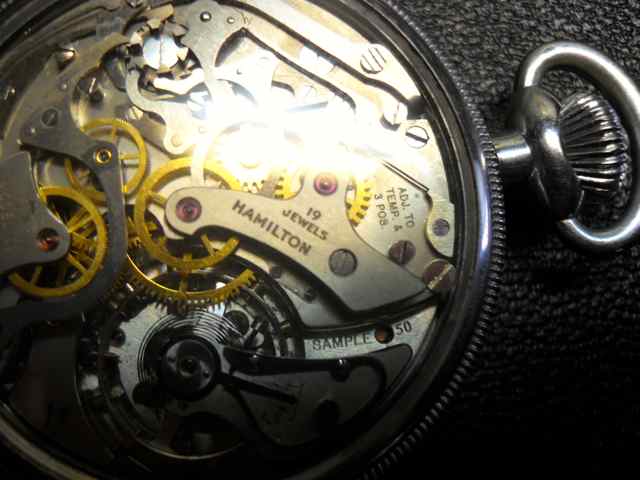 January 16, 2014, 08:35
Robert Boll
This is photo of the sample #50. Front view...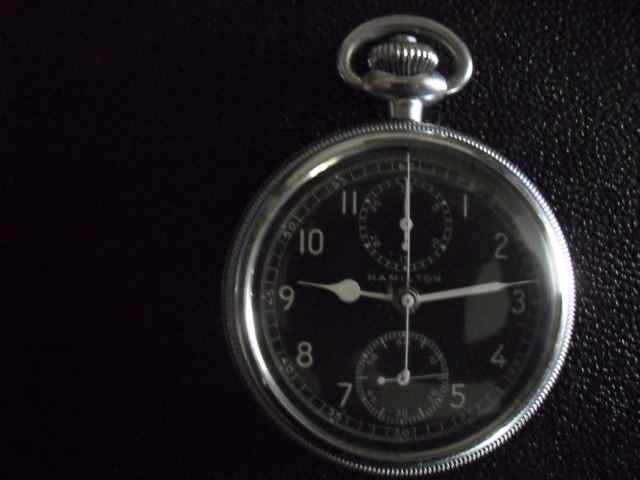 January 16, 2014, 08:50
Tom Brunton
what a spectacular piece of the amazing story of the great Hamilton Watch Company gearing up to fight WW2

Envy-lust-coveting something of thy neighbours-yes I'm experiencing all of the above

July 22, 2014, 23:36
John P. Stoll
Where can I get a parts diagram or list for a model 23? I've been searching the site for quite a while without any luck. I just purchased a Model 23 that's missing a few parts.
Thanks
John
July 23, 2014, 08:27
Gary E. Cochran
John,
I can send you a copy of the book I have (parts catalog for the Model 23) for $10 + 2 shipping...(just trying to cover the expense of making a copy and shipping)
July 23, 2014, 12:15
John P. Stoll
Gary, that would be great. Do you have a PayPal account that I can send the money to? Also, I'm looking for a sweep seconds center wheel and pinion. My Model 23 is missing one.
Thanks,
John
July 23, 2014, 13:21
Jon Hart
John,
I have a parts tin with some Model 23 - 19 jewel parts. If you have a picture of the exact part(s) you need - I can look for you.
Good to hear from you!

July 23, 2014, 13:52
John P. Stoll
Jon,
That would be great thanks. I appreciate the help.
John
July 23, 2014, 19:39
Roger J. Nolfe
Best source for Hamilton Chronometer parts I have found is here:
click for:
LINK