Internet Horology Club 185
Hamilton Model 23 Questions
February 03, 2012, 19:45
Hugh John Pinto
Hamilton Model 23 Questions
I have a prestine Hamilton 23, pocket watch, with chronograph function. There is no serial number, it is marked SAMPLE 51, where the serial number usually goes.
I obtained it from an ex president of Hamilton, in Lancaster Pa. He said it was a pre-production watch, shown to the US Defence Dept or Army for approval.
Any comments are welcome.


JOHNHPINTO
February 03, 2012, 21:08
Harry J. Hyaduck Sr.

WOW!
February 03, 2012, 21:21
Roger Stephens
Pictures please. Roger
February 03, 2012, 23:22
Hugh John Pinto
Image of dial: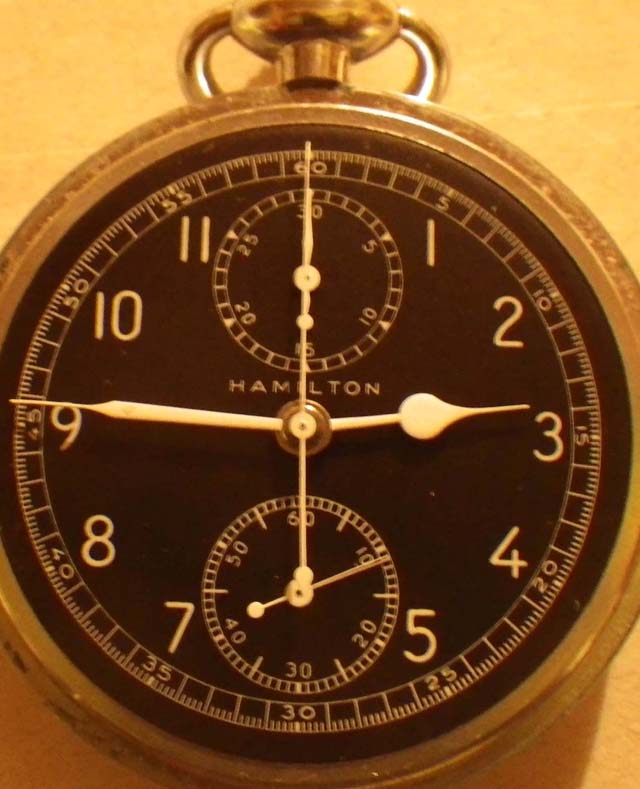 JOHNHPINTO
February 03, 2012, 23:24
Hugh John Pinto
Image of movement: Sample 51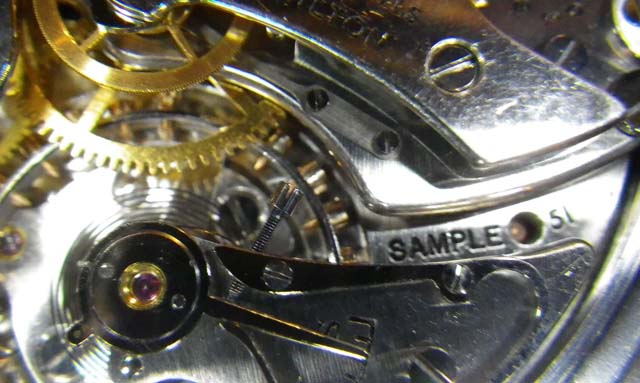 JOHNHPINTO
February 03, 2012, 23:26
Hugh John Pinto
Final Image, sorry about the size! I'm new to this site.


JOHNHPINTO
February 03, 2012, 23:33
Hugh John Pinto
I think I messed up this is the right placed!
3 pics added.


JOHNHPINTO
February 04, 2012, 00:01
Buster Beck
That looks veeeeery interesting

How about pictures of the dial and case and any other accessories with it ??
What about documentation ?? That may well be the key to determining what you have

[ p.s. Once you post a picture, down at the bottom right hand corner is a blue tab that says, "Reply to Post". Click that tab and add another picture, and do the same for each additional picture. ]
Here is what very little I know of these. And I am at the "toddler" stage

;
Developed for World War II era, Hamilton Navigator's chronograph watch, Model 23, usually housed in an original U.S. Army metal canister carrying case with round viewing window, manufactured by George H. Adamson, of Tecumseh, Michigan. Circa 1942-1943. The watches were used by the U.S. Army Air Corps as a navigation watch and bomb timer. The protective metal canister with spring cushion support mechanism are rarely found and were given to the navigators of various types of bombers and troop carrier planes, so that they could synchronize the timing of their missions. The Hamilton Model 23 has a 16 size Keystone base metal case. It has a complex, high grade movement with 19 jewels, 1/5 split second divisions on the black dial, suspended and compensated balance, stem wind/stem set, single button start/stop/reset chronograph/timer. Easy to read white Arabic numerals and hands on a black dial, with dual subsidiary 60 seconds dial and 30 minutes counter. The movements were adjusted to temperature and 3 positions. The metal canister should have the manufacturer's metal label affixed.
There will be more to follow me that will give you precise facts and much better informed information.
Any other accessories? And a picture of the case back, both inside and outside please

regards,
bb
February 04, 2012, 01:42
Ray Hallenbeck
Looks like any other model 23, except that sample 51 serial number

. All I can say is WOW. Others with more knowledge will be able to help you and I cannot wait to learn about this watch with you. How long have you owned it? If there are 50 other samples out there, there must be some documentation of these somewhere.
February 04, 2012, 08:58
Hugh John Pinto
This Model 23 has a salesman sample type glass display back, as I suspect is quite logical.
I have had it for about 15 years or so. It was advertised in the mart, and I rushed from Montreal to Lancaster Pa, in a weekend to get it!


JOHNHPINTO
February 04, 2012, 09:13
Edward L. Parsons, Jr.
Very nice!


Best Regards,

Ed
February 04, 2012, 09:19
Hugh John Pinto
Thanks Buster for the tech info, and to all for your comments and interest.
I have no accessories or documents.
The ex president from whom I obtained it, did mention a probable maufacturing date of 1935-36.
Great people great site!


JOHNHPINTO
February 05, 2012, 23:47
Buster Beck
You are more than welcome, any time

What will become of this watch ??
I'm sure there are many who would enjoy such a piece

regards,
bb
February 06, 2012, 00:37
Tom Brown
I am also amazed at this example, it would be my most treasured watch if I owned it.
Tom
February 06, 2012, 08:57
Hugh John Pinto
I have further info kindly given by a Mr Rhett Lucke: As for the history of your specific watch, I can tell you that it was still at the factory in September 1979. At that time, Hamilton had (4) M23's with no serial numbers. (3) of these watches (including yours) had "Sample" markings while the 4th example was cutaway to show gear action. At that time, I believe all (4) were uncased movements. If I remember correctly, one of these watches ("Sample 49") currently resides at the ***** Museum in Columbia, PA.
Manufacturing date was about 1940 according to Mr Lucke.
More to follow.


JOHNHPINTO
February 06, 2012, 09:18
Hugh John Pinto
More from Mr Lucke who sent me a Hamilton Document, here are some excerpts:
"In this movement provisions are made for continuous running hour, minutes and seconds totaliser, and miute totaliser for interval timing." (Continues with push button operation..)
"The train escapement, and balance unit in this model are essentially but not identical to the B Series watches."
"Regular Hamilton features maintained in this model include friction jewelling,pentagon stud, elinvar hair spring, monomettalic balance,two piece balance staff, micrometric regulator, and complete interchangeability, except for matching hairspring and balance wheel, and the fitting of chronographic mechanism parts."
"Performance are in accordance with contract orders against which movements are supplied."
Thats all I have for the moment. Thanks to Rhett Lucke for this info, and to all the interest shown by our club members.


JOHNHPINTO
February 06, 2012, 09:29
Hugh John Pinto
Buster, I think for the short term I will continue to enjoy the watch. Eventually I will put it on the Block.
We are all caretakers of these wonderful objects, and I think, we must all eventually find worthy custodians, of our treasures.


JOHNHPINTO
February 06, 2012, 10:31
Eugene Buffard
WOW that is all I can say. It was good talking to you.
February 09, 2012, 15:42
Werner Rosier
John, congratulations on such a fine specimen, I wish it were mine

Here´s what the watches were all about, after they were enlisted...
Same spec, the Breitling and the Wakmann605A next to the Hamilton23
Their enviroment

Bubble Sextant
Serial No.
674-41
Inscriptions:
"AIRCRAFT OCTANT / MARK IV / BUR. OF AERO. U.S. NAVY / SER. NO. 674-41 / ORDER NO. 83600 / F.S.S.C. NO. 88-0-250 / MFRD. UNDER PATENTS NOS / 1556994 1674500 1970543 / 2221152 / OTHER PATENTS PENDING / PIONEER INSTRUMENT / DIVISION OF BENDIX AVIATION CORPORATION / BENDIX, NEW JERSEY, U.S.A."

Discussion:
The Mark IV bubble sextant has a mechanism designed by Lt. Comdr. Ira Hobbs of the Naval Aircraft Factory that averaged observations along with the times at which they were made. It also has a novel method of illuminating the bubble designed by Gregory Rylsky, an engineer employed by Pioneer. The form was introduced in 1941 and remained in use throughout the war.
Ref: Instructions for Operation and Maintenance of Pioneer Instrument Division of Bendix Aviation Corporation Aircraft Octant FSSC No. 88-0-250 Bureau of Aeronautics, U.S. Navy Mark IV Contract 83600 - March 21, 1941.
Mark 4 Aircraft Octants for Bureau of Aeronautics United States Navy. Operation and Service Instructions (Teterboro, N.J.: Eclipse-Pioneer Division of Bendix Aviation Corp, 1943).
I. E. Hobbs, "Octant Time and Altitude Correlating Device," U.S. patent #2,340,324.
Gregory Rylsky, "Illuminating Means for Navigating Instruments," U.S. patent #2,221,152.

Best Regards
Werner


My WWW collection is now complete, time to look for new ventures!
February 09, 2012, 20:37
Hugh John Pinto
Werner I have heard about your legendry collection, from our mutual friend Tom Brunton.
This last posting is a magnificent exhibit, which shows the precison and usefulness of these watches.
This info certainly adds my knowledge of the practical use of Model 23.
Thanks for the posting.


JOHNHPINTO
February 10, 2012, 07:28
Werner Rosier
That´s what this forum is all about, sharing our knowledge with others.
...as for our mutual friend Tom Brunton, well he´s exaggerating as usual

but you couldn´t find a better friend, even if you scoured the face of the earth in a hundred years, and a friend of Tom is a friend of mine

Good to have you here John.
All the best
Werner


My WWW collection is now complete, time to look for new ventures!
February 10, 2012, 15:40
Hugh John Pinto
As I keep saying since joining this IHC club, great site, great people. Thanks Werner!


JOHNHPINTO