Internet Horology Club 185
ANY VINTAGE WAR PICTURES WITH MILITARY WATCHES IN USE?
December 01, 2015, 12:06
Mark Cross
ANY VINTAGE WAR PICTURES WITH MILITARY WATCHES IN USE?
I'm back in town, Dave, and have sent you the email with the attachment.
Thank you VERY much!
Regard! Mark
December 01, 2015, 12:13
Dave Turner
Mark Cross' Dad 1944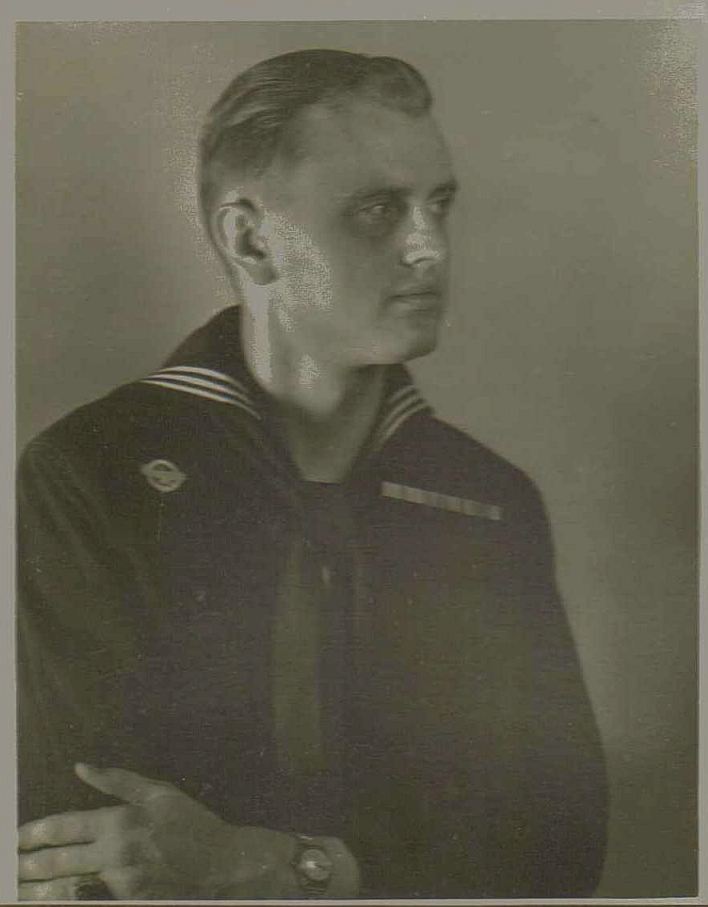 Dave Turner
December 01, 2015, 12:20
Mark Cross
Thank you, Dave!
Like I mentioned above, that's Dad wearing his 1943 Lipton(Rolex) 15j Oyster he received from my Grandpa for his graduation. He wore it daily until 1986, then gave it to me. I sent it to Chris Abell a couple years ago and he completely overhauled it for me, so it remains a viable timepiece in my family.
This was Dad's graduation photo when he left Great Lakes and before being sent to a destroyer in the Atlantic for the remainder of the war.
Regards! Mark
December 01, 2015, 14:59
Dave Turner
The watch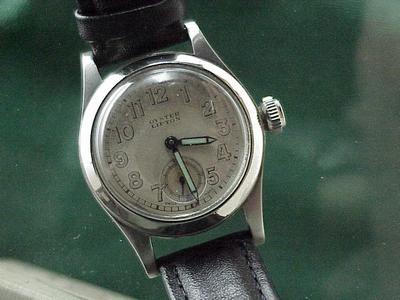 Dave Turner
December 06, 2015, 09:55
Robert Butler
Great photo, and a great watch too.
Cheers, Bob.
December 07, 2015, 02:43
Robert Butler
Here is a photo of Signallers in Waziristan, 1902.
Here is a group of officers of the 29th. Punjabi's, dated circa 1914.
See the officer in the foreground, with what appears to be TWO watches on his wrists?
Very unusual!
After further research, I found this snippet from an article in an Australian newspaper, about a Sergeant-Major Frank Weir, and his diary during the Boer War.
In the excerpt, dated November 1900, we see that:
quote:

The perspiration soaked everything; my wristwatch and leather compass were like tape from the perspiration.
This leads me to believe that the officer in the 29th. Punjabi's was wearing the same as S.M. Weir, a watch and a compass.
Thanks for looking, Bob.
December 07, 2015, 03:00
Robert Butler
Two prints of aerial photographers in WW1.
April 19, 2016, 14:06
Robert Butler
Here is a WW1 pilot local to me, born only half a dozen miles from my home.
quote:

Albert Ball, VC, DSO & Two Bars, MC (14 August 1896 – 7 May 1917) was an English fighter pilot during the First World War. At the time of his death he was the United Kingdom's leading flying ace, with 44 victories, and remained its fourth-highest scorer behind Edward Mannock, James McCudden, and George McElroy.[1]

Raised in Nottingham, Ball joined the Sherwood Foresters at the outbreak of the First World War and was commissioned as a second lieutenant in October 1914. He transferred to the Royal Flying Corps (RFC) the following year, and gained his pilot's wings on 26 January 1916. Joining No. 13 Squadron RFC in France, he flew reconnaissance missions before being posted in May to No. 11 Squadron, a fighter unit. From then until his return to England on leave in October, he accrued many aerial victories, earning two Distinguished Service Orders and the Military Cross. He was the first ace to become a British national hero.

After a period on home establishment, Ball was posted to No. 56 Squadron, which deployed to the Western Front in April 1917. He crashed to his death in a field in France on 7 May, sparking a wave of national mourning and posthumous recognition, which included the award of the Victoria Cross for his actions during his final tour of duty. The famous German flying ace Manfred von Richthofen, remarked upon hearing of Ball's death that he was "by far the best English flying man".
His medals, on display at Nottingham Castle.
His memorial, also at Nottingham Castle.
More info below.
http://s5.postimg.org/605prfuon/1916_albert_ball.jpg
April 19, 2016, 14:34
Robert Butler
This booklet from 1910 shows in the page below that British officers were required to wear wrist watches.
This photo below shows Major Francis Younghusband, leader of the 1903 Tibetan Expeditionary Force, wearing what appears to be a genuine wrist watch, of the type with lugs and not a leather pocket watch holder.
This may be the earliest photo of this type of wrist watch.
The poor resolution of this image is down to it's being a photo of my TV screen!
Thanks, Bob.
June 14, 2016, 14:08
Robert Butler
Some Boer War-era photos.
Lt. Leslie C. Maygar, VC.
Colonel Henry Finn, DCM.
Officers of the King's Own Royal Lancasters.
Some musicians having a bit of fun.
Here is an excerpt from a circa 1900 Omega catalogue showing these wristlets.
And a 1901 advert for the Mappin "Campaign Watch".
Thanks for looking, Bob.
June 15, 2016, 11:20
Greg Crockett
Thank you Bob. Excellent research.
June 15, 2016, 15:30
Robert Butler
You're most welcome Greg.
Here are some more, this time from WW1.
Marshal Foch, 1918.
Field Marshal Haig, 1916.
A closer cut for this doughboy, 1917.
Angel Of Mercy with officer, both wearing watches, 1914 (c).
Unknown sailor, 1917.
Please note the unusual position of the crown, at 1.30. This is a rare sight, only a couple of adverts ever seen for this type. There also appears to be a crystal protector on the watch too.
Having a big smoke, 1917.
Several watches worn by these Australians, two leather pocket watch holders with covers, and a lugged watch.
Great photo, 1915.
An Australian watch advert, 1914.
...and another for the leather wristlet with cover, probably the same one as in the photo! 1915.
Finally,a cartoon from 1918 showing "Uncle Sam" giving the "Kaiser" a decent left cross.
But, if we look in the background, we see the Kaiser's second with the sponge is wearing a wrist watch!