Internet Horology Club 185
ANY VINTAGE WAR PICTURES WITH MILITARY WATCHES IN USE?
July 25, 2013, 16:11
Tom Brunton
ANY VINTAGE WAR PICTURES WITH MILITARY WATCHES IN USE?
what a great advertisement !!!

August 03, 2014, 15:38
Robert Butler
Here is the oldest known (for now!) photograph of wrist watch worn 1888.
Khyber Rifles, 1895.
German officers, relaxing in Brussells, 1915.
Indian troopers lining up for their shots, 1916.
Sergeants of the 11th. FCE, AIF Dec. 1918.
Ishar Singh, V.C. 28th. Punjabis, 1921.
August 04, 2014, 17:52
Greg Crockett
Robert, I'm impressed with your images.
In the image of 1888, at least three of them seem to have the same wrist/pocket watch straps. What do you know about the picture and the men in it?
August 09, 2014, 04:51
Robert Butler
Hi Greg, sorry for the delay.
Thanks first of all for the comment, glad you like the photos. I spend a lot of time hunting for watch ads and articles, but recently was asked to find old photos of watches, and these are just a few. Many more, along with articles and adverts, including the oldest wristwatch/wristlet advert from 1888, can be seen here:
http://forums.watchuseek.com/f...icles-1034112-8.html
The men in the photo are staff of the 1st. Brigade of the Hazara Field Force, and were commanded by Colonel Sym of the 5th. Gurkhas.
Can you see the feet of the two men on the end wearing watches? They seem to be wearing some sort of sandals buckled over their boots. Might be a grip thing for the icy conditions.
August 09, 2014, 06:18
Robert Butler
RCR's aboard the "Sardinia", bound for South Africa. Nov.1899.
2nd. Battalion, Seaforth Highlanders, Northwest frontier India 1888.
Colour photo (genuine, not a tint), Algerian troops 1917.
Forestry work near the front, British soldiers with a French helper 1916.
October 14, 2014, 05:31
Robert Butler
Sikh soldiers on the Western Front, 1916.
Troops of a Lowland Scottish Regiment, building a bridge during the Boer War, circa 1900.
October 26, 2014, 07:34
Robert Butler
This photo is of British and native officers of the 5th. Regimental Infantry of the Punjab frontier force. They were deployed in the Punjab from 1877-1880, so this photo dates no later than 1880.
The seated central figure wearing a dark coat has on his left wrist what appears to be a wristlet with a pocket watch. This is not a handkerchief or shirt sleeve. That would make this the oldest known photograph of a wristlet watch being worn.
October 28, 2014, 11:25
Greg Crockett
This is an impressive historical collection. Many thanks for sharing it with us.
In the photograph, "RCR's aboard the "Sardinia", bound for South Africa. Nov.1899." The man on the far left has a wristlet and what appears to be a pocket watch chain. I wonder if he had two watches or a compass and a watch? It should be noted that these wrist/pocket watch holders were sometimes used to hold compasses.
October 29, 2014, 08:46
Robert Butler
Thank you again, Greg.
Maybe the RCR with the only wristlet was an NCO, and the chain has a whistle/keys?
It could also be a compass, but we know watches were worn on the wrist by now.
Here are a few vintage/antique adverts, starting with the oldest yet to be found.
I found this in a US newspaper from Lincoln, Nebraska, dated 1888!
The file is in the "chroniclingamerica" files in the LOC.
This is the earliest US manufactured watch advert known, for Gruen. It features actual photographs of the watch/case, and also a woman's hand wearing the watch. It also comes from the LOC files, and dates to May 1912.
Here is the same ad, but is a clearer reproduction of the first.
This advert shows an early wrist watch ad for a man's watch, 1912.
A clearer image of the above.
November 07, 2014, 15:33
Greg Crockett
Clearly a popular item and they must have been affordable given that not only officers but men of lower ranks had them.
September 19, 2015, 18:26
Eugene Buffard
I bought this today. Any thoughts on age of photo. Or from where.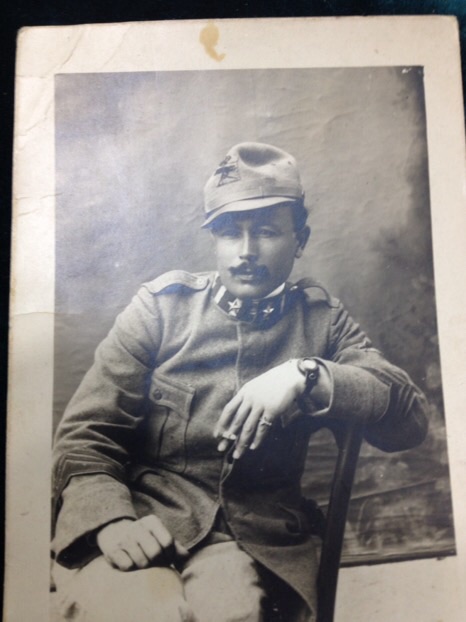 September 20, 2015, 01:16
David E. Booth, Jr.
Here is one of me at the Norfolk Naval Operating Base Officer's Club, playing "Roast Beef of Old England" for the Marine Corp Birthday Dinner in 1964. I am wearing a Timex 21J Automatic. $10.66 at the CinCLantFlt Navy Exchange (that's PX, for you Army guys).
I still have (and occasionally wear) the watch, but this year I finally had to replace the band. It was a "Twist-O-Flex" by Speidel, and the springs in it finally gave up the ghost. Fortunately, I was able to find a NOS replacement on the bay.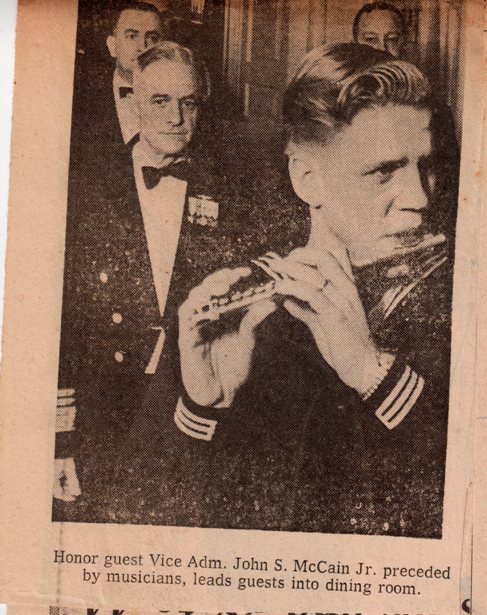 November 16, 2015, 04:10
Robert Butler
Eugene, that could possibly be from the US/Spanish war, an NCO. Great photo.
David, an honour to see that picture of you with your Timex, and amazing that it's still tickin'!
Here is a photo of a doughboy I acquired recently, followed by an albumen print I bought on ebay, dating to the Boer war. The reclining gent AND the "Lee Marvin" look-alike are both wearing wristlets.
The doughboy is wearing what looks to be a cushion-case Waltham Khaki watch.
November 16, 2015, 04:27
Robert Butler
A couple more from WW1.
Officer in 1914.
A soldier in a professional setup, Jerusalem 1918.
If we look at a close up of the last watch, we can see it is actually an INGERSOLL!
Here is a contemporary advert for the watch.
November 19, 2015, 00:16
Robert Butler
A colleague, Adam Harris, found a great photo dating to circa 1878-1880, seen below the earliest known.
Whilst searching for more or earlier, I found out who the mystery watch wearer is.
In the picture below, we see him appearing again, still wearing his black armband, but this time in dress uniform. This pic is circa 1878-1880 too.
Now, in this 1878 photograph (third from the right) he appears without the armband.
We can see from the names he is none other than Captain F. Battye, brother of Wigram Battye (far left).
Wigram was killed in 1879 at Futtehabad. Lieutenant Hamilton (far right) won a V.C. at the same battle, trying to rescue Wigram Battye. (He later died at Kabul)
Info on the above photo.
This explains why we see Captain Battye wearing a black armband in the two pictures above. It is a mark of respect for his own brother's death.
Sadly, Captain (later Lieutenant-Colonel) F. Battye died in battle in 1895, more below.
The Battye family are well-known warriors, here is more info.
http://wiki.fibis.org/index.php/The_Fighting_Battyes
More on F.D. Battye, who died in 1895 fighting for Queen and Country:
http://www.archive.org/stream/...di#page/538/mode/2up
http://glosters.tripod.com/NWF97.htm
Cheers, Bob.
All photos courtesy of National Army Museum.
November 20, 2015, 15:23
Greg Crockett
Great research. Makes these old images come alive. Many thanks.
November 22, 2015, 05:26
Robert Butler
Thanks again Greg, your appreciation means a lot to me.
Here is another, found originally by Adam Harris, but he was unsure as to location or date. After I did some research into the matter, I came up with the original photograph (Adam's copy had been cropped, removing the location info) that has the location. Further research found the below information.
"Roosevelt's Roughriders, this one has the actual location written in, Montauk Point, Long Island NY.
More than 20,000 of the Army's Fifth Corps (along with Roosevelt and his men) were quarantined at Camp Wikoff on Long Island between mid-August and late-October 1898 (when this photograph must have been taken), in order to recover from wounds and diseases like Yellow Fever, malaria and typhoid after fighting in Cuba.
The Montauk camp was named in honor of Col. Charles A. Wikoff, commander of the 22d United States Infantry, who was the first officer killed in the Cuban campaign."
Cheers, Bob.
Watch seen on officer third right of Roosevelt.
November 23, 2015, 15:50
Greg Crockett
Any image of Teddy and the Rough Riders is extremely cool, especially on this side of the pond. The 'wristlet' is evidence no doubt of British influence regarding military fashion.
Many thanks - yet again - for another great installment.
November 24, 2015, 20:02
Lorne Wasylishen
Military kit through the ages: from the Battle of Hastings to Helmand
1916 private soldier, Battle of the Somme(Below)
#40 Fob watch, personal effects. Officers tended to have pocket watches more so than infantry soldiers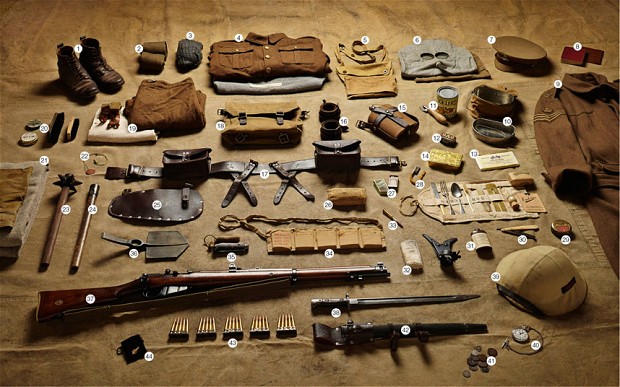 November 25, 2015, 13:01
Mark Cross
I have a copy of my Dad's official 'graduation' photo when he got out of Great Lakes in 1944 and before being sent to destroyer duty in the Atlantic wearing his Lipton Oyster wrist watch (which I still have). I just don't have any way to post it.
Any way I can send it via email to someone to post for me?
Regard! Mark
November 25, 2015, 14:25
Dave Turner
Sure Mark, Send it over here.
blu7grs8@myglnc.com


Dave Turner
November 26, 2015, 00:02
Mark Cross
Thanks Dave! I'm on the road now but will send it over to you Monday if that's ok?
I appreciate it!
Regards! Mark