Internet Horology Club 185
ANY VINTAGE WAR PICTURES WITH MILITARY WATCHES IN USE?
March 01, 2007, 15:43
Greg Crockett
ANY VINTAGE WAR PICTURES WITH MILITARY WATCHES IN USE?
We have a few images of military men with watches on this site, but we could use some more. For example, I don't have any images of British, French, Russian, etc, etc, troops with watches. For that mater, there are no images newer than WWII ....
To get the ball rolling, here is another image of WWII Japanese soldiers about to go fishing, - two of whom are using wristwathes....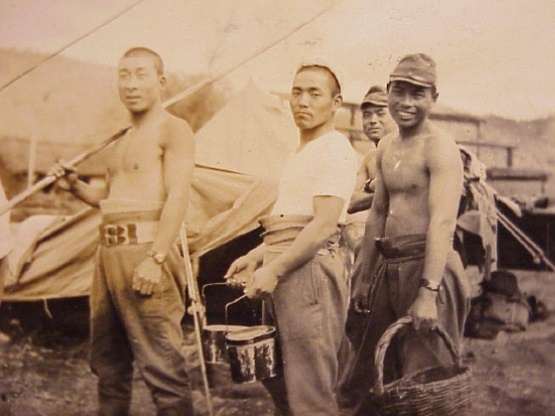 March 01, 2007, 15:44
Greg Crockett
A close up...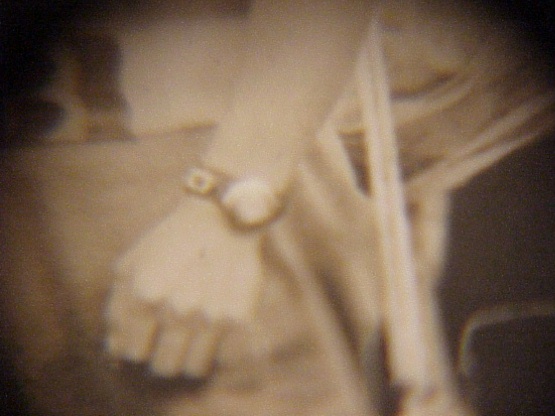 March 01, 2007, 15:46
Greg Crockett
The one on the right.... A civilian watch?
March 02, 2007, 05:22
Enzo Liguori
Australian Tank troops setting their watches, ww2, Syrian Desert.
rgds
Enzo
March 02, 2007, 05:54
Enzo Liguori
In 1944 Dörr was appointed Luftwaffe Gruppenkommandeur of III./JG 5.
Here is with his early Hanhart chrono, single pusher.(20 to four afternoon

)
rgds
March 02, 2007, 09:38
Greg Crockett
Thanks Enzo, great pictures.
Does it seem to you that the Australian Tank Corps officers are setting their wristwatches to the pocket watch?
Nice chronograph on Gruppenkommandeur Dörr. Rank had privilages.
March 02, 2007, 13:10
Enzo Liguori
Greg,
i think so too, nice pic indeed!
Here is a pic of an WW2 Italian pilot, probably Africa, wearing an unusual black dialled watch.
rgds
March 02, 2007, 14:44
Clyde Roper
Great photos. I was also wondering if the wristwatches in the Australian photo were being set to the pocket watch time. The gentleman holding the PW seems to be keenly looking at something...perhaps the pipe smoking officer's watch??
March 06, 2007, 06:19
Enzo Liguori
Greg,
this is a friendly exchange of opinions open to all!
i was happy to see your interesting and enthusiastic post for vintage pics on another message board.
I noticed that after some days yours and my pics are still the only ones posted....
The post is now slowly sinking because nobody post any more pic....
This make me wonder why people collect watches....at this point i begin to think that few have a slight idea of the historical period were they fit to ....
If people do not aim also to collect documents and pics of the period they are away from the historical artfacts and probably watches only resolve some egotic attitude....
Here in Europe it is probably easier to find paper documents and pics of the period on the markets but that cant be an excuse because many of the pics and documents i found and posted i did find on the internet....and i keep continually searching for more around.
I believe that it is important to associate the watches to the right period and bring both to the general attention because not many can afford to buy specialized expensive books and much of the learning is now coming thru internet and Forums.
I sincerely hope that i could change my mind by seeing a revamped interest on the subject and i discretely suggest to put the post in the top post's area that doesnt not scroll as we did on GMW so it will not be buried and invite members to stimulate interests...
I look forward to read your opinions
tnks rgds
enzo
March 06, 2007, 11:15
Greg Crockett
Enzo,
I think this is a rather good idea. A growing collection of pictures to place the time pieces in their historical times and places
Any other comments?
Best regards,
Greg
March 20, 2007, 10:12
Enzo Liguori
Radiomir 1st type and Italian swimmers in action....
March 21, 2007, 15:59
Enzo Liguori
March 28, 2007, 10:11
Greg Crockett
An image of uncertain date: 1920's or 1930's? Two Polish cavalrymen with pocket watches in the outer breast pockets of their tunics.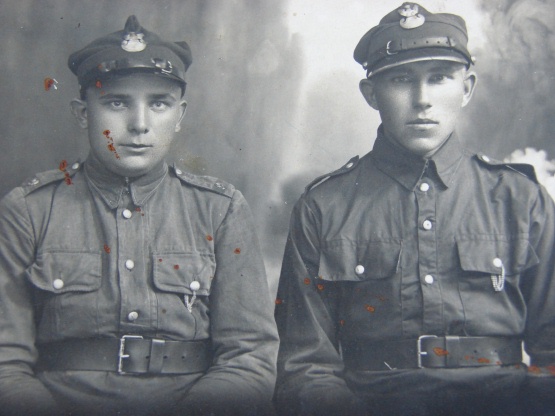 March 28, 2007, 10:15
Greg Crockett
WWII, someplace in the North African desert. Two American lieutenants pose with M1 carbines. The officer on the left appears to have a watch with a black dial.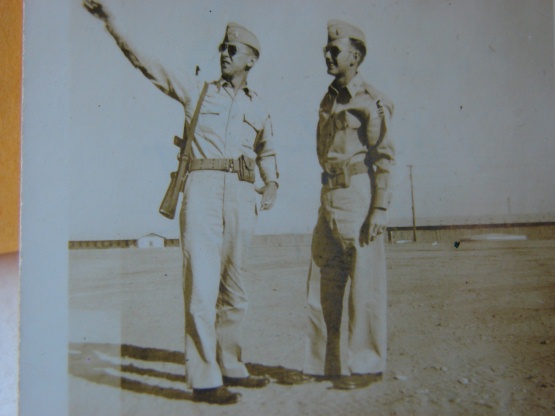 March 29, 2007, 14:42
Greg Crockett
WWII, someplace in North Africa. A U.S. Army officer leans over his Jeep for a photograph sporting cool shades and an all metal watch bracelet. Popular, but not universal, these all metal watch bracelets were available in various styles. A. factory made all stainless steel model was available at U.S. military PX stores. Various other "trench art" watch bracelets were made of stainless steel, aluminum and whatever else could be scrounged up.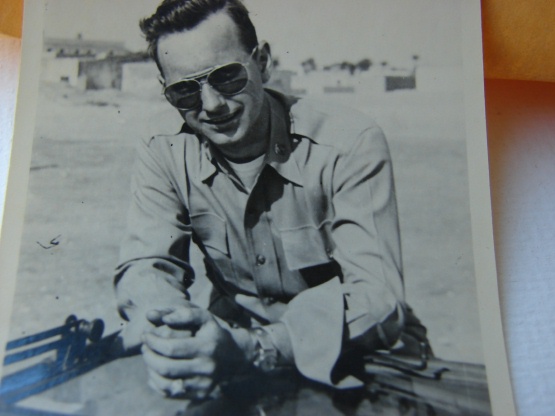 March 30, 2007, 13:43
Greg Crockett
1917. A nickle beer helps this U.S.Army seargent enjoy a hot day at the fair. The watch appears to be of the low-cost "dollar" type.
March 30, 2007, 13:47
Greg Crockett
Within the pages of the January 1919 STARS AND STRIPES, Paris edition. U.S. Servicemen are advised of a Paris watchmaker specializing in Waltham watches. (Might as well get that Waltham cleaned and oiled while waiting for transport back to the states.)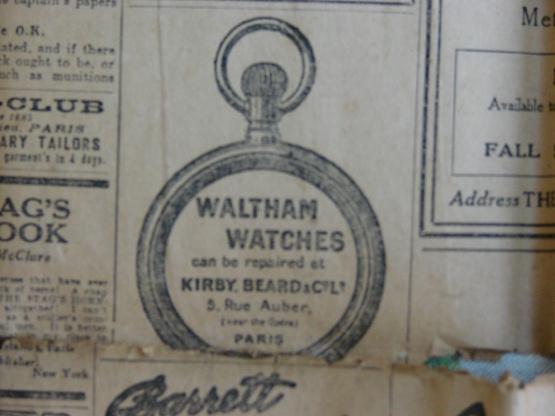 April 02, 2007, 12:44
Greg Crockett
1917. Peeling spuds in the U.S. Army. Note the big wrist watch to the right.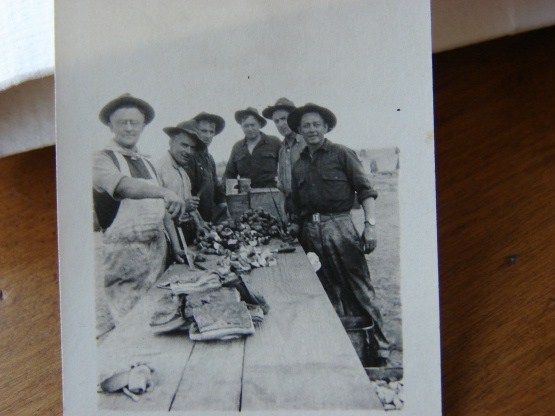 April 03, 2007, 11:49
Enzo Liguori
Wounded soldiers rescued at Anzio battlefield, Italy, this is a crude one.....much respect !!!!
April 04, 2007, 09:22
Greg Crockett
There has to be a good story behind this old WWI vintage picture. Such as, "will he look so snappy when he's in khaki?" The tailored black silk suit and the slim watch chain suggest a 12 size pocket watch to me. If the dude joined up, I wonder if he kept the pocket watch or traded it in for a wristwatch?
Best regards,
Greg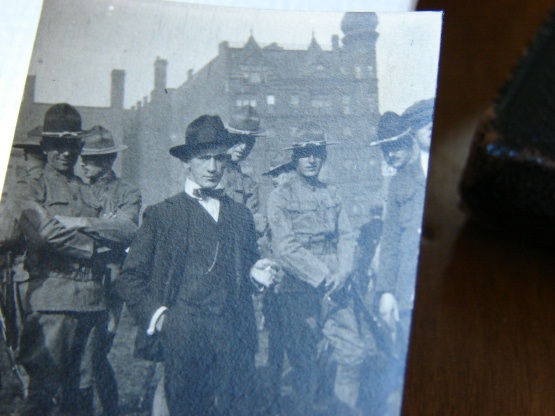 April 04, 2007, 15:07
Clyde Roper
Greg,
That's a great photo! Thanks for sharing.
April 13, 2007, 11:42
Greg Crockett
It looks like the Soviet sodat on the left has a pocket watch.