Internet Horology Club 185
Found a cool clock: Naval Observatory
August 17, 2020, 20:47
Mike Benda
Found a cool clock: Naval Observatory
This was on Craigslist in my town.
The owner was moving to Florida
Original clock to great home.
It is a National
Observatory clock
western Union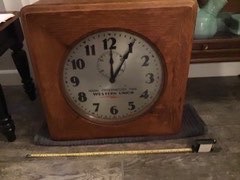 August 17, 2020, 21:04
Mike Benda
Yes I bought it
There is info on the net to fix
Does anyone else have one?

August 18, 2020, 12:34
Dave Turner
I don't but wish I did! Does that help?


Dave Turner
August 18, 2020, 20:18
Mike Benda
Yes Dave,
Thanks, these were battery powered in that the clock Had a battery (that would wind the spring every hour) was maintained by western electric and the signal to adjust came thru the telegraph .
Thanks for asking, as you can tell, I'm excited
Regard
Mike
PS, the better half found This and insisted because she wa raised near the observatory.
August 27, 2020, 17:21
Tim Poovey
Yes, Mike these type clocks are the BOMB! I think you will love it because they are very well made and fun clocks that keep great time! Due to the hourly winding of the mainspring these clocks keep as good time as the weight driven.
I have a western union and several other self-winding type clocks.
Good Luck,
Tim
August 28, 2020, 08:45
Tim Poovey
Mike, is the clock working?
August 28, 2020, 13:38
Mark Cross
That was exactly the type of clock that hung on the wall in the local railroad watch inspectors jewelry store in Portsmouth, Ohio 'back in the day'. I remember it well!
Railroad men would stop by the shop on their way from the railroad YMCA to check their watches before crossing the street to the engine shops. The jewelers was literally in front of the YMCA on the way.
Regards! Mark
August 28, 2020, 18:44
Mike Benda
Thanks Mark, those stories mean so much to me.
Tim, not running now, but in a long line of projects whenever we get time.
The case is 21"x21"
August 28, 2020, 18:45
Mike Benda
Here is the plate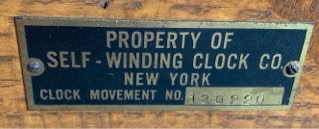 September 22, 2020, 22:46
Lindell V. Riddle

What a find Mike!

Better just let the missus do all your clock hunting from now on...

Lindell



September 24, 2020, 21:20
Mike Benda
Yes thanks Lindell
Now she likes having more reason to rub it in.
Now the story goes "had to bring it up for three days before he would call about it" and "now the horology club is talking "
Regards
Mike
September 25, 2020, 17:21
Lindell V. Riddle

He, he he...
sounds like Debbie!



December 01, 2020, 10:00
Dave Turner
I finally acquired a self winding clock. Here's my $30 prize!

Just beginning to find out more about these. I bought this one Saturday. I think it is their model 25.
It sat in a storage facility for the past 25 years or so. Complete with layers of dirt and typical paint spatters.
I oiled the grungy pivots and hung it on the wall. It ran for about 3 hours.
Now, to tear it down and see if I can make it run a little longer!


Dave Turner
January 04, 2021, 13:38
Jim Hester
Just as a clarification, these are civilian clocks rather than Naval Observatory clocks. They maintained very accurate time by accessing by telegraph the signal from the Naval Observatory's clock. This is a very nice example
January 04, 2021, 17:44
Dave Turner
Thanks Jim, I did get it cleaned up and back in service. I have yet to connect the synchronizer, but while it can't receive a signal anymore for calibration, a independent unit is available that can be added to adjust it on the hour. You can still see the shadow line at the 9:30 time where the clock sat in storage for over 20 years.


Dave Turner
January 04, 2021, 19:21
Mike Benda
Dave
I know you will give that clock the resto
It deserves.
We can r&r the clock with a conversion to D cell, vs original.
The old battery is hard to replicate.
Please let us know your thoughts?
Mike