Internet Horology Club 185
Elgin Lord Elgin 30 jewel w/w
January 23, 2017, 19:21
Bill Manders
Elgin Lord Elgin 30 jewel w/w
Elgin Lord Elgin 30 jewel w/w
Hi all,
I have really no information on this watch, but can anyone tell me about my description. I noticed it in a local Value Village store today, I could not get the back off of it, so have no knowledge of what is inside. It states on the dial "Lord Elgin" 30 jewels, self winding, incabloc, I believe it stated on the case 10k.
That is all I can offer for now, I am thinking about going back tomorrow, if someone can tell me, or at least guess as to what it is.
I am concerned about the "incabloc" thinking that this might be a later watch.
Thanks,
Bill
January 23, 2017, 21:04
Dave Turner
Bill, Take a look at this post. Not sure how many Elgin 30s there are out there.
But here's one with a Buren 1321 movement.
https://ihc185.infopop.cc/eve/f...6009961/m/8593914487


Dave Turner
January 23, 2017, 21:20
Bill Manders
Dave,
I did not notice "swiss made" on the dial, I think I was more worried about the incabloc, as I thought that was a far later term on watches. Of course I was hoping for a true Elgin watch, as apparently they did make some very scarce ones I believe in the 50's. Seeing as I was not able to see the innards of this watch, I have no idea.
Thanks for the rapid response, and if I get to see the movement or better yet, buy it at the right price, I'll be sure to post pictures.
Bill
January 24, 2017, 08:32
Dave Turner
Sounds good. Post some pictures. I'll be curious to see what's inside.


Dave Turner
January 24, 2017, 12:08
Dave Turner
Looks like Elgin also made a 760 late in the 50s.
Take a look here:
https://ihc185.infopop.cc/eve/f...6009961/m/1971098681
and here:
http://elginwatches.org/history/fm.html


Dave Turner
January 24, 2017, 13:55
Bill Manders
Dave,
Well I got to look at it today, it is a swiss made Elgin Mvmt# 796. Can anyone tell me about this particular movement ? It is running, but I noted a couple of case screws seem to be missing out of it, which tells me someone had been working on it sometime recently. They did not want me to take pictures of it. It is a solid gold 10k case.
Any and all information on this movement would be appreciated.
Thanks,
Bill
January 24, 2017, 14:48
Dave Turner
Sounds like you've got it nailed down. All I can tell you is what I find on the internet. Looks like it's a early 60s. 25J.
I've found a couple of ended sales on ebay. Looks like one of the last Elgin made wristwatch movements.


Dave Turner
January 24, 2017, 21:46
Bill Manders
Well here it is. I apologize for the poor shots, and will try to retake them later.
Thanks for all the help,
Bill
January 24, 2017, 21:49
Bill Manders
2
January 24, 2017, 21:50
Bill Manders
3
January 24, 2017, 21:50
Bill Manders
4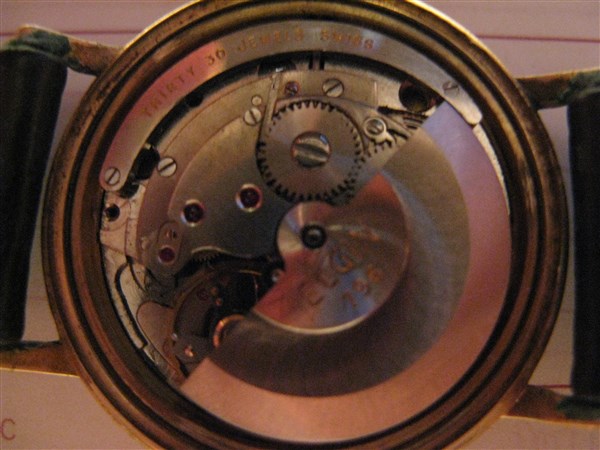 January 24, 2017, 21:50
Bill Manders
5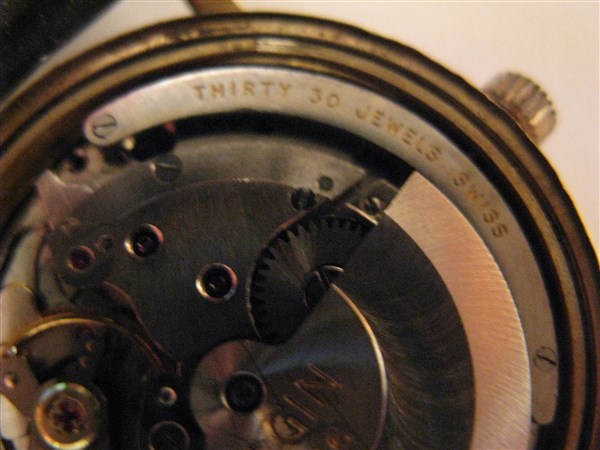 January 24, 2017, 21:51
Bill Manders
6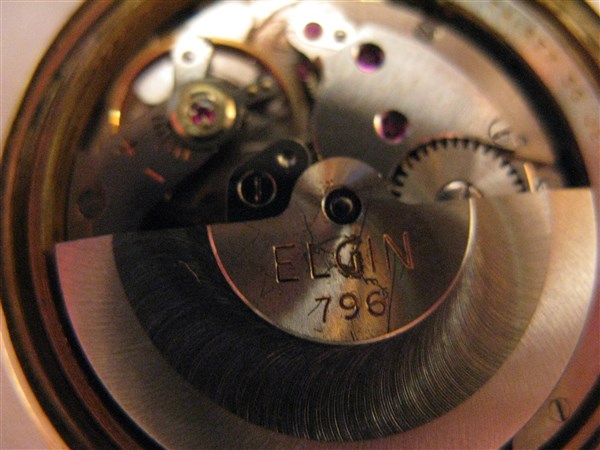 January 24, 2017, 21:52
Bill Manders
It really is not as dirty as it looks, that is a direct result of my poor lighting and photography skills.
Bill
January 24, 2017, 21:57
Mike Benda
Nice one Bill
That is a nice watch, no clue as to value,
Mike
January 25, 2017, 08:31
Dave Turner
Nice!


Dave Turner
January 25, 2017, 09:09
Eric Kaufman
Hi Bill. While I'm not an Elgin expert, I do collect vintage models. I'd say you have a mystery watch. The dial and movt. indicate 30 jewels but the rotor shows 796. The mystery is, Elgin's 796 grade movt were 25 jewels, not 30. Their 30 jewel movts were 760s.
Is it possible to get the movt#?
January 25, 2017, 09:29
Mark Cross
It might have been just more marketing than actual use. They'd put 'jewels' on screw heads just to claim they were in a watch back in the 50's and 60's.

Regards! Mark
January 25, 2017, 10:27
Peter Kaszubski
Agree with Mark, I have 100 jewels Waltham wrist watch Swiss made .
January 25, 2017, 11:22
Bill Manders
Eric,
There is no serial number on the watch, which suggests to me it was made after 1962, it as I have found out has a swiss 30 jewel AS1673 movement in it. I have found another one asked about in the vintage watch forum, also a 30 j with this movement, so it tells me, this movement was in these watches. The other one refered to was apparently bought new in the early 60's, and had not been frankensized, as it was owned by the original family. This seems to be quite a scarce watch, and of course I am still trying to find some elgin advertising or something on it.
Mark and Peter,
Although I know of what you were talking about the bling of these early swiss watches, also in my search I found that when Elgin in the early 40 -50's had 30 jewel self winding watches, the jeweling was something to do with jewels on the self winding mechanisms or something of that nature, not being a watch repair person myself, I have no idea as to what they are talking about.
I will keep searching myself ,and please if anyone else finds something in their research pass it on to me, as I would like to find out more on this watch.
Again it is a swiss watch, after the fall of elgin, but before they really went to the dogs.
Thanks for all the comments and remarks, and help so far,
Bill
January 25, 2017, 11:36
Bill Manders
Inside of case back, that might be a clue ?
It has several watch repair engravings so it appears to have been looked after for the most part. Any clue of the case maker ?
Bill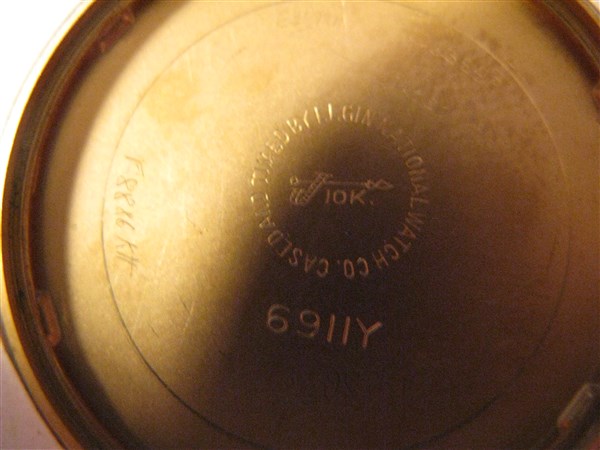 January 25, 2017, 11:44
Peter Kaszubski
The Waltham 100 jewels is a marketing gimmick
as you can see movement is stemp 17j, perhaps you have 30 jewels for the rotor and 25j movement