Internet Horology Club 185
Elgin "Lady & Tiger" Wrist Watch
November 03, 2003, 09:42
William J. Hansen, Ph.D.
Elgin "Lady & Tiger" Wrist Watch
One of my favorite "Non-Hamilton" wrist watch is the Elgin "Lady & Tiger" very deco, highly enameled watch. Check out the following ebay listing, and share your thoughts about this interesting watch:
http://cgi.ebay.com/ws/eBayISAPI.dll?ViewItem&item=2669238501
Bill Hansen
IHC# 198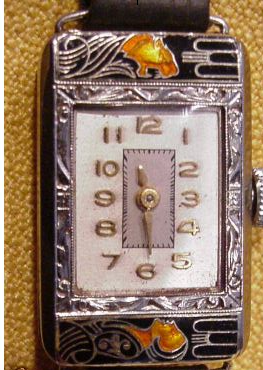 November 03, 2003, 10:58
Stu Goldstein
An entire 1937 upscale theater lobby reduced to less than one square inch!
November 03, 2003, 11:40
Stephanie O'Neil
Hi,
Wow! Everything about this watch is so unique and beautiful. Thanks for posting this watch for all to enjoy!

Stephanie O'Neil
NAWCC Member 143979
November 03, 2003, 12:53
Tom Seymour
That is a fabulous case!! My wife loves it. Her birthday is coming up so I put in a bid, but..........

Tom Seymour
NAWCC# 41293
IHC# 104
IHC Executive V.P.
November 03, 2003, 18:24
Dr. Debbie Irvine
I was surprised such an exotic design only has a 7 Jewel movement inside.
Is that correct for it?
How much should it sell for?
Will Tom require a second mortgage?
Dr. Deborah L. Irvine
Chapter 185 Administrative Secretary
Chapter 185 Membership and Mart Coordinator
NAWCC Member 157487
IHC Life Member (L4) 164

November 03, 2003, 21:21
William J. Hansen, Ph.D.
This interesting watch is featured on page 37 of Faber & Unger's must have book, American Wristwatches: Five Decades of Style and Design. They suggest the following:
"Elgin, 1925. The Elgin Lady & Tiger was designed by Lucien Lelong. The embossed design features enamel figures on the bezel. This 14K white gold case is by the Illinois Watch Case Company. A rare yellow gold case also exists. This 15mm x 25mm wristwatch has 15 jewels. It is very rare."
This ebay seller says the following about the case:
"The original case is signed "J.Milhening Inc. 14 kt. Cased and timed by the Elgin National Watch Co. 54864" THe seller also suggests that the serial number of the movement places the movement to about 1936.
Cooksey Shugart 2003 (pg 738)indicates that this is a 15 Jewel, circa 1929. They suggest prices ranging from $100 to $185.
So...what now? It is possible that the Stuart and Unger book isn't correct about the maker of the case. I've seen that before in this very fine book. As the case is hinged, it seems less likely that the back doesn't fit with the bezel. It makes sense to me that the Elgin watch has a signed Elgin case. Regarding the movement, I suspect it could have been replaced, but why replace it with a 7 jewel?
The watch stands at over $400 as I write this.
Bill Hansen
IHC# 198
November 04, 2003, 15:25
Steve Maddox
The first clue is the fact that the case is rhodium white, while the hands and numerals on the dial are yellow gold. That isn't always an indication of a problem (as watch companies did occasionally do that), but it's cause for suspicion.
The next clue is the arrangement of the numerals on the dial, which on the watch above, is in a large oval pattern. Clearly, since the crystal is rectangular, a rectangular arrangement of numerals would be more appropriate. Also, it's interesting to note the unusual amount of "blank" space around the perimeter of the dial, particularly at the sides. The uneven space is cause for suspicion, as is the fact that such a wide space would exist in such an otherwise "busy" design.
As a reference, I looked up the watch in "The Complete Guide...." and sure enough, the watch shown there has an entirely different dial, with none of the suspicious characteristics above. Of course, it's possible that the model was produced for a number of years, and that the design varied over that time, but it isn't likely. For what it's worth, that's also a possibility with the case; perhaps the original cases were produced by one company, and as time went by, Elgin switched to a different supplier.
In any event, it's my opinion that the movement, dial, and hands of the watch in the image above, are probably not original to the case. I would assume that would adversely affect the value, but only if the high bidder realizes the problem, and even then, perhaps he/she simply may not care.
==============================
Steve Maddox
President, NAWCC Chapter #62
North Little Rock, Arkansas
IHC Charter Member 49
November 09, 2003, 19:20
William J. Hansen, Ph.D.
$$$$$$1125.00
When it hit $500, I thought it had already pushed the limits of sanity. Then....
$1125. One thousand, One hundred, and Twenty Five Dollars.....
Bill Hansen
IHC# 198
November 11, 2003, 00:16
Carlos Flores
Bill,
Do you think the same amount of money could bought the same type of watch in another venue?
It is interesting...
November 11, 2003, 07:39
Jeffrey P. Hess
dang,
I have a couple of those somewhere...guess I better get looking for them!
JPH