Internet Horology Club 185
Rolex Mainspring?
August 13, 2018, 16:08
Bruce Stewart
Rolex Mainspring?
Does anyone have the specifications for a 13L Rolex movement from the early 30's. Thanks a bunch.
August 13, 2018, 17:56
Bila Wirriganwalters
Without some other form of ID such as a caliber number Bruce, it is going to be hard to work-out mate

August 13, 2018, 17:58
Bila Wirriganwalters
As well, is the watch rectangular in shape or round?
August 14, 2018, 12:00
Bruce Stewart
It looks just like a Rebberg-style 10 1/2 Hunter by Rolex, except it is 13 L. Appears to be from the late 20's to early 30's. I'll have to do more research to identify a caliber number.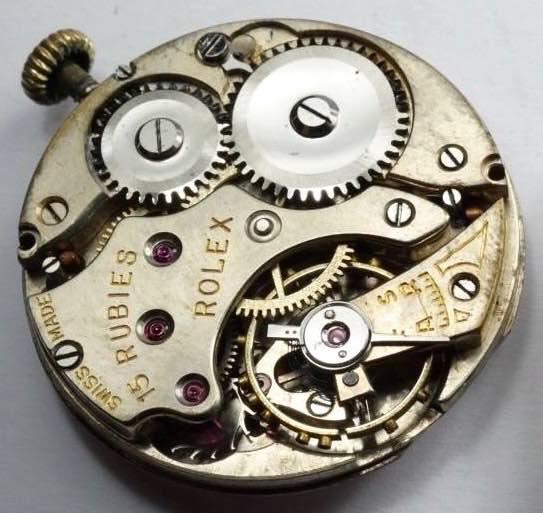 August 14, 2018, 12:04
Bruce Stewart
I measured the old broken spring and it is 7 wide, and 14" long and 9 or 10 on the strength scale (I have an old gauge to measure with). Just wondering what the books actually say is correct, because the old spring isn't necessarily correct. Thanks.
August 14, 2018, 17:57
Bila Wirriganwalters
You are right Bruce about the Rebberg Style, it is probably an Aegler manufactured movement from the factory in the Rebberg district of Bienne.
Have you removed the dial to see if it has a Rebberg mark? They did make them in 13 1/2 lignes as well. Still trying to get a line on the mainspring for you

August 14, 2018, 19:28
Bruce Stewart
Bila, on the other side the only marking is "8442." Based on the measurement of the old spring, I decided to install a spring marked 7 X 10 X 13 1/2. I think the proper length should be 14, but figured 1/2" wouldn't make too big a difference. The watch appears to be running well at this point. Interesting you commented on the 13 1/2 size existing. Last month I was working on another early Rolex that I thought was a 13, but when I went to install it in a 13L case, it was just a hair too big...live and learn :-)
August 15, 2018, 01:23
Bila Wirriganwalters
Great to hear it is up and running again, yeah I do not think the 1/2 inch is going to affect it to any great degree. Just a note about sizes, they also made a 13 3/4 lignes as well.
August 16, 2018, 00:06
Bruce Stewart
That is interesting about the 13 3/4 L size. Thank you so much for that information. These old Rolexes have been my primary interest for the last couple of years. Take care my friend.