June 16, 2003, 20:27
Aaron Bereiter
Water resistant 214
Hello,
Can my Accutron 214 still be considerd to be "water resistant"?
I believe I have seen seals to be sold for them. I dont need scuba diving resistance just hand washing ans such. Can this still be expected of this good old watch?
Thanks,
Aaron Bereiter
NAWCC# 156432
Chapter 185 Charter 23
Chapter 185 Finance VP
God Bless America
June 16, 2003, 21:32
Lindell V. Riddle
Aaron,
There are others who could speak to this better than I, but being one with a lot of regard for Accutrons I'll take a shot. Simply stated, they put an "O-ring" every place they could, even on the cap over the energy cell. The early 214 Accutrons I have say "waterproof" on the back, most later ones do not. They built "divers" models but my understanding is that every 214 and 218 Accutron was certainly
water resistant
even by today's standards. Of course if you really want a waterproof watch get something newer with a screw-down crown, but an occasional splash should not hurt your Accutron. However I can tell you mine will be very carefully dried with a soft towel.
Accutron 214 from 1964 (M4) with "WATERPROOF" on the back...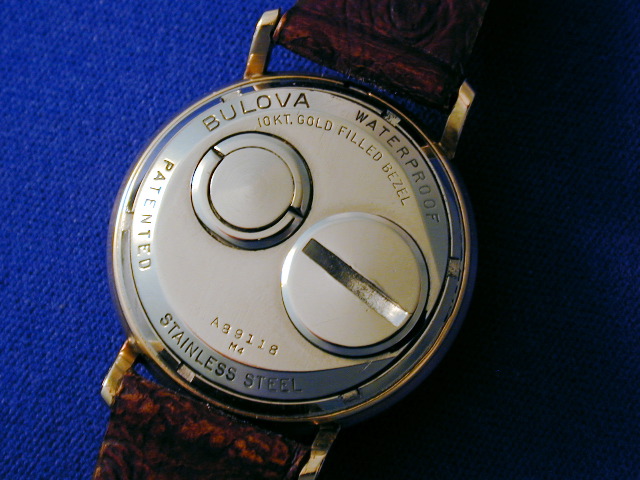 June 17, 2003, 00:12
<Doug Sinclair>
Aaron,
Often, a water resistant watch that goes in for a cell, comes out no longer water resistant. If you are concerned about that, be very choosy when it comes time to have the cell changed. Gaskets often are ruined by the act of opening and trying to re-seal any water resistant watch. Shops that offer a water resistance test after a cell change are not always equipped with replacement gaskets, ESPECIALLY for the 214 which requires a specific, quite unusual gasket.
Doug S.