Internet Horology Club 185
nato straps.
November 16, 2017, 14:19
Peter Kaszubski
nato straps.
I have been ask before why do I like nato straps so much.
Very simple nato straps safe lives that is watch life or crystal at minimum,when spring bar fail,
but let picture speaks for it self.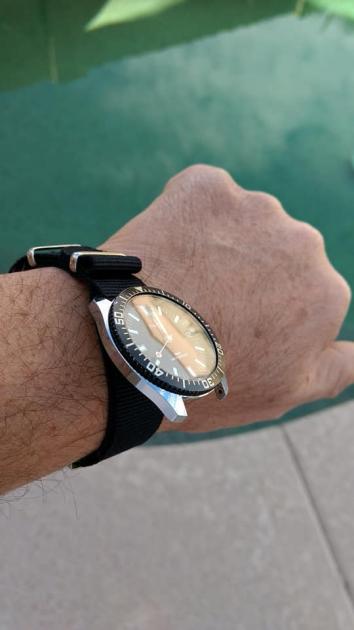 November 16, 2017, 15:43
Mark Cross
I've found it's sort of a two edged sword. The only strap failures I've ever HAD were with NATO straps, as a spring bar fails when you pull the strap too tight on your wrist, putting more strain on the bar than a regular strap does.
I still like them and use them, but not for the reason you show. They caused the failure that made the watch fall in the first place....at least that's been MY experience with them to date.

That's why I put the stainless steel diver's bracelet on my big PK Submariner.
Regards! Mark
November 16, 2017, 17:10
Peter Kaszubski
The rule of the thumb is you should have room under your strap, not too tight.
November 16, 2017, 17:51
Mark Cross
Yep, I know.

Regard! Mark
November 17, 2017, 03:41
William D. White
Spring bars do fail and having a continuous strap gives you redundancy in case one does! How bad would it be if you ever lost your prize wristwatch ....bracelet and all? This has been bothering me for a while and I think it's time to get myself a black 20mm nato strap for my Speedmaster! After 8 years the bracelet is getting a little beat up anyway.
William
November 17, 2017, 07:37
Mark Cross
Crown and Buckle is a great place to buy them, William!
Regards! Mark
November 17, 2017, 09:50
Nick Sidor
Hi, guys. I have done well ordering online from Cheapest Nato Straps, based in Sweden. Very good quality and great prices with good discounts on multiples. Very good communications and tracking, too.
November 17, 2017, 10:27
Peter Kaszubski
I order on ebay from different vendors,
William you can find good leather nato strap as well .
November 18, 2017, 04:17
William D. White
I ordered a pretty nice looking black 20mm leather one from eBay earlier today. I'll give a report once I get it. Thanks!
William
November 19, 2017, 18:52
Gary E. Cochran
I use Internationalwatchman.com for all my strap needs...Really good selection of bands and reasonable priced...
November 20, 2017, 10:49
Peter Kaszubski
I use strapsco good selection of leather and canvas straps.
September 20, 2018, 02:02
William D. White
My favorite NATO strap for my daily Omega is the gray/black. Olive green also looks nice. I prefer the smaller polished stainless hardware and not the big matte black or stainless. This has been a great watch since new in 2010. I usually carry a pocket watch too, the watch geek that I am!
William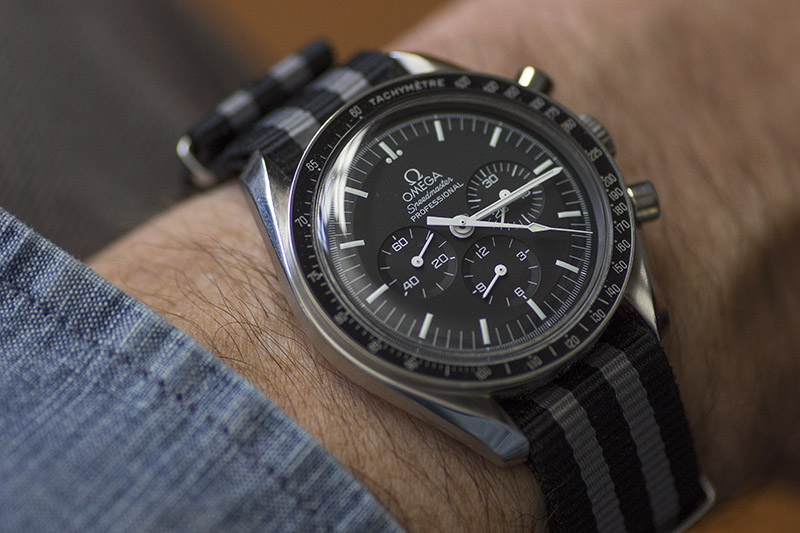 September 20, 2018, 10:35
Mark Cross
This is the last one I ordered from Crown and Buckle for my Seiko Solar and TCM dive watches. Craftsmanship is amazing, and VERY comfortable.
https://www.crownandbuckle.com...o-20mm-midnight.html
So, yes, Peter, you can teach an old dog new tricks.

Regard! Mark
September 20, 2018, 17:44
Peter Kaszubski
nice to see the old post being resurrected.
October 05, 2018, 06:41
Mike Benda
Yes, the nato offers many style options.
That omega is a perfect fit with the black and Grey.
Your pride in that machine shows William, and deservedly so.