January 15, 2021, 13:13
Dave Keefe
Help requested in IDing a late '30s Bulova
Hello all
My wife spotted this beauty in an antique store over the holidays, and fell in love with it, so it came home with us! It's SO GOOD when a spouse also gets the vintage bug.
The panel over at MyBulova.com are working to ID it, but it seems to be an undocumented outlier, and the conversation continues. I was wondering if there are any experts here that could ID the model
Other than the Accutron Spaceviews, I am not all that familiar with Bulova. However, some old ads lead me to believe it is a Ben Hur model. The model name is enough of a rabbit hole to explore all on its own!
Here's what I know:
- Case # 8680395
- Movement is an adjusted 21 jewel 10AE
- Case is gold fill or gold plate (no markings)
- likely dates to '38 or '39, or both (see below)
Here's where I'm confused
- all other similars are US-made. But this is Swiss made dial and movement
- all others I've seen are light coloured dials
- Date stamp on the movement is a crescent moon (so '28 or'38),
AND
, also the ('29 or '39) shield stamp - which I originally thought was a scratch, but now would believe it is indeed a shield, though it is less crisp than the crescent moon
Thanks in advance for your comments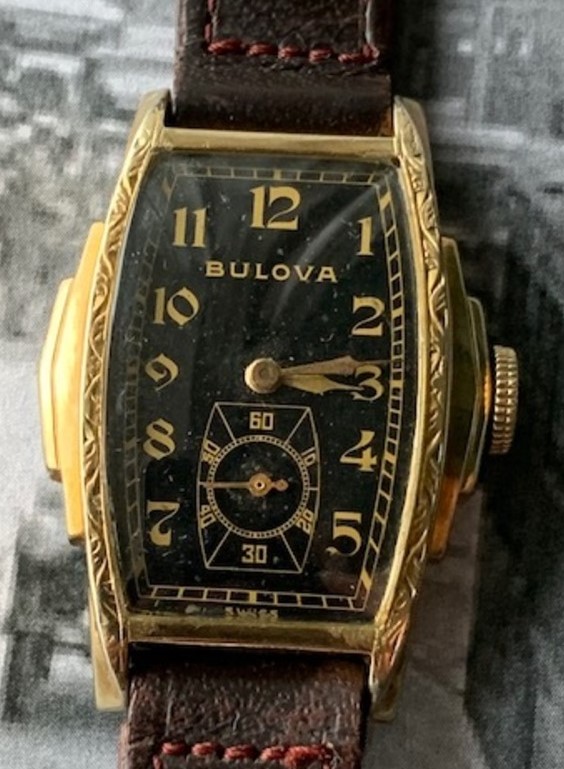 February 03, 2021, 09:30
Dave Keefe
Update: The good folks at mybulova.com have confirmed this is a '39 Bulova Ben Hur. No advertising has yet been found for the black dialed variant. Interesting also, the movement is stamped with both the '38 and '39 date codes.
February 27, 2021, 15:58
William Thomas
Bulova 10AE basic model is Swiss FHF (Font) caliber 324.