Internet Horology Club 185
Mystery Elgin in a Book Box
April 20, 2021, 15:13
Brian Dedrickson
Mystery Elgin in a Book Box
I am seeking some help. I have tried several forums without luck.
The watch pictured is dated to 1938 according to the movement.
The most usual aspect of this watch is its packaging. The watch is a solid 14 karat yellow gold Elgin, no second hand.
It is packaged in this Book Box, the spine says
Super Fidelis and Elgin.
I am looking for direction on this wrist watch. I have never seen this packaging before.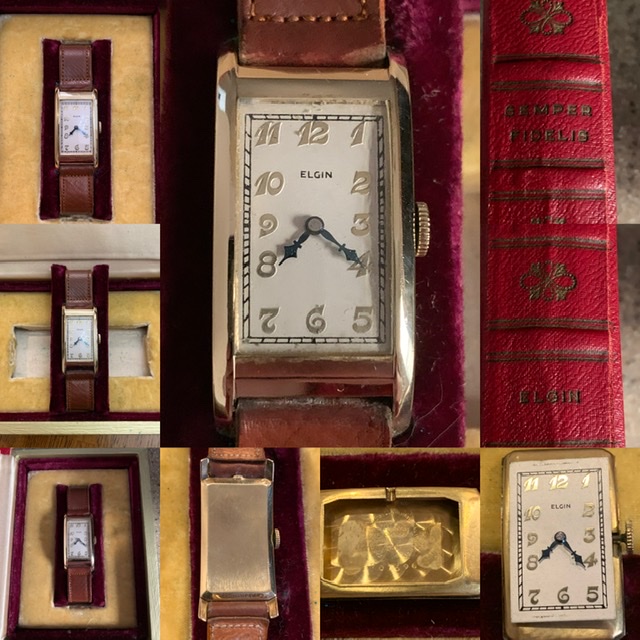 April 20, 2021, 15:40
Mark Cross
That's a new one on me too, but I believe it says Semper Fidelis, not 'Super', which means 'always faithful'.

Regards! Mark
April 20, 2021, 15:44
Brian Dedrickson
You are right, it was a typo. It's clearly on the book spine. Even with Google, I have not been able to find any data on wrist watches..
April 20, 2021, 16:50
Steven Ford
Looks like it would make a very nice gift.
Most likely sold in the Base exchange for graduating cadets, Christmas gifts, or retiring Marines.
Navy exchange always had gift things for retirees and academy graduates. But that was many years ago.
Steve
April 20, 2021, 16:55
Brian Dedrickson
Thank you. I have been able to find more information on pocket watch packaging, but the wrist watch info is so scarce.
I appreciate your thoughts
April 21, 2021, 08:56
Mark Cross
Then again, it could have simply been a single time Elgin offer as 'always faithful' could also just be referring to the watch.
Regards! Mark
April 21, 2021, 11:07
Ethan Lipsig
The only other examples of "Semper Fidelis" book packaging I have seen have been on Elgin C.H. Hulburd pocket watches, its top-of-the-line solid gold or platinum presentation watches from the 1920s-1930s. One such example is up for sale at the April 25, 2020 Jones Horan auction. I have a similar C.H. Hulburd in a "Semper Fidelis" book box, shown below besides a small Swiss travel clock/watch in the form of a book. Inside my Semper Fidelis box is a black leather watch stand that can be used to make the Hulburd function as a travel clock/watch.
I presume that Elgin wristwatches sold with that fancy packaging must have been top-of-the-line models too, but I am not a wristwatch collector.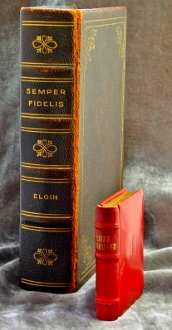 April 21, 2021, 12:10
Mark Cross
EXCELLENT data point, Ethan!
I'd say it would be totally safe to assume that is the very explanation for the wrist watch box.
So, Brian, it appears you have a top drawer Elgin wristie in your possession!
Congratulation!
Regards! Mark
April 22, 2021, 06:15
Brian Dedrickson
Thank you for the feedback. I find it a bit of a mystery that Elgin developed this creative packaging and I can not find any advertisements or publications supporting this watch.
I guess that what makes this such a mystery.