Internet Horology Club 185
Harold K. Oleet?
July 29, 2017, 10:40
Jim Hester
Harold K. Oleet?
Hi everyone. I was going to post this under my Clive wristwatch thread, but now that I have discovered the maker of the movement I thought making a new thread with the actual maker's name might be more helpful to those with a broader expertise and interest. I hope this is okay.
Anyway, I had my father's
Clive wristwatch
professionally serviced (every piece disassembled, cleaned, worn parts replaced with new old stock parts, oiled, timed, etc.). Below is a photo of the movement outside of the case and I now see that the maker of the movement is Harold K. Oleet and is so marked. It also has Oleet's three letter US import code marked on it - HXO. I did some research and was not able to find much on who this Swiss maker is, but I did find that the name on the dial, CLIVE, is likely that of a New York City jeweler who would have imported these movements and dials and marked them with his name to sell. The movement itself is small - as was the fashion in the early 1940s and around that time, and it is very nicely made. The inside of the back of the case has a nice engine turned design and is stamped with the wording: "BREV. + No. 189190 SWISS MADE" I assume that BREV. stands for brevetted which means patent and the number is the Swiss patent number for the case. Clive Jewelers is in the 1940 Manhattan telephone directory at 9E44th Street and in later directories on Madison Avenue and they had advertisements offering high end watches such as Rolexes.
My question to the group here is whether anyone can tell me some more about the maker of this movement - Harold K. Oleet. Did they make their own watches under their own name or did then just make movements to sell to others who used them in their watches. Where does this maker stand on the general scale of quality Swiss watchmakers? Thanks!
July 30, 2017, 08:44
Bila Wirriganwalters
Glad you found out a little more Jim, found an interesting article about Harold Oleet, he was in a partnership with a William Oleet, Irving Oleet and a Gerald Sears dealing under the "Oleet Jewelry Manufacturing Co" in the 50's. This is a little time after your Father's watch was made but still very interesting.
His firm was involved in a civil lawsuit as the defendant with regard to "unfair competition and one for copyright infringement" I have posted the link below if you would like to read it.
http://law.justia.com/cases/fe...upp/133/459/1981368/
July 30, 2017, 10:13
Jim Hester
Thanks, Bila! This is interesting. Do you know if the Oleet watchmaking company is still in business today, or perhaps they were bought out by some other Swiss watchmaking company?
Here is the photo of the movement and inside the case after the case was opened and before it was serviced. Notice the original crystal has a flange around the edge (it is a bit chipped). My watchmaker who serviced this actually had a new old stock crystal in perfect condition to replace this.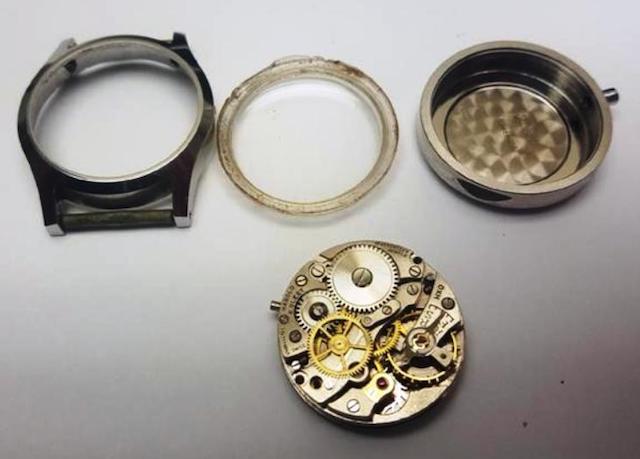 July 30, 2017, 17:28
Bila Wirriganwalters
I can not find any current reference to the firm Jim, on the site where they originally traded from now sits a Hotel. I wonder if he was even a watchmaker at all, or just an importer of Swiss watches?
July 31, 2017, 23:23
Jim Hester
Good question, Bila. My impression is that he may actually have been a watchmaking company since this watch has a three letter importing code on it - HXO - which I have found listed under the US importing codes for Swiss watches to belong to watches imported from Switzerland from Harold K. Oleet there. This is just a guess though and hopefully someone here will know for sure. If he was just an importer of movements made by another company, then perhaps someone here will recognize this movement as being from some specific other watchmaker?
August 01, 2017, 00:36
Bila Wirriganwalters
I thought that if he was importing complete watches of movements Jim he would have to have a USA imports code. Which, I think he could apply for even if he was just ever only trading and situated in and from the USA. I can find no evidence of him being a Swiss watchmaker/ manufacturer, as you say hopefully someone else might know a little bit more.