December 15, 2020, 12:45
Roddy J. Brunton
Mystery Movement - trying to identify maker of this mvt
The dial has a sub-seconds register.
Under the 12 it says "Waterproof"
Above the sub dial it says "Shock-Absorber"
There are no other markings under the balance or anywhere else.
Please don't suggest removing the dial as that is not going to happen any time soon...
I'm not going to risk wrecking the original hands...

I'm hoping someone will recognize the movement as pictured...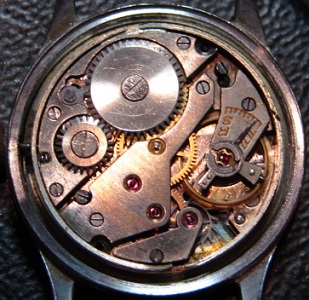 December 16, 2020, 13:37
Ernest C. Barnes
Roddy, to me it looks like a AS970 movement. I have seen them in seven to twenty-one jewels.
December 16, 2020, 21:16
Bila Wirriganwalters
A good call Ernest, exactly what it is

December 29, 2020, 20:05
William Thomas
I agree, it is an AS 970 movement, presuming this is an 8 3/4 ligne movement. Guess what? The A.S. stamp is under the dial.