Internet Horology Club 185
EXTREME WATCH MAKEOVER, A WEST COAST / NORTH COAST OPERATION
August 20, 2004, 11:14
Rich Kuhn
EXTREME WATCH MAKEOVER, A WEST COAST / NORTH COAST OPERATION
We will start this thread with a question.
Is the case in the pictures junk or can a nice watch be made from it?
This will be an ongoing thread and be updated as things progress.
Please be brutal in you comments on the case. I have to admit I am not really sure how it will go but you work with what you have.
The case is a 6-size Philadelphia silverod
I will be doing the casework and John Duvall will be doing the engine. I will let him tell you about that.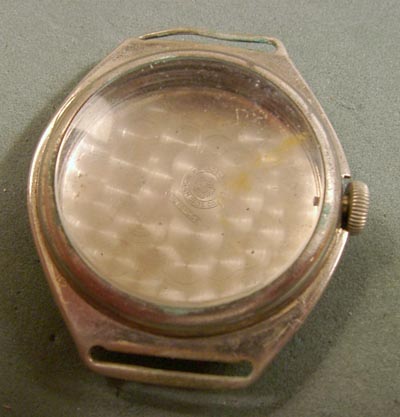 August 20, 2004, 11:15
Rich Kuhn
Picture 2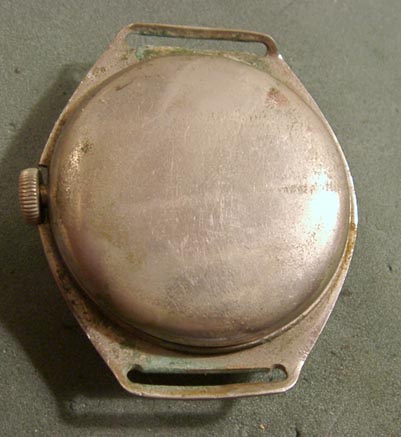 Rich Kuhn
IHC Member 155


August 20, 2004, 11:58
Lindell V. Riddle

Rich,

I've seen first-hand your amazing restorations and I'm delighted you'll be sharing this rascal every step of the way.

Lindell



August 20, 2004, 17:58
John D. Duvall
West Coast checking in!
This will be the "engine" for our project. It's one of those old bullet-proof Elgin 6s movements made in 1894. I will be doing a complete service job on this one including new mainspring.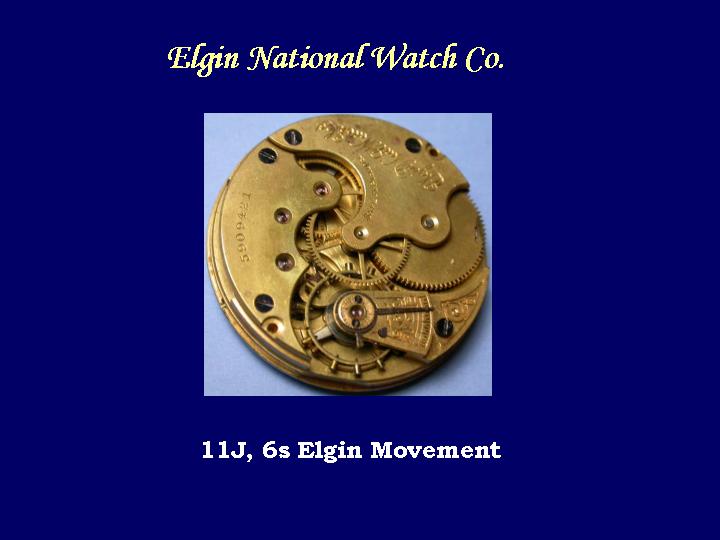 August 20, 2004, 21:21
Rich Kuhn
Part way into the case restoration. A little hammering and polishing. The case still needs some more TLC but it is getting there.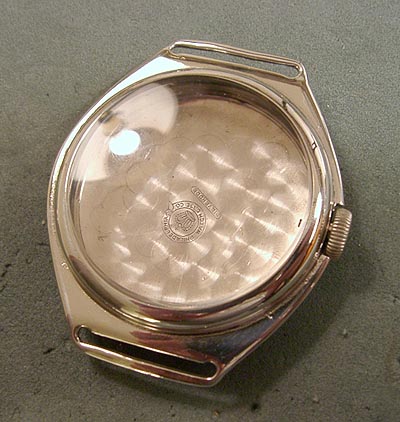 Rich Kuhn
IHC Member 155


August 20, 2004, 21:22
Rich Kuhn
The back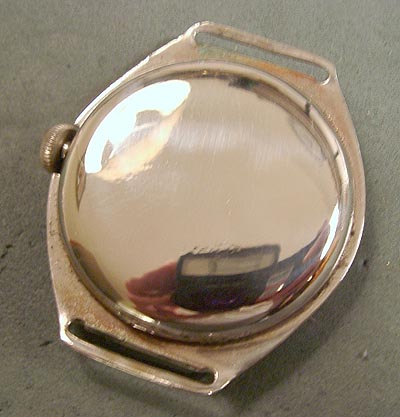 August 20, 2004, 21:25
Rich Kuhn
At this point the case is on its way to John Here is a picture of the case finished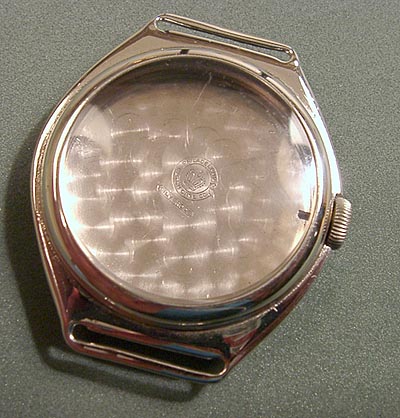 Rich Kuhn
IHC Member 155


August 20, 2004, 21:26
Rich Kuhn
Back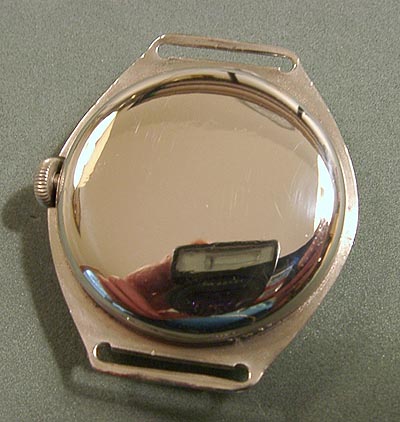 August 20, 2004, 21:27
Rich Kuhn
With band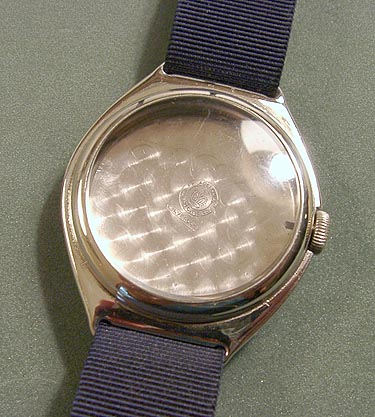 Rich Kuhn
IHC Member 155


August 21, 2004, 02:22
Stephanie O'Neil
Nice work Rich. May I ask you what the procedure is in the overhaul of case, if not too lengthy? I'm very curious!



Stephanie O'Neil


August 21, 2004, 08:00
Rich Kuhn
Stephanie,
I will try to give you the short version.
First I removed the crystal stem and crown. I put the case in a degreaser solution and let it soak for an hour, rinsed it off and then dried it. The next step I went to my buffing wheel and got the major junk off. I cleaned and dried the case so I could see what had to be done.
At this point you have to decide what needs to be done. First I straightened the lugs using a rubber hammer and a piece of oak, you have to careful in this operation not to work to quickly or hit too hard. Just take your time and keep evaluating what has to happen next. The next step was to sand down some of the dings along the bezel. After that it was back to the buffing wheel. I then sanded the edge detail back on to the bezel and buffed for the finished look.
This is the point that I snapped my first two pictures for the post.
I then turned my attention to the back of the bezel and working with a fiberglass pencil removed the remaining rust. I did not try to buff this area since it was not polished originally.
The last step was to reform the slant on the lugs. When I straightened the lugs I made them flat so I had an easier time polishing them. I used the edge of the piece of oak, which I have put a radius on for this purpose.
The nice thing about working with a nickel case is that you can go as far as you like in the restoration process. I left some minor dings on purpose just for character, this is personal preference I could have removed all the damage.
The job took about three hours or so


Rich Kuhn
IHC Member 155


August 21, 2004, 18:46
Jim Cope
...an amazing case restoration!!!between you and Ralph Rehner cases haven't looked so good since new!!!think I'll dub you both 'De-Bruise Brothers"...



Jim
IHC#234

August 21, 2004, 21:24
Stephanie O'Neil
Rich,
Thanks so much for your short version of restoration procedure you followed. What an eye opener.

Many steps in restoring a watch case.

Very talented man you are! I am certainly impressed! You have done a remarkable job!


Stephanie O'Neil


August 21, 2004, 22:14
John D. Duvall
Now, back to the West Coast
Rich did a wonderful job on that old case. Can't wait to see it!
The movement has been taken down. On first observation, it appears to be in pretty good shape considering its age. As you can see in the picture, the mainspring is set and will need replacing.
Located directly above the escape wheel are the balance jewels. These should always be removed, inspected and cleaned outside of the movement. They are critical to a watch's time keeping capability.
The next step will be cleaning and reinspection of all parts. Now, if I can just figure out where that penny goes?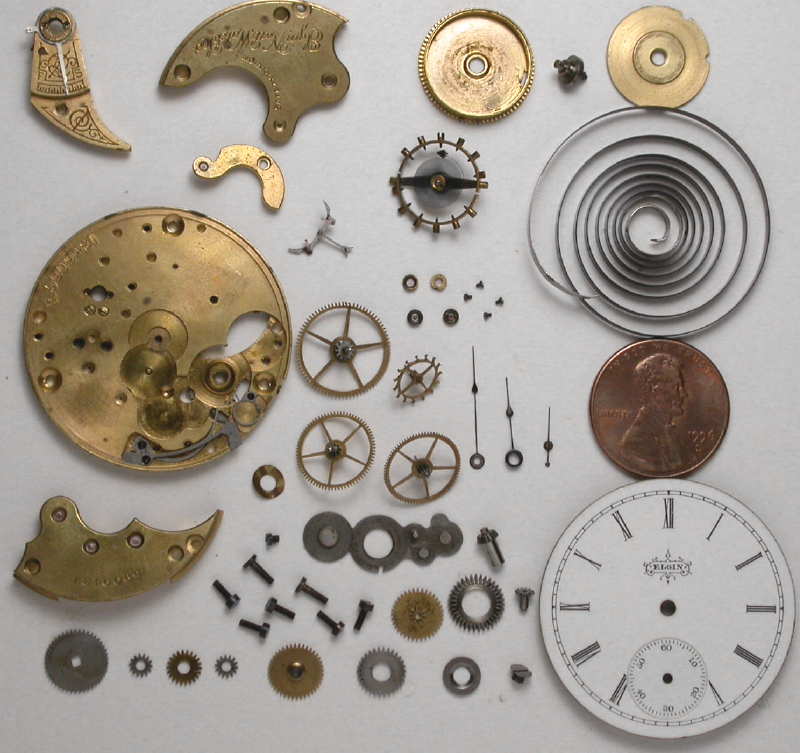 August 25, 2004, 06:14
John D. Duvall
Here we see the balance cap and hole jewels. Although the jewels have been through the cleaner, there is still some touchup required around the bezel of the cap jewels and the hole jewel cups. A sharpened piece of pegwood will be used for this purpose.
If you clean a watch without removing these jewels, it is impossible to clean all of the dirt from the tiny reservoir created where the cap and hole jewels come together.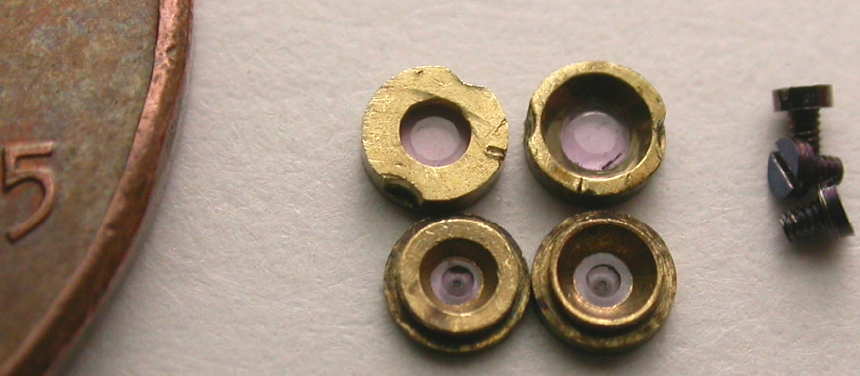 August 25, 2004, 06:28
John D. Duvall
During inspection of the parts, the center wheel was found with bent teeth. Teeth bent this bad will not interface with the 3rd wheel pinion and the watch would stop. I had a spare wheel assembly and will install it. I rushed this photo and didn't focus properly but you get the idea. The log in the background is a toothpick.

Prior to installing the pallet lever, I will assemble the train and check all of the wheels for trueness and binding. This will be done by turning the winding arbor just enough to start the wheels turning. They should spin for a short period and cause the mainspring to slightly rebound causing the wheels to reverse direction. This is a good indication of very little friction in the train.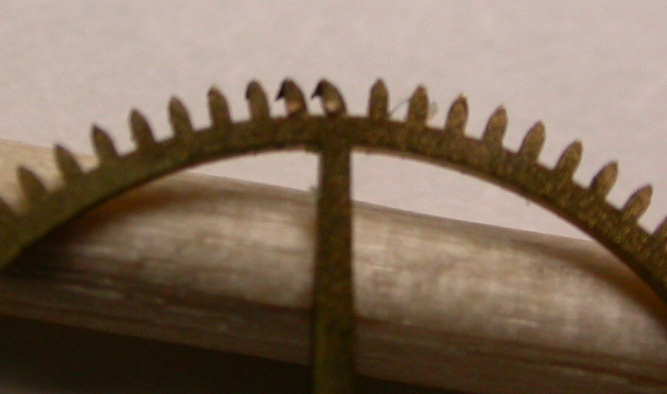 August 25, 2004, 12:24
Kevin Pestor
Looks good John, did you use a eye loupe or other magnification to inspect the wheel with the bent tooth?
Won,t be long till we see the finished job.

August 26, 2004, 01:00
John D. Duvall
Kevin,
Just with the naked eye. If you look closely at the center wheel's 12 o'clock area, you can see the bent teeth. I found more problems with the movement after assembling it.
August 27, 2004, 08:03
John D. Duvall
This old case does have some internal wear and tear. While fitting the movement, the crown would pull out slightly beyond the case tube and the watch could not be wound.
The sleeve has a small flange that fits into a small recessed area in the case frame and should fit flush with the inner case frame. However, this case has seen a lot of use that now causes the sleeve to set too deep into the frame. To resolve this issue, a spacer was fabricated from a piece of brass. It was filed down to a diameter slightly larger than the sleeve flange. Now the sleeve fits flush with the case frame and the watch can be wound with a tiny amount of pressure applied against the crown. Rich will need to install a stem that has a slightly longer (.40mm to .50mm) square.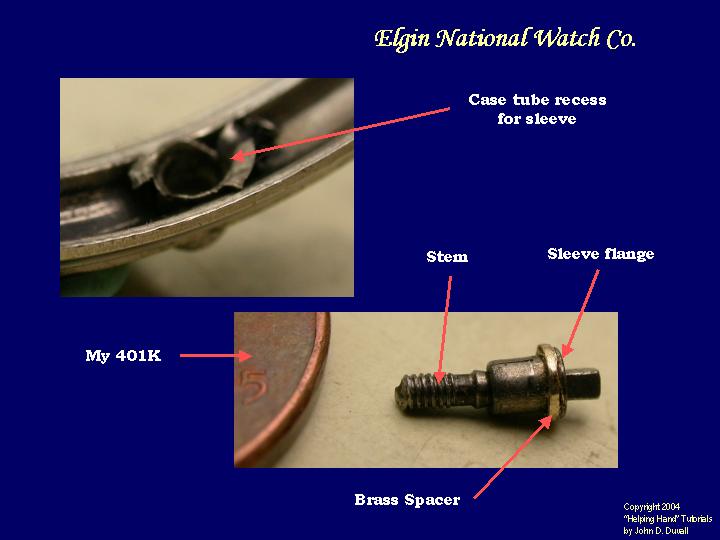 August 27, 2004, 08:28
Rich Kuhn
John
You did a wonderful fix for the stem problem. When the watch comes bak I will check and see if I have a longer stem.


Rich Kuhn
IHC Member 155


August 27, 2004, 21:20
John Arrowood
Idle question: Did that case once house an Ingersoll Radiolite? It reminds me of one I used to have. The leather band was looped throug the lugs and fastened together with metal snaps I think. It has been too long since I got rid of it and I don't remember if I threw it away or sold it.
August 28, 2004, 07:41
Rich Kuhn
John,
I am not at sure what was in it. It was a case only in a box of other stuff. I don't think it was an Ingersoll I don't remember them having a wrist watch that was converted from a pocket watch movement. I also can't say that with conviction because I have not looked at many of them. The case constuction is more substaintial then most of the Ingersoll watches I have seen. Maybe some who collects them can give a better responce.


Rich Kuhn
IHC Member 155


August 29, 2004, 02:21
John D. Duvall
Well,
The watch is finished. I picked a very poor movement to put in this watch. It had a lot of problems and should have been left in the drawer as a parts movement but it lives again!
The gilt was in bad shape on the plates and there wasn't a lot I could do about it. I'm not very proud of how this one came out.
However, the dial side is a little better. The dial was cleaned and a pair of NOS hands were installed along with a new crystal.
August 29, 2004, 02:22
John D. Duvall
The dial side...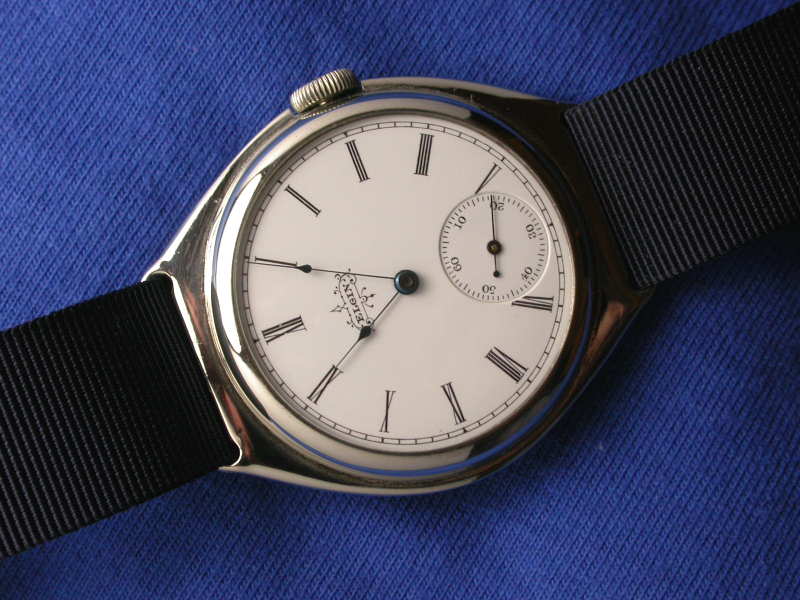 August 29, 2004, 06:50
Rich Kuhn
I can't think of a more appropriate movement to use after all the title of this thread is Extreme Watch- Makeover. When we look at the general condition of the movement and the case as they started out they match up perfectly.
John you have done a masterful job and I am looking forward it seeing it on my wrist.
For those of you going to Dearborn I plan to wear the watch to the show so you can see it in person.
I know this movement presented a number of problems for John, as it would have for anyone. I think his solutions were all well thought out. This is the perfect example of what can be done.
This is a watch that I will be proud to keep in my collection. I will wear it proudly a John Duvall, Rich Kuhn Special, West Coast North Coast Extreme Watch- Makeover.


Rich Kuhn
IHC Member 155


August 29, 2004, 09:13
Kevin Pestor
Looks good John, sometimes you can,t always do what you had hoped.I think considering what you started with it is a masterpeice and i can see why Rich would be proud to wear it.Good job, again John.
August 30, 2004, 01:37
John D. Duvall
Thanks Rich & Kevin but I was just happy to get this one off the bench!!


September 03, 2004, 12:31
Rich Kuhn


Well the West Coast North Coast operation is concluded and the watch complete is back in Strongsville on my wrist as I write this. I got the watch back from John Yesterday. I did the minor tweaks that he and I discussed and it is running just fine. Looks like within 15 seconds a day and for something out of the parts bin I can live with that. I will wear the watch to Dearborn and any of you who go to the show can have a look at it. As it looks now I will be at the show on Saturday and most likely be floating around the show.
I can't thank John enough for all his work. This is one of the things in life that are special.


Rich Kuhn
IHC Member 155


September 06, 2004, 18:16
Sheila Gilbert
You see...There are STILL mastercraftsmen out there.
I'm thrilled that you shared your craft with us. I bleieve that showing a "watch" in such bad shape was terrific, and the end results are fantastic, no matter how tedious.
Be careful you two, your craftsmanship is showing.


The watch is beautiful! Be Proud!


Sheila

October 19, 2004, 17:58
Greg Reeves
Only one thing to say...Beautiful!
Greg
October 21, 2004, 09:43
Glyn Meredith
What an excellent thread this has been - interesting and educational. I'm proud to be in this chapter with guys like John and Rich, who give their time, effort, skill and experience for the benefit of us all.
Well done John and Rich!
April 01, 2006, 18:19
Robert V. Jones
Unbelievable talent amazes me!!!!!