July 16, 2006, 15:49
Rich Kuhn
Illinois Mate engraved bezel 17 jewels
I got this one a few days ago from Rob Jones. I decided to give it a go today. The watch had a number of problems and did take most of the day to complete but it is up and running with a new old stock dial that I did not even know I had. When I went to my Illinois parts bins looking for some setting parts I came across the dial still in it original package from the factory. (After I found it I remembered buying it at the Dearborn show last year.) The luminous was still looking good. As you look through the pictures the dial on the watch would have to be re-done.
Problems:
Setting components rusted solid
Hairspring was really messed up (that took the most time)
Cannon pinion was rusted to the center wheel shaft
The forth wheel needed truing
I was able to re-use the plastic cyrstal
July 16, 2006, 15:51
Rich Kuhn
5 The dial that was on the watch after I tried cleaning it I knew it would not clean up before I started but just had to try.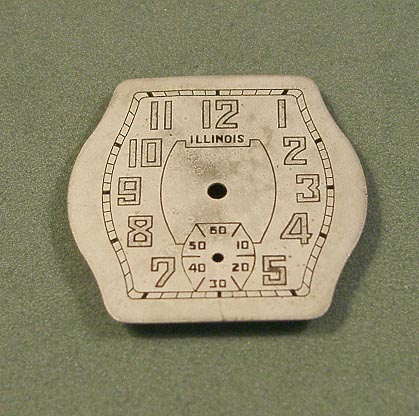 July 16, 2006, 18:37
Robert V. Jones
Great Job once again Rich. Looks Amazing!!

July 17, 2006, 05:22
Brian C.
Nice job Rich. Great to bring them back. Are you going to fill the hands with luminous material?
Brian C.
July 17, 2006, 07:22
Rich Kuhn
Rob,
You saw first hand what it looked like before and can appreciate the change.
Brian,
Not one of the easy projects but since it is an Illinois I think it was worth the time. I do not think I will luminous the hands. The modern luminous just does not look the same as the aged radium. The colors would be quite different and I do not like that. This of course is a personal prefferance.
July 17, 2006, 08:24
Robert V. Jones
Yes Rich I did get to see it first hand before you started and I totally enjoy seeing it after you waved your wand over it and made it come back to life. I always sell sell sell and never get to see what happens to them after they leave. THanks again for sharing this project. You can pat yourself on your back once again