Internet Horology Club 185
Ladies Art Deco Marathon
November 20, 2006, 21:53
Ralph Rehner
Ladies Art Deco Marathon
After a few years of gathering movements, bands and links, cases etc. the ladies watch drawer starts bulging and beckons for attention. For the most part I don't even remember what was tossed in there. After tedious sorting I realize there just might be about a dozen nice ladies deco watches mostly in the U.S.A flavor(my favorite). Call it crazy but I've learned if things flow nicely with these tiny watches....don't stop. First order of business is to make sure you have the crystals, main springs, and back-up parts movements (if lucky) to assist in any needs. Next is sharpen the screwdrivers, dress up the tweezers,and clean the eye loupe. The game plan is to first complete the movements and then build the deco bands....sometimes link by matching link.
In all this I've learned to walk away for a bit if things don't feel right or things start flying around. To much coffee or doing yardwork beforehand is bad news. At present I've got 8 nice running watches. 3-Elgin, 1-Waltham, 2-Hamilton, 1 Dueber Hampden, 1-Bulova. Patience and nerves are doing well but a major situation is now developing. Be warned if you engage in this activity, the wife WILL come shopping. I've already been told two are going on her wrist. One is finished the other I haven't started. The fun part is I get to use her own line on her. "How many watches do you need"!!!! Will post the finished spread picture when the patience run out. Picture #2 is the wifes first watch snag...Merry Christmas Sweetheart.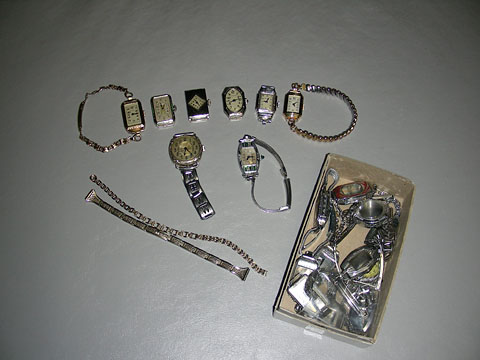 Ralph Rehner, "The Clock Pup" and Longines Watch Guy
November 20, 2006, 21:55
Ralph Rehner
The wife's first shopping kill!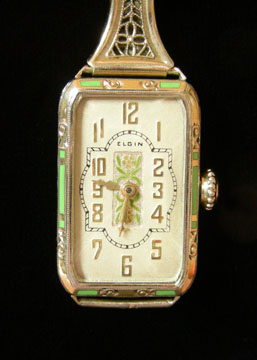 Ralph Rehner, "The Clock Pup" and Longines Watch Guy
November 22, 2006, 10:04
Jim Cope
...fantastic Ralph!!!...love those art deco watches...'the wife' has very good taste!!!don't know how you can work on these w/o a stereo microscope tho'...btw: am on standby to watch the 'prodigal son' on 'Wheel of Fortune'...you can elaborate if you wish...also, must remember to tell 'my wife' that yardwork is bad for watchmaking (the Gospel according to Ralph)...:0)...
November 22, 2006, 16:26
Roy New
Very nice looking 'Art Deco' Elgin!
Super dial and case. Caliber & date?
Keep us posted.
Timely regards.
Roy.
"So mote it be!"
November 22, 2006, 23:02
Ralph Rehner
While the stereo microscope is a useful tool Jim, I find it to be very confining. The correct small deco style movement holder is the key. One really can't have the "Hands on the movment" scenario like a pocket watch, and these little things require a lot of viewing from different angles. I use three large lights. A flexarm fluorescent on each side and a 2-75 watt incandescent for backlight. Polishing and assembling movement items is made easier by gently pressing them into pithwood. Holds things positive with out damage.
Roy,
The movement is the rectangular 16/0 Model 473 15 jewel. It also was available in 7 jewel. Believe it was Elgins first true wristwatch movement with no ancestry to pocket watches. Have seen this little thing in some large tank style mens watches from the same era. This particular Elgin dates out at 1927. In all the ladies deco's I've worked on over the years, I'd say the 18k Illinois from the early 1920's have been the prettiest so far.


Ralph Rehner, "The Clock Pup" and Longines Watch Guy
November 22, 2006, 23:08
Ralph Rehner
In regards to Jim's mention of my son being on the TV show Wheel of Fortune..it is true. His episode will air on Wednesday November 29th. His name is Steve Rehner.


Ralph Rehner, "The Clock Pup" and Longines Watch Guy
November 22, 2006, 23:31
Tom Seymour
fansastic Ralph!! Great work on those deco beauties. Keep them coming! My address is.....



Tom
November 23, 2006, 00:17
Ralph Rehner
Tom,
As promised Laura Seymour will have her day with with the deco's. I've drawn the line in sand with my wife Carol....only 2. "How many watches do you need sweetheart"!!!!


Ralph Rehner, "The Clock Pup" and Longines Watch Guy