Internet Horology Club 185
Leather patina
March 25, 2018, 09:33
Mike Benda
Leather patina
This pocket watch pouch looks too new and needs to be "un-restored" to an aged leather.
Does anyone have a procedure ?
The web says rubbing alcohol and sandpaper .
Thanks for any ideas.
Mike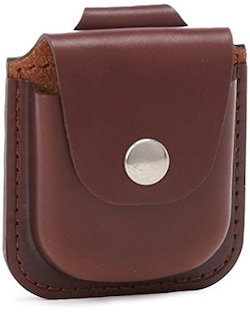 April 12, 2018, 15:08
John Grajek
You might try some neatsfoot oil and let it dry on a window sill. That might might age it a bit, darken it for sure and make it a bit more supple.
April 12, 2018, 20:36
Mike Benda
Thanks John, somewhat familiar with the neatsfoot.
There will be a variety of experiments , the goal is softer and worn. Thanks for the hint.
Mike
April 12, 2018, 21:46
Tim Poovey
Mike, just a guess. Saddle soap is a good leather softner, and could actually over clean the item, therefore increasing the drying and cracking process.
Tim
April 12, 2018, 22:15
Mike Benda
Do have some saddle soap in a drawer , this is very good. Everyone likes before and after photos,will post
Mike
June 05, 2019, 00:08
Buster Beck
While its soaking wet with the alcohol, take a wire brass brush and work that new patina off ! Put some neatsfoot on it and knead it in and it soon will acquire some patina !!
regards,
bb