August 19, 2004, 05:27
John D. Duvall
Let's See Your Before and After Projects!
Hey everyone!! This is a great place to show off your handiwork. I know many of us forget to take pictures before we start to restore or repair our projects but let's start!
So before you start work on your next clock, watch, sundial, hourglass or ???, be sure to take some pictures before, some pictures during (as it applies) and above all, the after pictures and post them in this forum. The WORLD would love to see it!!
Good luck and have fun!

October 19, 2004, 17:01
Greg Reeves
Here is a gilbert alarm that I took out of the trash. Still need to get the bezel done and some final work on the Dial and finish the knobs on the back.
Greg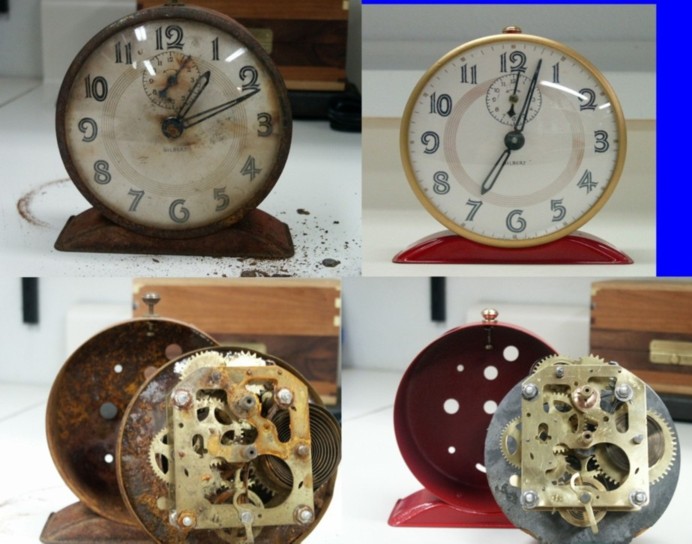 October 23, 2004, 01:17
Carlos Flores
Wow!, that is a change Greg!, how did you redone the dial?
(are you sure is the same clock?

)
October 23, 2004, 09:45
Tom Seymour
Great job Greg! What is the dial made of, and how did you get it clean?
October 23, 2004, 22:29
Kevin Pestor
Great pictures Greg, can you share your secrets?

February 04, 2005, 20:04
Greg Reeves
I do most sincerley apoligize for not answering to your replys sooner!!!!!
First... In showing this project amongst my peers...I have been most often criticised for "wasting my time" on an alarm clock. This is true as far as value, but that was not exactly the point of the restoration. So,I offer many, many thanks to you all for not bringing that up.
The movement and case were soaked in "Tea" for rust removal...however, I found the case needed more help in the form of the use of "Navel Jelly".
The dial...I scanned into my computer and then used "Adobe Photoshop" to "clean and color". This takes a lot of time and more patience than I have(almost), but none the less...the results are good. I printed the final photo on semi-glossy photo paper. I placed the finished project over the original dial(so as to save the original).
The photos of the clock were done with a Olympus Digital camera. I then copied and re-sized each photo into a "new file". My wife gave me a Canon Digital Rebel for Christmas, so any new photos will be taken with that. For this I cannot complain about her(out loud) or give her any of "those looks" until next Christmas...small price to pay!
Any additional comments or questions are welcomed. You can always e-mail me directly at glr1109@aol.com
much appreciation
Greg
ps The original dial is paper and ink. I did try soaking it in some chemicals(I'll have to try to remember the names) which lightend some of the darker areas of oil markings...but would probably not do it again. There are web sites that describe different methods of cleaning/restoring paper, but the chemicals were too expensive for me to try on this project at the time.
February 06, 2005, 09:23
Greg Reeves
I've found the sites where I had obtained my information. As follows:
http://www.collectorsguide.com/fa/fa010.shtml
http://www.gemmary.com/restore.html#BPC
http://www.nedcc.org/plam3/tleaf62.htm
Hope this helps
Greg