Internet Horology Club 185
EXCLUSIVE FEATURE - ILLINOIS SANGAMO SPECIAL MODEL 9 DATABASE -
April 17, 2017, 16:39
Donald D. McGregor
EXCLUSIVE FEATURE - ILLINOIS SANGAMO SPECIAL MODEL 9 DATABASE -
Just added another 21J SS False Bridge to my collection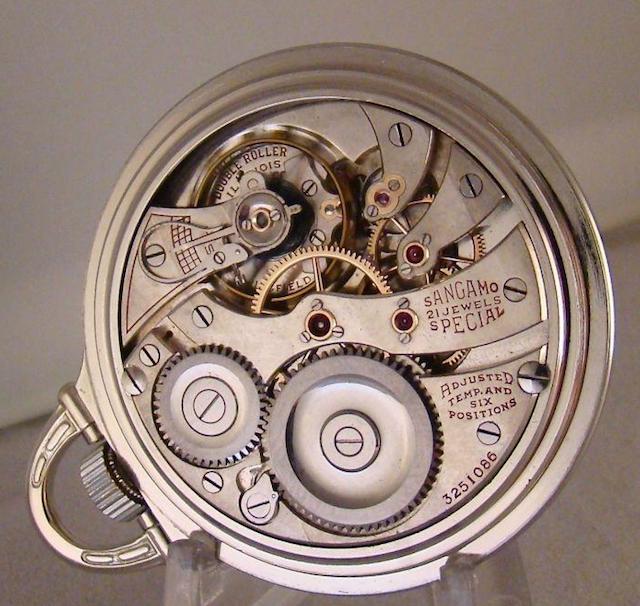 November 24, 2018, 11:26
Ron Granneman
quote:

n
SANGAMO 2197994 23 JEWEL GOLD LETTERING
January 04, 2019, 17:02
Carlos Cons
Donald -
Thanks for the additions to the research I've been keeping. I'll get them posted!
May 26, 2019, 07:54
Terry L. Jones
carlos- I came across this early false bridge from that 1st run of 30- Quite a bit different than the one you posted- has red engraving but the same lettering font- also this one does have Ill Watch co.under the balance- still a very interesting variant-please add this to the database
Terry Jones
January 10, 2021, 12:25
Dennis Bailey
I just acquired a 19J model 9 SS with serial #2575084 with a diamond endstone...looking at Carlo's list it seems that only the first year (1913) 19J includes the diamond endstone...can anyone confirm or refute that? Anyone know how many 19J were produced with the diamond endstones?
February 08, 2021, 11:42
Dennis Bailey
Here's a better and current pic of my model 9 19J Sangamo Special false bridge that is pictured above...only 200 of them made
February 12, 2021, 14:09
Dennis Bailey
Very nice Donald...that 21J false bridge looks like it was one from the last run of ALL model 9 Sangamo Specials