Internet Horology Club 185
Washington Watch Co Potomac !
April 11, 2019, 17:19
Kevin Hoffman
Washington Watch Co Potomac !
I have been trying to put toghther a set of Washington Watch Co 18s watches , my latest is a potomac model o/f 17j , I thought these are pretty rare 500 or less made , I also have the liberty bell , senate , and army/navy 21j o/f and hunter , what is missing is the lafayette 24j and 19j army/navy
April 11, 2019, 17:21
Kevin Hoffman
I actually have 2 of the potomacs, I am happy to get this one because it appears all original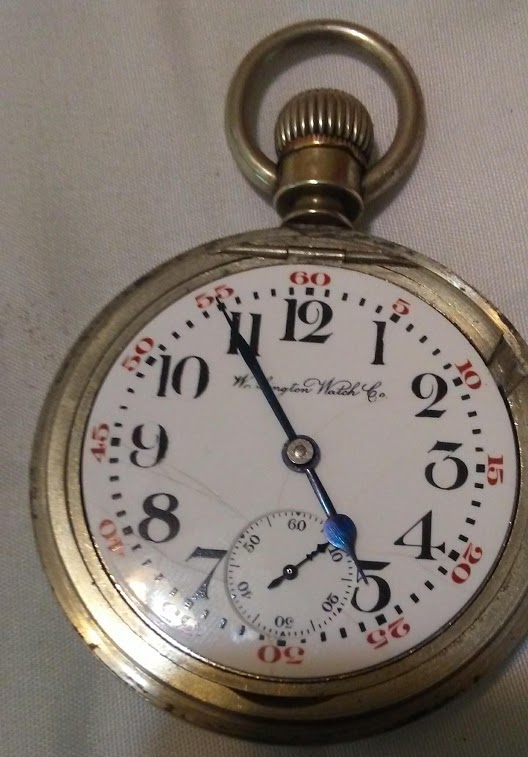 April 11, 2019, 20:27
Mike Benda
Nice collecting niche Kevin. I can see the attraction of this brand, the sales product lines are a fascinating thing to imagine back in the day of competition.
Oh and roger sold this one here a few years ago, one of my Favorites.

April 14, 2019, 12:33
Terry L. Jones
Kevin
I also enjoy the Washington watch's. It took me a long time to round up a Potomac for my collection. It is the lowest production of all the 18 size ones
I'll dig it out and see what my serial number is
Terry Jones
April 15, 2019, 22:15
Kevin Hoffman
Thanks Terry , I had been after a potomac for a while
April 19, 2019, 07:43
Terry L. Jones
My Potomac ser # is 2,098,327- I'm Pretty sure they are all found in that 1 production run.
TJ