Internet Horology Club 185
18s Bunn Special Unusual Marking
March 28, 2019, 19:52
James Thorman
18s Bunn Special Unusual Marking
Mr. Parsons research herein documents serial number 1208201 as the first 21 Jewel 18s Bunn Special. Here is serial number 1248478 found in a 4oz coin silver case with the early fancy Roman Numeral Dial. It is a PL owning to a Simon Stahl of Gorham ,New Hamshire. It is an open face movement and the marking for 21 Ruby Jewels is in a position along the edge of the gold inlaid circle and extends down to the edge of the balance bridge or 'cock'. The gold inlaid circle is the third pattern. Made in 1894.
I am wondering if this is a very low serial numbered example for the 3rd variant and how unusual is the location? My thoughts are Illinois starts a new plate variant then slides back to the normal location near the serial number.
The font makes the string of characters pretty long and tall comparing with those more normally seen.
Is there others like this? Could it be a part from another grade lower than Bunn Special but marked Bunn Special? Or Worse, a parts watch. Though the damasking is there to cast doubt on mixing plates.
Any info is greatly appreciated.
March 28, 2019, 19:55
James Thorman
Pic 2
Once the watch is in hand I will post a pic with the bezel removed. The dial is in great shape. The crystal has scratches on it and detracts from the dial condition. And Yes it is.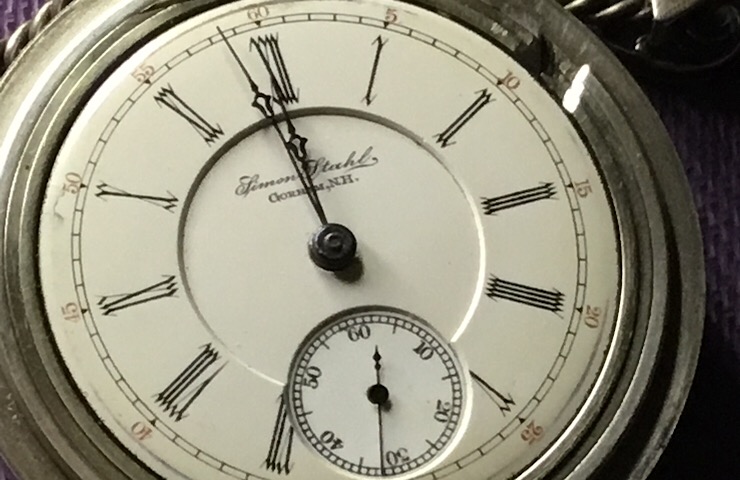 March 29, 2019, 00:41
Kevin Hoffman
Nice one James , I have 159xxxx with the 3rd pattern and the letters are just under the serial and wrap around the balance yours appear to be under the balance ? I think you have an odd one /another variant
EDIT: I was looking under PW database images they have 1248464 and 65 , they have the odd "special" marking ,it is by the serial , but the jewel marking is over the gold , but legible , none are hidden by the balance like Jim's , it almost looks like Jim's was marked like a hunter (the balance is much lower) but even hunters are not that far around- SO that 124xxxx run is all a little odd
edit # 2 ; If you look at 1298037 on the PWD , it is a model 2 (hunter) that is similar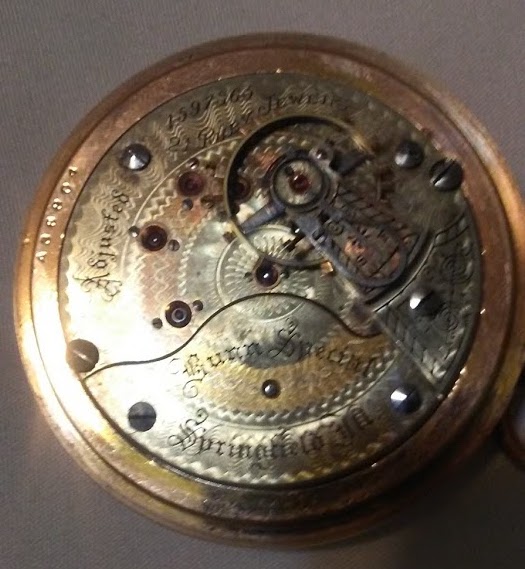 March 29, 2019, 12:40
James Thorman
Thanks for those odd ones!
I started looking for one marked as such in any variant without success. I was split between this and a circular first variant with ser num 1208303 a very early watch having the same style dial.
It also has the characteristic gold lettering. Still in auction. Item number 283429509053 with a really cool carrying case out of Canada.
I like the relative rarity having much less production but if my idea that Illinois BEGAN the third variant like this then back stepped? This could be more collectible.
I am very curious if more exist and in what proximity to this serial number. I am interested in restoring the black lettering if when received it shows fading. But the photo might just be washed a bit and the lettering looks better in hand.
Any tips on how to apply black and cleaning the excess off the high flat plate?
March 30, 2019, 15:18
Kevin Hoffman
I was hoping someone else will chime in , I have been collecting Bunns for about a year , you have a very nice one , I would call it a variant , I have never seen an odd one called a mistake , I think the dial is pretty rare also , you should check the serials but I will bet they all match , that pattern is to hard to match, so I bet you have another winner
You wondered about the lettering , there are some pages about it , just search it . I use "testors " model paint , a very small brush , wipe off the excess with paper towel and thinner on it (just a little thinner), I have never done one of those, so be very careful , many are washed out .
March 30, 2019, 21:22
James Thorman
Me too. I posted here in research rather than discussion but either place the experienced guys are likely to be.
It might take shear time spent by folks with years of viewing 18s Bunns and knowledge during the transitions to Bunn Special for these patterns to settle in.
For one rationale placing the word Special up top per Your data base input really clutters the movement having it, the serial, and the 21 Ruby....
Maybe this was Illinois preparing to locate the Special below and the need was gone for the better spacing around the movement.
Interesting to say the least. Some other possibilities?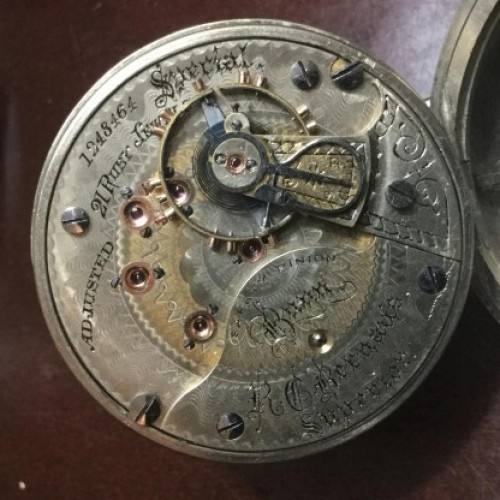 April 01, 2019, 22:58
James Thorman
Big Shot of the spread out 21 Ruby Jewels.
April 01, 2019, 23:03
James Thorman
Entire Print LayOut
April 03, 2019, 18:13
Kevin Hoffman
That is a nice one , and a one of a kind variant , these are about the prettiest ones out there . Good show James , another winner