Internet Horology Club 185
Great RR engraving!
June 14, 2010, 00:11
Jon Harting
Great RR engraving!
I just bought around 100 pocket watches in a bag from a guy at work whose uncle was a watch repairman. This wonderful old case was in it. The case is a 18 size, Providence, warranted 20 years, #1059525.
The engraving speaks for itself.
Jon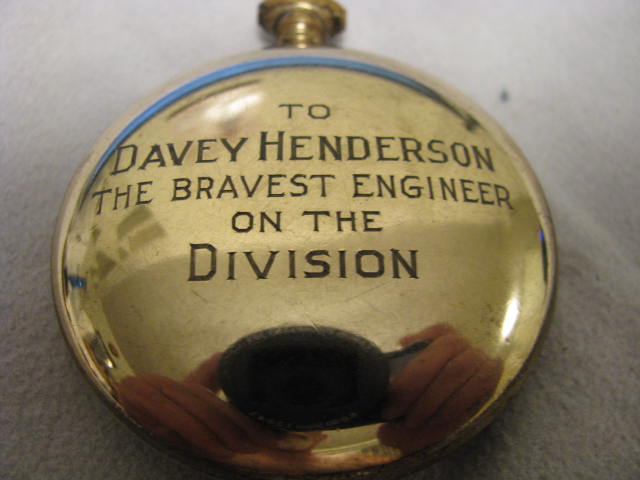 June 14, 2010, 10:00
Mitch Markovitz
That's a nice job of hand lettering.
I would sure like to know about ole' Davey and his adventures on the main line. It would be funny to find out he was just a yard engineman.
They said Casey Jones was brave. Turned out he was nuts and a rules violater.
Care to weigh in this Buster? Would enjoy your comments.
June 14, 2010, 12:42
Buster Beck
Yo Rail,
Thanks for calling me up to portray an American hero and legend of the rails and taking my entire Monday morning to paint the accurate picture, so sit on your duffs and enjoy

Casey Jones was a RR engineer/folk hero who lost his bearings one rainy, foggy night in 1900 and slammed his passenger train into a stalled freight train which caused his untimely death and immortalized him immediately and forever after

The nickname "casey" was given to him by a co-worker, which was the norm, as he was a new hire and upon meeting him in a RR boarding house, he asked him where he was from and was told from Cayce, Ky. He immediately became known as "Casey Jones". He married the daughter of the boarding house matron where they met and made gaa-gaa eyes at one another

Caseys normal route was between Jackson, Tenn and Water Valley, Miss. People who lived along the tracks could recognize Casey coming thru their town by his unique way of blowing the whistle which sounded not unlike the retort of a whippoorwill bird

During his RR carreer he was reprimanded 9 seperate times and was suspended for 145 total days without pay. In 1900 he took a passenger run from Jackson, Tenn. to Memphis, Tenn. on the Illinois Central RR. This run was called " The Cannonball Run" which applied to a passenger/mail service route. This was not unlike a generic term which if established today may/could be called "The Rocket Run"

On the fateful night of Caseys death, he had just completed his assigned Northbound run/route. A fellow engineer who was to take "Ole 382" on its Southbound route called in sick and Casey volunteered to take the run. "Ole 382" was a steam driven Rogers 4-6-0 "ten wheeler" which had 6 driver wheels which stood 6 feet tall

This was a very powerful engine for the late 1890's/1900 time frame.
Casey pulled out on the 188 mile run @ 1250AM and 95 minutes behind schedule

"Ole 382" was pulling 6 passenger/mail cars but the conditions were rainy and foggy, in which the ole coal burners ran best and fastest in rainy conditions. By the time Casey was south of Memphis and 155 miles into his run, at Durant, Miss. the train had almost made up the lost time speeding along the tracks at 80 MPH. Now with only 27 miles to go , Casey felt he had a good chance to make Canton by the advertised 4:05 AM arrival schedule

Meanwhile, unknown to Casey, 15 miles down the track at Vaughan, two other freight trains were to take the "siding" [side track] and let "Ole 382" pass them. A "saw-by" was in the works for the two freight trains which would not quite fit totally in the siding at Vaughan. But a parted air hose on one of the freight trains had occured which in turn locked up all the air brakes on the freight train and it would have to be fixed before the freight train would be able to move again and continue with the attempted saw-by and pass/meet. This left a caboose and three cars short of clearing the main track, so 4 cars were "hanging out" and directly into the path of speeding "Ole 382"

Casey approaching the siding at Vaughan was travelling at 75MPH and entered a 1.5 mile left hand curve. Suddenly Caseys fireman screamed the warning as he was the first to see the looming lights of the stalled caboose ahead. At this time Casey was now only 2 minutes behind schedule. Casey immediately locked up the trains air brakes, told his fireman to jump, layed down on the whistle to warn those on the caboose ahead and reversed the engines big powerful drivers all in an effort to stop "Ole 382" while remaining on the engine to attend these duties

Upon impact speed had been reduced from 75 to 35MPH. Casey was the only fatality in the now infamous wreck and his pocket watch was stopped by the shattering impact @ 0352hrs Apr.30,1900

Caseys lifeless body was pulled from the "Ole 382" with crushed skull and detached right arm torn from the socket

Caseys legend/legacy and heroism started immediately upon his death as to staying with his engine, blowing the whistle in warning, applying the air brakes, and reversing the engines drive wheels and instructing his fireman to jump. No doubt he saved many lives of passengers and co-workers. Total costs of the wreck and loss was placed at $2,996.25

Soon afterwards "Ole 382" was rebuilt and placed back into service. During its 1898-1935 years of service, it was involved in accidents that claimed 6 lives.
Casey was immortalized in ballads of song throughout the ages by many artists including Johnny Cash, Pete Seeger, Kris Kristofferson, Motorhead, Hank Snow, and Marty Stuart to name a few. A movie was made in 1927 and Walt Disney made a cartoon series in 1950 immortalizing his engine, name and baseball prowness further. There are currently two museums operating and devoted to Caseys legacy and in his honor.
But Brothers and Sisters there is NO joy in Mudville tonight, as the Mighty Casey, he has struck out




Thanks Bro Mitch for asking me to expound and bring you a very true tale, from the rails

Regards,
bb
June 14, 2010, 12:55
Tom Dunn
Buster;
That made my day. I'd like to have your permission
to copy it to my website so others can read this true tale. Excellent!
June 14, 2010, 13:08
Buster Beck
Hey Thanks Tom!!
Yessir anything I say can and will be used for me in a court of my peers

Seriousely, you or anyone else has my permission's.
As a possible, Lindell has one of the most outstanding RR locomotive hunter cased pocket watches that carrys an engraved locomotive one one side and the caboose on the other side that you all should see

Show us your watch Daddy

regards,
bb
June 14, 2010, 15:25
Mark Cross
According to the museum director of the Casey Jones Museum in Jackson, TN, he said, "There has been some controversy about exactly how Jones died. Massena Jones (former postmaster of Vaughan and director of the now closed museum there), said "When they found Jones, according to Uncle Will Madison (a section hand who helped remove Jones' body from the wreckage), he had a splinter of wood driven through his head. Now this is contrary to most of the stories, some of which say he had a bolt through his neck, some say he was crushed, some say he was scalded to death. But we have to go along with Uncle Will Madison. He was there, we were not."
So, that controversy continues to roll on to this day.
Regards! Mark
June 14, 2010, 18:17
Mitch Markovitz
155 miles was a long division back then.
I read the story in Trains Magazine a while back. There seems to be controversy concening his fulfillment of his train orders, watching out for the freight in case such an occurance would happen, and where was the flagman from the freight train that was going in the hole for Casey?
Shouldn't have Brother Jones been running under control in order to make sure the freight was in the clear with the markers turned?
Enough of that, how's 'bout our hero Davey on the watch?
June 14, 2010, 20:53
Theodore J. Brown Sr.
Nice case, Jon, that one should have a RR movement put in it!Any of you guys know what Casey's watch was? I once heard it was an '83 model Waltham, but I don't know if that's true....Ted.
June 15, 2010, 10:30
Mark Cross
I don't know, but according to this 1983 Jackson TN news paper article, it was in a gold case.
http://news.google.com/newspap...IBAJ&pg=5957,2637978
Regards! Mark
June 21, 2010, 23:16
Lindell V. Riddle

Some years ago I researched the Casey Jones watch and determined it was supposed to have been an Open-Faced Model 1883 Waltham.

Anyhow, the case that Buster mentioned is not related to that but you will see it in the following images. They speak for themselves, but tell me if you have ever seen a train coming at you on the front side and going away from you on the back.


Coming at you...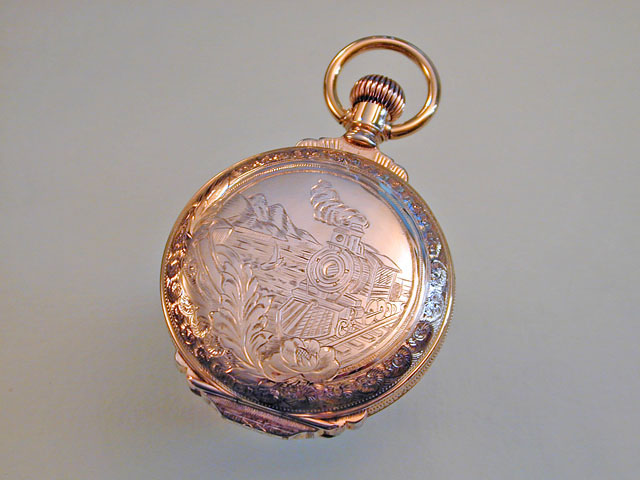 June 21, 2010, 23:16
Lindell V. Riddle

And going away from you...
June 22, 2010, 15:36
Mike LaForest
Just found this fun thread. There is a Casey Jones RR Museum in Jackson, TN, but I've not been there. Thanks Buster for the Casey tutorial; you are a good story teller. And thanks Lindell for the beautiful case pictures. Everyday I realize more and more just how meager is my motley collection compared to youse other guys

June 23, 2010, 12:16
Mark Cross
I've driven past the exit on I40 several times myself, Mike, but never seem to have time to stop. Hopefully I'll get there before the year's out.
Regards! Mark
June 23, 2010, 17:46
Buster Beck
Thanks Mike, guess that makes me the storyteller

Will have to think about that [ another new experience for me ]

Thanks for posting your beautiful hunter Boss, its a keeper

Yo Rail, shoulda/woulda/coulda

Rules were made to be broken when you had a RR to run

I once was given the OK to run a one car train to an automobile plant with a car of parts that would shut the plant down if they weren't there in 2 1/2 hrs

The run was 138 miles and I was given the "all clear" to turn a wheel. Made it in 138 minutes and had to run thru 14 towns which all had a speed limit for sure

Still hold that record today as the fastest made



regards,
bb
June 23, 2010, 20:41
Theodore J. Brown Sr.
Speaking of the Casey Jones watch, I can remember seeing a picture of the watch (not the movement), and it had a Roman dial and was marked "American Waltham Watch Co.". It was in a book I was reading back in high school.Ancient history, I guess! It seems that as well told his story was, that someone must know what movement it is...Ted.
June 23, 2010, 21:31
Mike LaForest
bb,
The name BUSTer goes well with your time record

Unusual name. I have an uncle Buster.
June 23, 2010, 22:50
Tom Brown
I did too! He lived in a shoe (Buster Brown).
June 25, 2010, 13:01
Larry Buchan
Buster says "Lindell has one of the most outstanding RR locomotive hunter cased watches that carrys and engraved locomotive on one side and the caboose on the other side"
I think it's time for a trip to the eye

car Buster, that tail end view looks like the vestibule of a passenger coach to me, this is pure varnish in my opinion.
Buchaneer

June 25, 2010, 18:08
Buster Beck
Yo North Rail,
Now what if I had said " and a vestibule on the other side "




Only us rails would know what I said

Gotta tone it down for the civilians, brother, so they can understand the story

Take care Larry

regards,
bb

June 25, 2010, 19:29
Larry Buchan
Right you are Buster, Good to keep it simple for the civvies, I probably have them scratching their heads about the "eye" car, did you have them down in Texas?
Larry

June 25, 2010, 21:17
Buster Beck
Yessir and the "ear" car and the "wellness" car and even the "shoe" car



regards,
bb
June 25, 2010, 22:44
Jon Harting
Well, it's been a few days and I figured that Tom would have the whole history of our mystery engineer, Davey Henderson, all figured out. C'mon Tom, you are the man!
June 25, 2010, 23:08
Tom Brown
You know I meant to look but then this went to Casey & I forgot about the case.
Let me see. Thanks for reminding me.
Tom
June 26, 2010, 11:25
Larry Buchan
Hello Buster:
We had an old Tuscan red coach that was used for transporting horses, it was converted to a classroom car for training locomotive engineers, real state-of-the-art equipment like a 24RL brake valve, and this was in the 1970s. Half of the time the car would be frozen up in our Canadian winters as they forgot to properly blow out the steam heating lines. The car was called "Car 54" and the joke around the property was always "Car 54 where are you"
Larry

June 29, 2010, 23:44
Tom Brown
Jon
Just an update, I am still looking, you would be amazed at the number of Davey Hendersons in this country. So far I haven't found a railroad one but I haven't given up.
Tom
June 30, 2010, 00:41
Jon Harting
Hi Tom,
OK, great and thanks for the update. It's too bad that the BLE doesn't have a past member list on their website. I used to hostle for the SP at Taylor Yard in Los Angeles and was a member of the local BLE but have lost all of my old contacts.
Jon
June 30, 2010, 07:39
Tom Brown
Jon
You don't have any idea what part of the country Davey might have been from do you? It could help narrow it down some. With a name like Davey I have to look at Davey, Dave, David. I am also assuming being a 18s case we are probably talking 1900 or so?
Tom
June 30, 2010, 08:57
Tom Brown
So far found this one mentioned
David Henderson engineer Turners, NY Documents of the Senate of the State of New York, Volume 4 1882
June 30, 2010, 09:17
Jon Harting
Tom,
The guy at work that I got the watches and cases from said that his uncle bought a whole watchmaker's estate in the late 50s in Santa Monica, CA. I'm afraid that is all I could find out.
Jon
July 10, 2010, 17:40
Tom Brunton
What a magnificent case Lindell, just amazing quality of engraving,sheeeshhh !!!!
July 25, 2010, 09:08
Derek Ramsdale
I read somewhere that the watch was a No. 35 grade of the Waltham 83 model, movement no. 4725871 made in around 1889. These were beautiful hi grade watches just a speck below the `Crescent Street`grade. I enclose a picture of the movement of one of mine.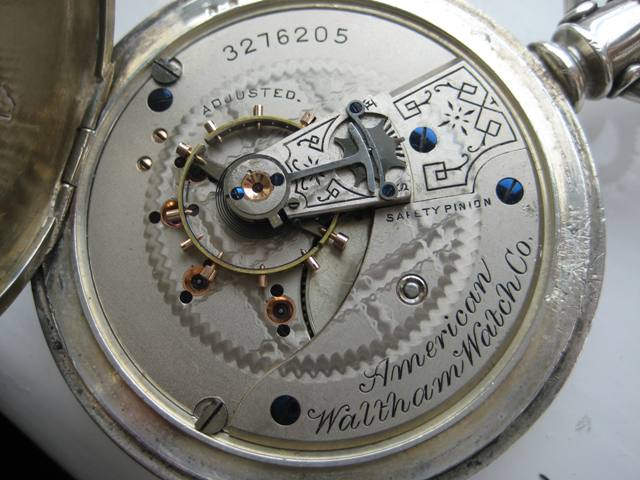 July 25, 2010, 20:50
Tom Brown
Jon
Sorry I missed your post over a month ago about Ca. I thought I had found a way to see all new posts but some still slip through the cracks I guess.
When I narrow the search down to Ca. it still comes up with pages of possibly Davey Henderson. So far the closest that was an engineer is David Henderson born about 1854 in Ca., in the 1930 census for San Diego Ca. he is listed as a mining engineer/extracting.
I will keep looking but I am afraid this is one we may never pin down.
Tom
July 25, 2010, 22:41
Ray Hallenbeck
Here is a David Henderson but not of California.
From the August 24, 1890 issue of The New York Times:
Middletown, NY, Aug. 23 -- There are seventeen members of the Port Jervis Lodge of the Brotherhood of Locomotive Engineers who have been employed on the Erie Railroad for periods of from twenty-five to thirty-five consecutive years, the average term of service being within a fraction of thirty years. The oldest in continuous service are H.L. Carlough and S.A. Ronk, both of whom began running on the road Jan. 1, 1855. The oldest in actual length of service is Benjamin Hoffner, who entered the employ of the company as an engineer in 1848, but was off the road from 1854 to 1858. Mr. Hoffner is still doing duty at seventy years of age, and in the thirty-eighth year of his work on the road, as engineer of the train between Port Jervis and Otisville.
The seventeen veterans referred to in the order of seniority of continuous service are: H.L. Carlough, S.A. Ronk, Charles Frayer, Albert Johnson,
David Henderson
David Henderson, William Dooley, Benjamin Hoffner, Edward Kent, G.H. Cooper, Samuel S. Walker, David Wilson, J.H. Cookson, A.H. Goodale, E.H. Cox, A.P. Brady, G.H. Johnson, and John Ackerman.