August 17, 2005, 15:16
Jerry Freedman
Elgin 246
This is a recent acquisition with the help of Tom McIntyre. The 246 is a 17J pendant set watch , with gold jewel settings and a gold train. The case is a 20 year Star case. The total production was 2000. I thing it is among the most beautiful movments that Elgin ever produced. This has what one member called the "lace doily" winding wheels.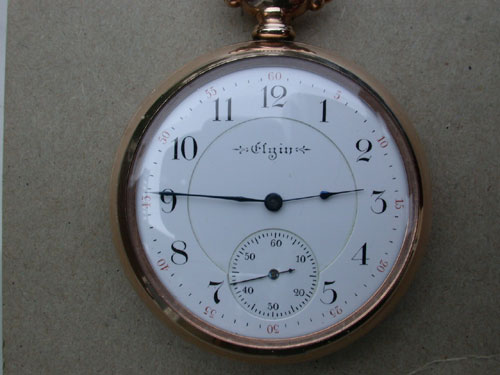 August 17, 2005, 15:41
___________
Congrats Jerry!
The 246 is an easy watch to like!

Fred
August 17, 2005, 21:27
Tom Huber
Jerry, A lot of these are seen with fancy dials. BTW yours has a dial that looks to be very high grade, ie DS and looks to be glass enamel and is probably original to the watch.
Tom
August 18, 2005, 11:25
Jerry Freedman
Tom:
Yes that is an original glass enamel dial. I have another watch is this "lace doily series" a 161 that does have one of Elgin's fancy dials. By now I think everyone knows I admire the grades 156,162,161,155,243 and 246. These are all low production watches and beautifully finished watches!