Internet Horology Club 185
Waltham Model 1883 CPR pocket watch with AJ Cameron provenance
September 04, 2013, 19:19
Larry Buchan
Waltham Model 1883 CPR pocket watch with AJ Cameron provenance
Waltham 18 size, 17 jewel, Grade CPR, Model 1883, Serial No. 5742981, Made 1892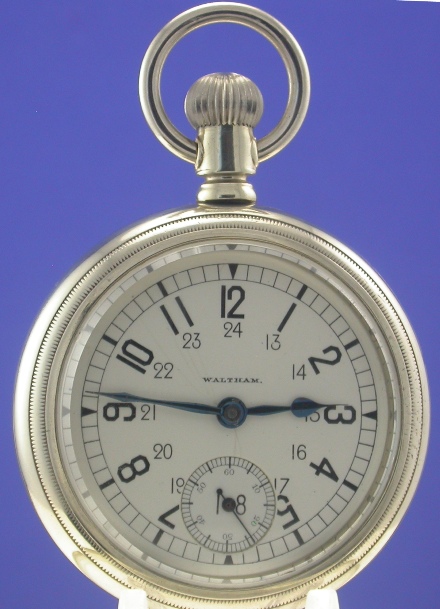 September 04, 2013, 19:23
Larry Buchan
Dial: Single sunk, 24-Hour Railroader dial, Arabic numbers 1 to 12 marked radially, 24 hour tract horizontal, signature "Waltham" Heavy spade hands.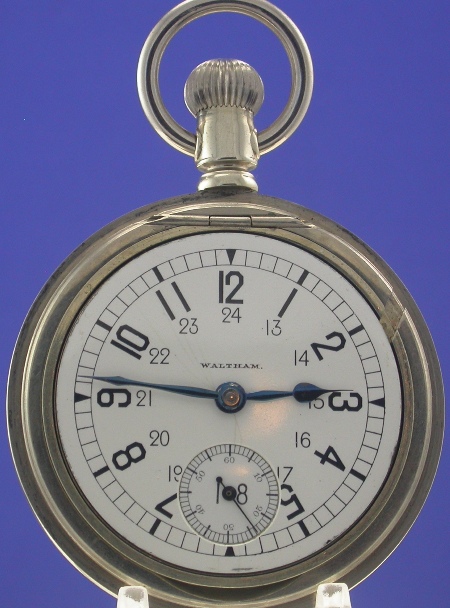 September 04, 2013, 19:27
Larry Buchan
Movement: Full plate, nickel, stem wind, pendant set, open face, 17 jewels in gold settings, damaskeened, micrometric regulator, and patent Breguet hairspring. The movement is inscribed "Adjusted 5742981" on top plate; "17 Jewels Canadian Pacific Railway (on shield with beaver on top.) Safety Pinion" on barrel bridge; black filled lettering.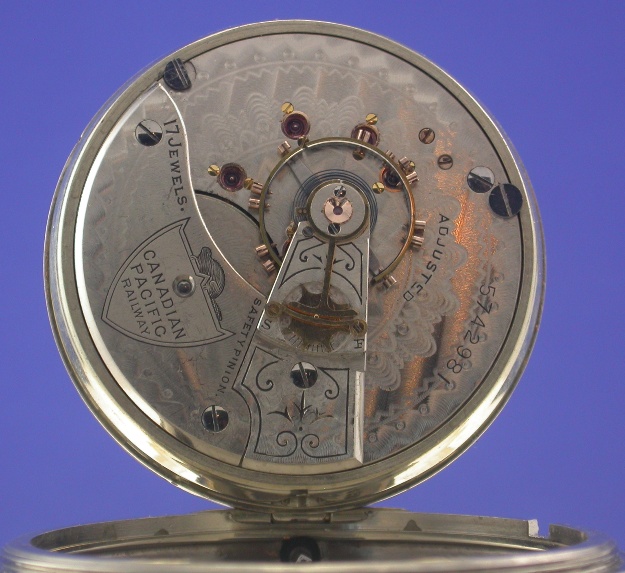 September 04, 2013, 19:28
Larry Buchan
Movement close-up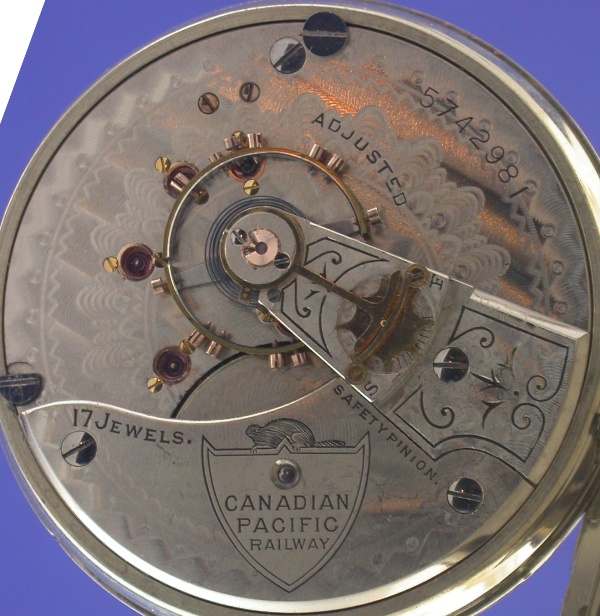 September 04, 2013, 19:31
Larry Buchan
Case: Silverode, open face, swing ring, inscribed "Patented Trade Mark (with star and crescent moon.)" In back Maker: Crescent Watch Case Company, Brooklyn, New York.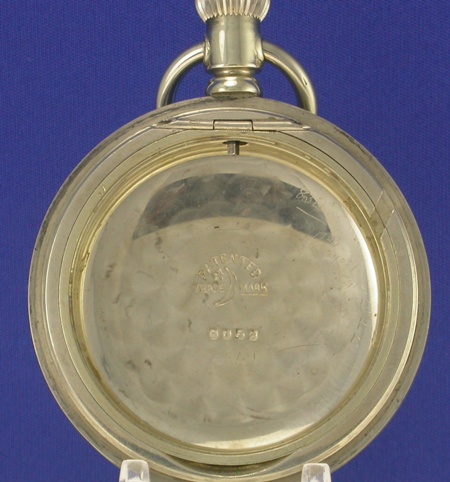 September 04, 2013, 19:33
Larry Buchan
Case trademark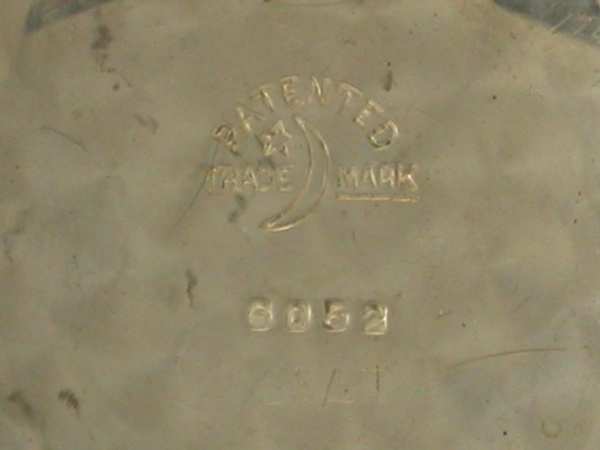 September 04, 2013, 19:37
Larry Buchan
The owner of this pocket watch was Alexander J Cameron, and Tom Brown was invaluable in helping me find census information on him he shows in the 1901, Winnipeg, Manitoba census as being born January 12, 1868 in Ontario age 33 and was of Scottish descent, at the time he was employed by the CPR as a brakeman. In the 1911 Winnipeg census he was 44 born in 1867 and is still employed with the CPR but it shows that he is an Engineer, which is probably a mistake as at that time he would have been a Conductor. In the 1916 census, Alberta, he is 48 years old and living near Fort MacLeod, Alberta and listed as a farmer, married to Mary, with a son Allan, and daughter Mabel aged 19 and 17 both born in Winnipeg, Manitoba. A newspaper clipping from the Calgary Herald, March 7, 1952 shows that Alex Cameron a pensioner aged 85 of 531 13th Ave. SE was critically injured when knocked down by a car at the intersection 12th Ave. & 5th Ave.SE it was winter conditions and Cameron was crossing from the south to the north of the intersection when the vehicle struck him, the driver testified that Cameron appeared to be standing in the middle of the road waiting for him to pass, but slipped on the icy road and fell into the path of his car and was struck by the right front fender. Alex Cameron passed away in the General Hospital a few days later.

September 04, 2013, 19:40
Larry Buchan
Alexander J Cameron, posing with prize-winning bull at the Calgary Stampede Exhibition & Fair circa 1920s, he is wearing his pocket watch with silver chain and fob, a Victorian silver coin.
September 04, 2013, 19:44
Larry Buchan
A photo of Alex Cameron taken by a city Street photographer in downtown Calgary in front of McCullough's Silk Shop at 114A 7th Ave. SW circa 1950, he is wearing his pocket watch with chain and fob, I bought the watch from his granddaughter Helen Keeler, who went to school with a locomotive engineer. I used to work with on the CPR Walter Kot, who told me about it, at the time when I went to look at the watch. It had not been touched since the accident, the crystal was broken and it needed a new balance staff, we made a deal and I bought a watch from her along with some other artifacts including:
September 04, 2013, 19:48
Larry Buchan
Hamilton 1903 time book unmarked with DR Dingwall Ltd. 584 & 424 Main, Winnipeg, Manitoba, Official Watch Inspector for Canadian Pacific Railway Manitoba on back.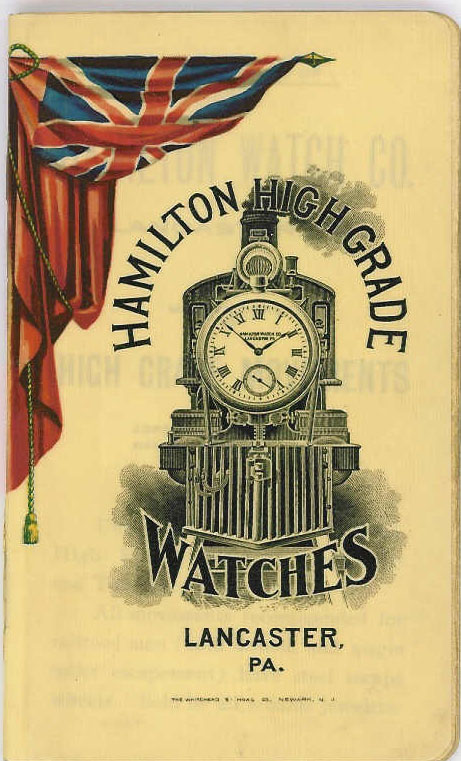 September 04, 2013, 19:50
Larry Buchan
Back cover;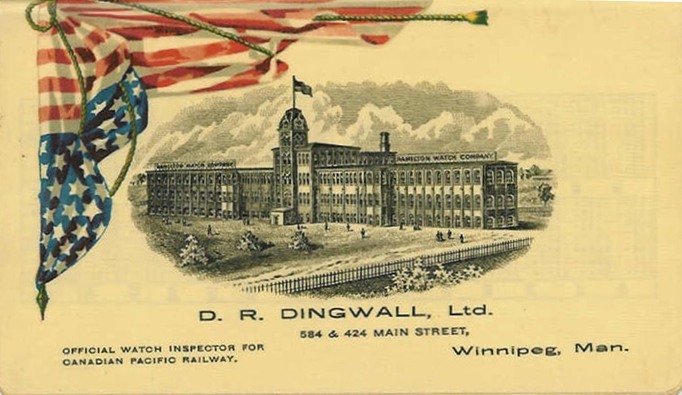 September 04, 2013, 19:53
Larry Buchan
CPR Form 94 Employees Watch Rating Record for AJ Cameron, Occupation Conductor, Maker of Movement: Wal (Waltham), No.: 5742981, Grade: 17J CPR, Case: OF Nic (Open Face, Nickel) Date Last Cleaned: September 19, 1902 Name and Address of Cleaner: stamped DR DINGWALL LTD. with Inspector: DRD's initials, Address: Winnipeg this pocket watch is pendant set and proves that pendant set pocket watches were approved by the CPR in 1902.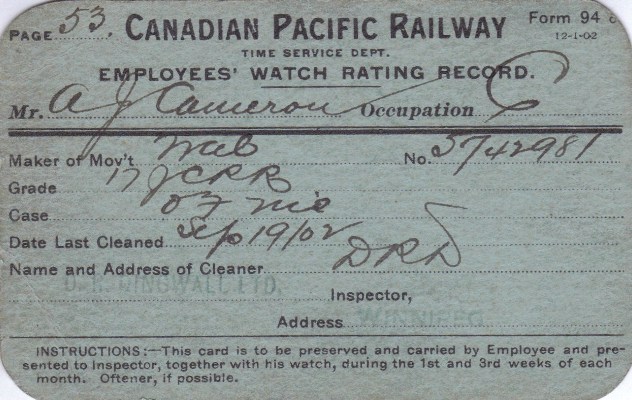 September 04, 2013, 20:01
Larry Buchan
CPR Watch Rating card reverse side August 8, to December 28, 1902 with land description on back, perhaps the land he bought in Alberta later in his career..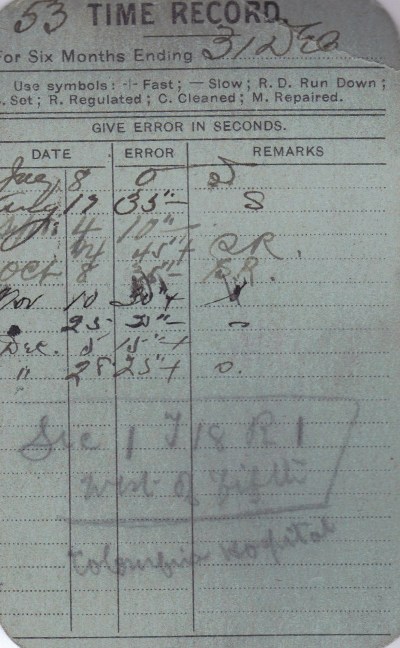 September 04, 2013, 20:03
Larry Buchan
CPR train orders from Moose Jaw, Saskatchewan dispatching office dated September 15, 1899, instructing Conductor Cameron on train No. 353 to run special from Broadview, Saskatchewan Mile 130 to Brandon, Manitoba Mile 1, cross up (pass) Conductor Dawson on No. 357 special at Burrows, Saskatchewan, 21 miles east at Mile 110 and to hold at Fleming at Mile 77 and look out for stock special following and allow to pass when overtaken, train orders signed by Cameron on the bottom to acknowledge receipt of same.,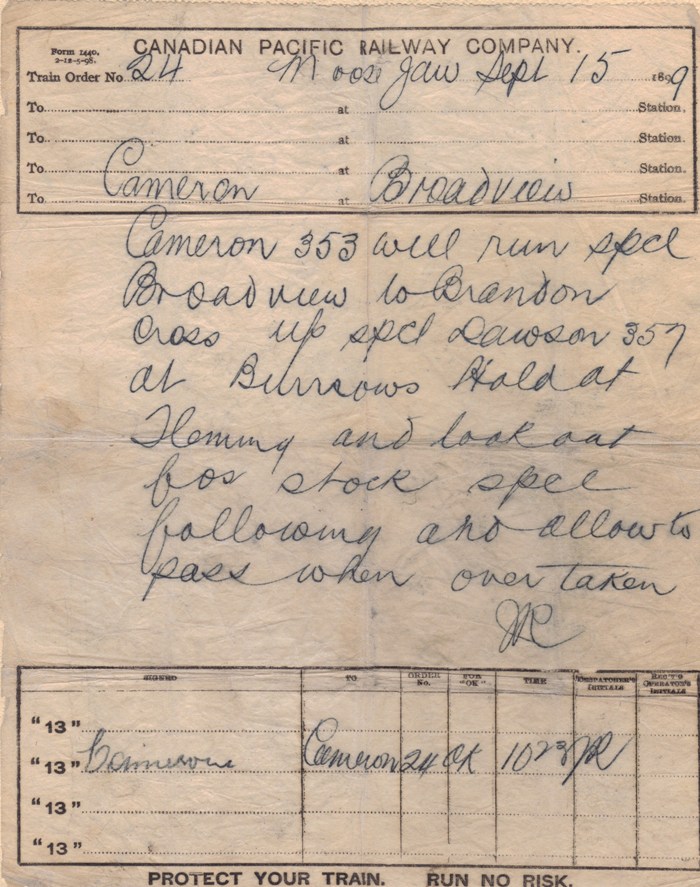 September 04, 2013, 20:06
Larry Buchan
Canadian Pacific Railway Company Form 1572 No. 1630, Winnipeg September 6, 1899 stating "The following named employee was examined as to his knowledge of the construction and operation of the (a) Westinghouse Automatic Air Brake" Name: A Cameron, Occupation: Brakeman, General Average Proficiency: 5 Good
September 04, 2013, 20:09
Larry Buchan
Cover CPR Rates of Pay and Rules 1903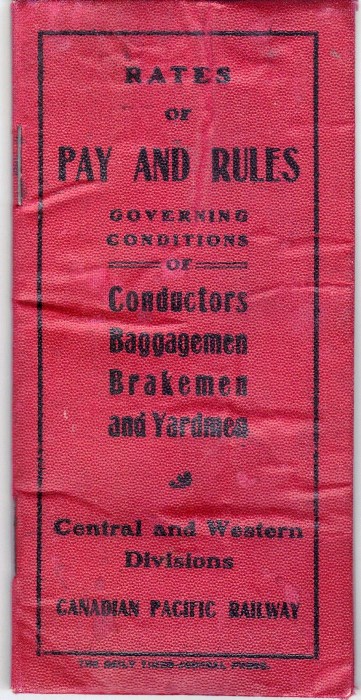 September 04, 2013, 20:11
Larry Buchan
CPR rates of pay and rules from 1903, showing pay rates for passenger service, freight and wayfreight service, and rules governing conditions of Conductors, Baggagemen, Brakemen, and Yardmen on Central and Western Divisions Canadian Pacific Railway Company Effective August 1, 1903,.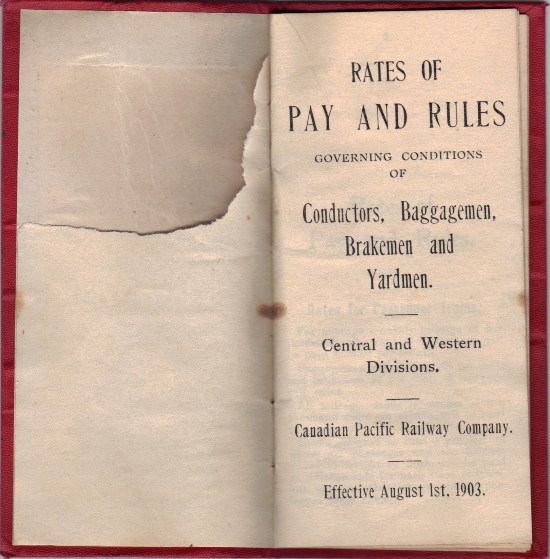 September 04, 2013, 20:14
Larry Buchan
CPR Pay rates for Passenger, Page-7
September 04, 2013, 20:17
Larry Buchan
CPR Rates of pay for Freight, and Wayfreight Page 8,Rules Page 9.
September 04, 2013, 20:19
Larry Buchan
CPR Rules from 1903 collective agreement Page 10, 11.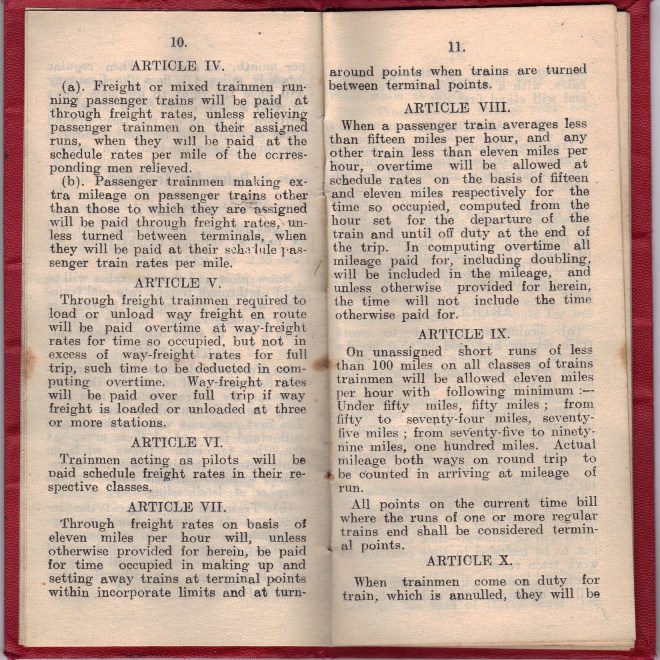 September 04, 2013, 20:22
Larry Buchan
A leather strap with whistle attached, could have been used for switching in foggy conditions, or maybe when showing off his prize livestock. There were many other newspaper clippings about the accident and his passing away from the Calgary Herald newspaper archives at the Glenbow Museum in Calgary.
September 04, 2013, 20:23
Larry Buchan
CPR Employee Timetable of Broadview Subdivision from 1967 many changes in 68 years, train order and telegraph authorities have changed with modern technology to Centralized Traffic Control and many sidings have been eliminated, including Burrows and Fleming and others extended to hold 150 cars over 6000 feet.