Internet Horology Club 185
Hamilton 954
May 31, 2004, 10:27
Rob Carter
Hamilton 954
Hi,
Here is my Hamilton 954. It is by no means in mint condition, but I like the zig zag damaskeening pattern featured on the movement. You don't see these everyday although almost 1900 were produced with the lever set feature. It was RR approved during it's time and was adjusted to 5 positions.
I am a novice "photographer" and I have learned much through this chapter and it's knowledgeable members. It has been a slow learning curve for me with lots of room for improvement, but it is fun although sometimes a bit frustrating.
Thanks,
Rob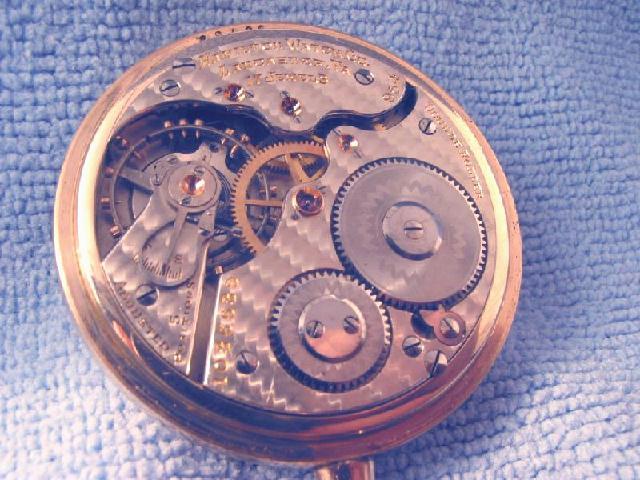 May 31, 2004, 10:28
Rob Carter
Dial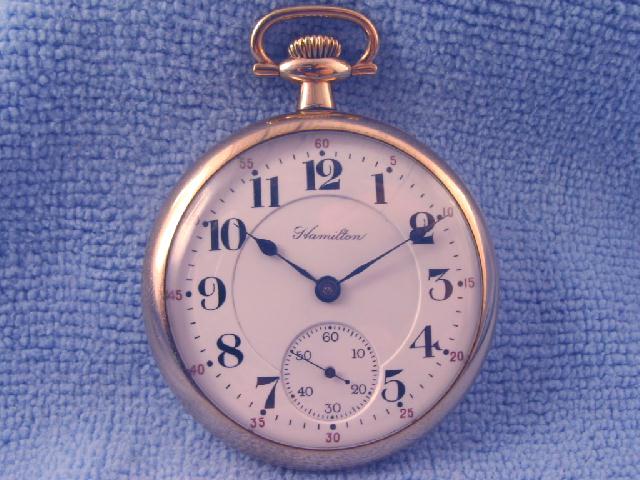 May 31, 2004, 10:49
Kevin Pestor
Nice watch Rob, what do ou use for lighting , your watch pictures?
May 31, 2004, 11:57
Rob Carter
Hi Kevin,
Right now I am using 3 desk lamps. 2 40 watts and 1 60. Am thinking about looking into an "Ott" light. Here is one more photo of the movement.
Rob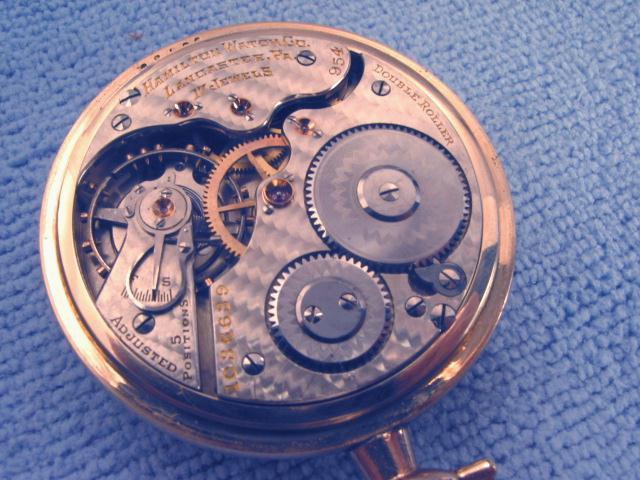 May 31, 2004, 21:39
Glyn Meredith
Rob,
I suggest you try natural sunlight. You will get more natural colors and fewer problems with shadows and reflected light. It's also cheaper than electric lights ...

June 01, 2004, 07:39
Jim Cope
...Glyn's right there but an Ott lite is/would be a worthwhile investment for indoor

...you may also wish to search the archives here for some excellent lighting and exposure tips particularly by Mssrs: Soucheck, Dellinger & Riddle (sounds like a law firm)...


Jim
IHC#234

June 01, 2004, 12:08
___________
Nice watch Rob! I have been a fan of the Hamilton 954 for a long time and it is nice to see the photos of your fine example.
Fred
June 01, 2004, 20:25
Rob Carter
Hi Guys,
Thanks for all your comments and suggestions and Glyn here is a shot taken with outside light as you suggested.
Rob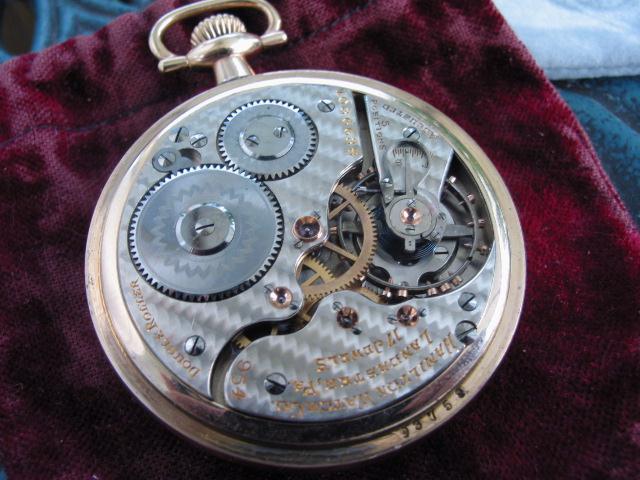 June 01, 2004, 20:44
Phil Dellinger
Rob,
Great picture using natural light. I think lighting is the key to good pictures. Trying to find the best type of lighting for your situation depends on a lot on your camera options also.
Thanks for sharing your Hamilton 954 with us, keep the great pictures coming.

June 01, 2004, 20:51
Glyn Meredith
Rob,
There you go. You got rid of the pink tint.
Is that a digital pic or a scan of a photo? What kind of camera are you using?
June 01, 2004, 21:23
Rob Carter
Phil,
I appreciate your encouraging words. Your photo's are always top notch. It is clear I am going to have to revise my lighting set up to get the results I want.
Glyn,
The images were taken with a digital camera. It is a Canon G2 I picked up a few months ago as they were being phased out.
Rob
June 01, 2004, 22:25
Terry Hill
Thanks for posting Rob, I like those squiggly lines too...