Internet Horology Club 185
Hampden Dials
June 21, 2013, 18:08
Lorne Wasylishen
Hampden Dials
A couple of sweet 18s Hampden dials that I would like to own. This one was up on ebay a few months back with a BIN of $325 and 3 bids then it disappeared at the BIN price. Hampden Grade 60 in a double hinged GF Hampden display case.
The Grade #60 was the open faced version of the identically described Hampden Railway which was a hunting model prior to 1889.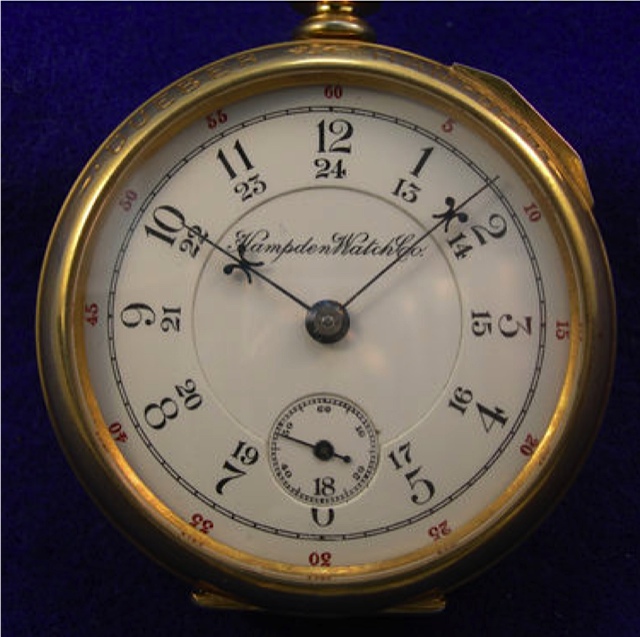 June 21, 2013, 18:13
Lorne Wasylishen
And this dial is usually seen in a 12s (Thanks for the info Deacon) but was on a 16s non working Wm. McKinley, went for $61.
Both of these put me in mind of the Waltham Railroader dial.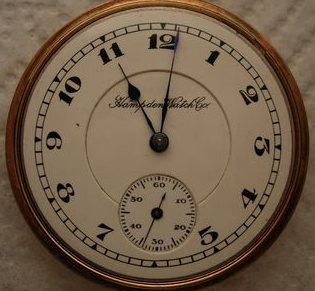 June 21, 2013, 20:15
Edward L. Parsons, Jr.
Lorne,
I'm not a much of a Hampden collector, but I too love radial dials. Canadian-style 24-hour radials, especial the RN kind, are the cat's you-know-what in my book.



Best Regards,

Ed
June 21, 2013, 21:09
Lorne Wasylishen
quote:

the cat's you-know-what
You mean meow, correct?

Here is another for your viewing pleasure.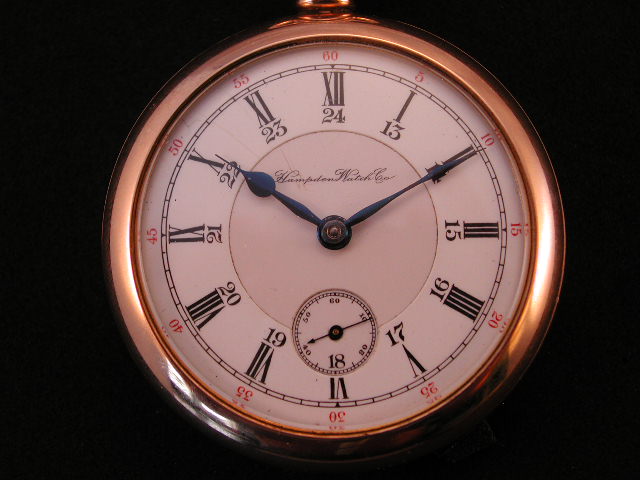 June 21, 2013, 21:44
Edward L. Parsons, Jr.
Yeah, something like that, and thanks for the eye candy!
That one's a real beauty and proportioned just right so the 17 & 19 numerals aren't partly clipped off by the seconds bit. That is something you don't see too often.
This is about as bad as that "clipped 17 & 19" problem gets on a Waltham M1883 -- they are almost completely eclipsed: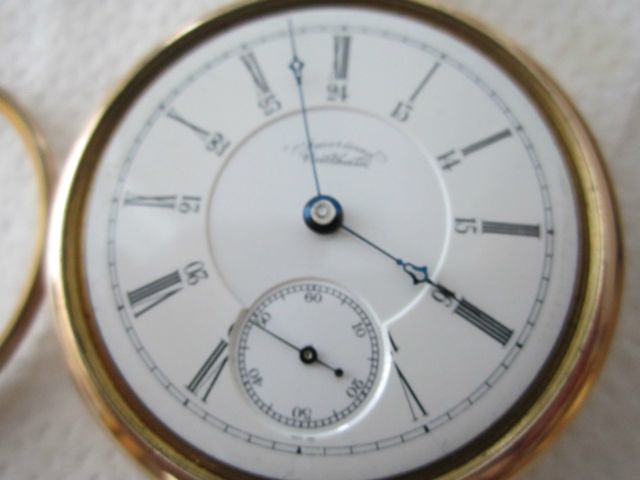 June 22, 2013, 00:29
Lorne Wasylishen
I have noticed the clippage but never had the two extremes side by side for comparison.
It is quite a difference yet no jeopardy to the Hampden as far as reading the seconds.