Internet Horology Club 185
South Bend Dial Database, Pictures!
March 20, 2009, 10:47
Tony Dukes
South Bend Dial Database, Pictures!
E,SS,Roman,14-45
This dial is on a 211.
March 20, 2009, 11:24
Tom Brown
Here is one that is on a 217, I am not sure of all the info as to page numbers etc., so this might not be correct
E, DS, Arabic, Monty, 17-28-514
Tom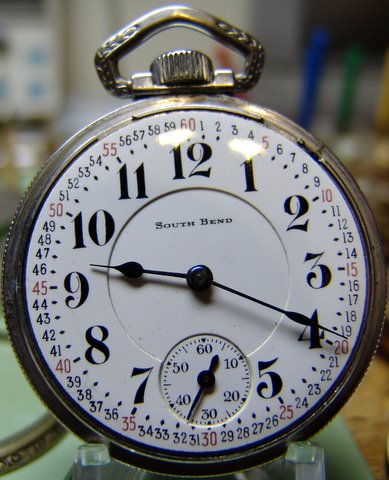 March 20, 2009, 15:32
Edward Kitner
Frank,
What is the average price for the different size dials?
12s
16s
18s
March 20, 2009, 19:54
Bill Manders
Heres a Southbend off of a Gr.260, I am contemplating having repair done to this one as well.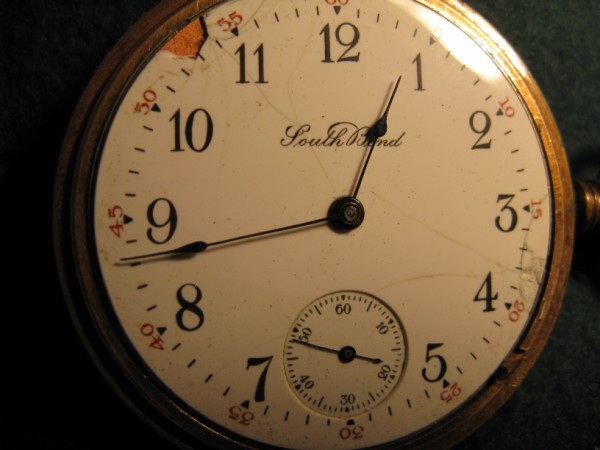 April 27, 2009, 13:27
Ernie Loga
Here is the dial I just got back and re-installed on my 1925 Studebaker 12s order watch. International Dial Co did the refinishing.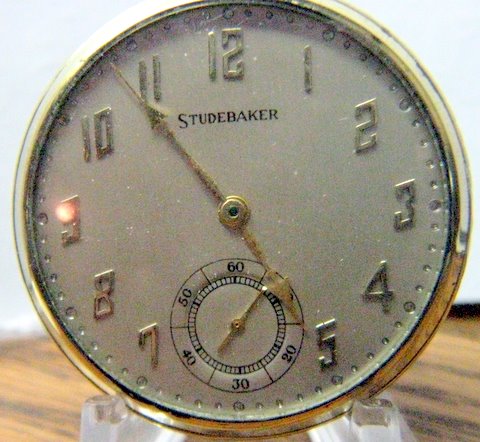 April 27, 2009, 14:12
Keith Klimkowicz
Hi Ernie
Did you have to remove the numbers or did refinisher do that for you.
Nice Dial.
April 27, 2009, 19:46
Ernie Loga
Keith:
The refinishers did it all. I sent them the old dial in very bad condition. I am very pleased with it.
May 05, 2009, 07:17
Ernie Loga
Here is the dial from my South Bend 120. At first I thought this was a grade 121 because the serial number falls within the range of numbers for a 121 in the South Bend Database. But this watch is a 120. A 121 grade does not have a seconds chapter.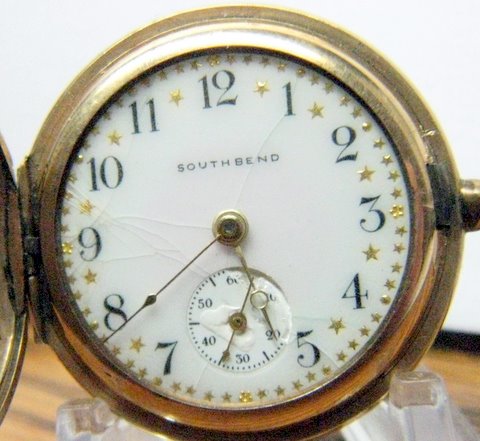 May 14, 2009, 13:23
Larry Buchan
On my Grade 227
E, DS, Arabic 24-hour, 25-02-2157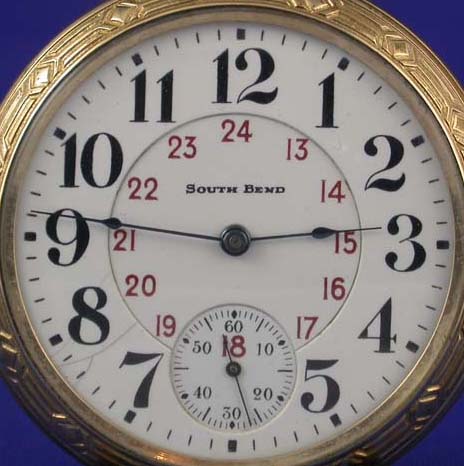 July 28, 2009, 13:29
Tony Dukes
E,SS,Arabic dial on 207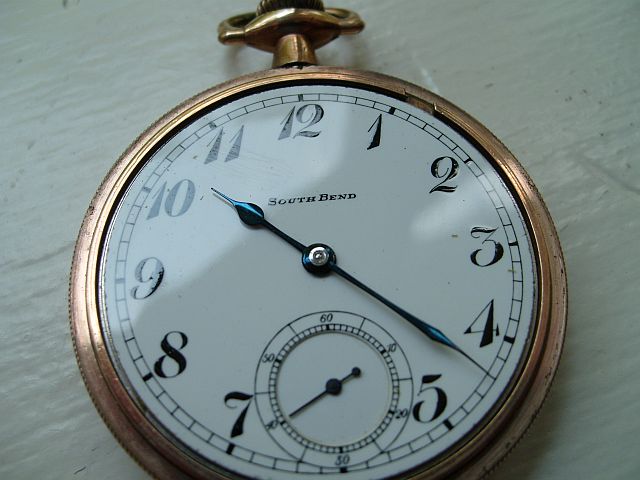 October 11, 2009, 12:57
Frank Kusumoto
Tom Brown: Great looking Monty dial. The dial (as I refer to it) is from the 19
17
catalog, pg.
69
, and referred to on that pg. as
5147
. Hence
17-69-5147
. Here's the
LINK
.
Edward Kitner: Average price? There's not really an average price. Very Fine Enamel dials that are rare can fetch $100-$200. The best metal dials, IMHO, aren't worth more than $25 except for the ones with the attached gold numbers.
Ernie Loga: International did a good job on that. I'm impressed that they got the sub-seconds pretty much dead on. Hope I'm not being rude, but how much did they charge?
Larry Buchan: Rare Dial. Very cool that you got the reference nomenclature. I would call it a
17-69-2137
because I always try to use the earliest possible reference, but a
25-02-2157
is the same as a
17-69-2137
.
Tony Dukes: The condition of that dial looks superb. That would be a
17-69-647
. This is the dial that Dr. O.B.Frye thought was the signature South Bend dial. Not for any particular reason but he just thought it looked the best. He called the script "Gazely" (like the animal as an adjective).
For my own personal contribution here's a fancy 16s dial. I just call them "Fancy", note whether the numerals are arabic or roman and whether the script for the "South Bend" is block or what I call gothic/old-english. This would just be Fancy-roman-block.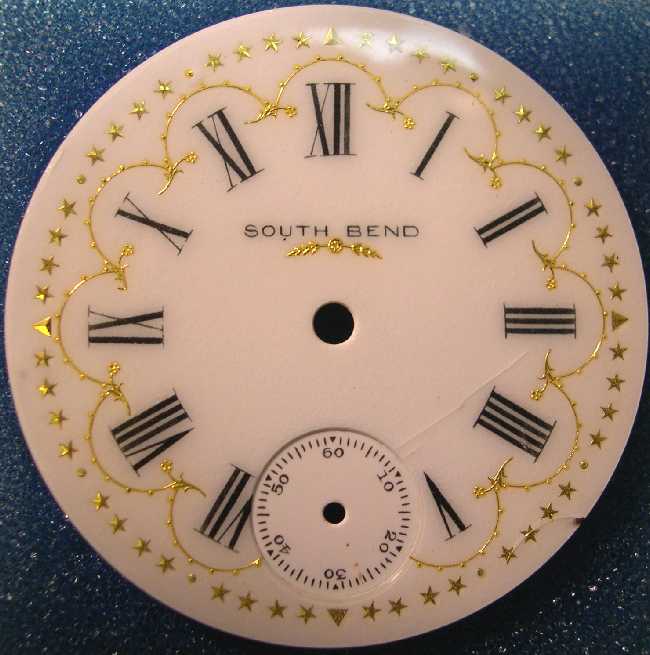 October 11, 2009, 17:48
Ernie Loga
Hi Frank: International dial charged me $34.00 for the refinish on the dial. I took a National first with the watch at the Studebaker International Meet in Cedar Rapids, Iowa in July.
Ernie
January 14, 2010, 15:50
Keith Klimkowicz
Hi All
Here is one that has not been posted yet. This is on a O size grade 101.
Regards
Keith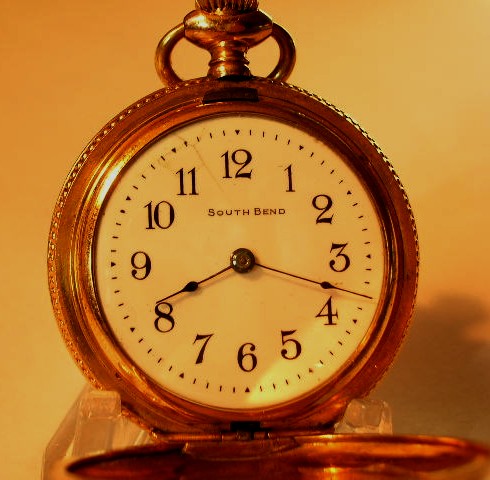 April 12, 2010, 16:49
Richard Romero
This dial is on a model 313
E, DS, Arabic 18s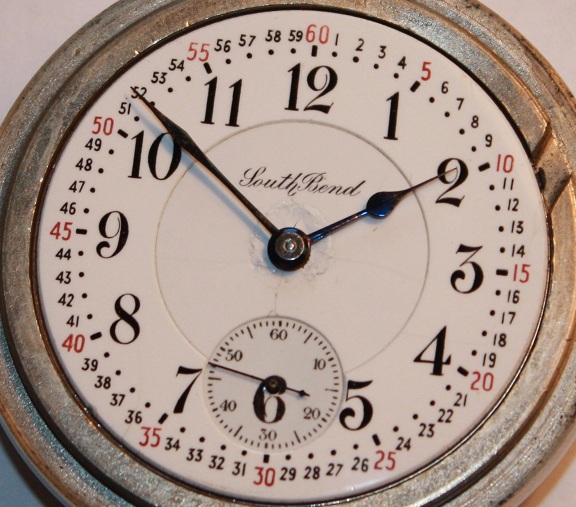 May 08, 2010, 05:23
Francis Bowman
These two dials that are off a 207 and 215, both are worse for wear. I would like to get them done but not sure if we have people whom re finish dials like the USA or where would i start to look. Phone book may be? The one on the left looks more fancy than the other and looks more impressive.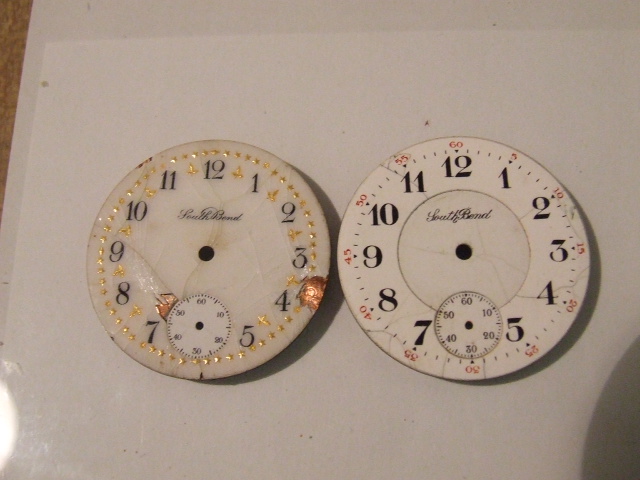 July 30, 2010, 10:12
Jon Caird
Here's the dial from my 1925 Jefferson.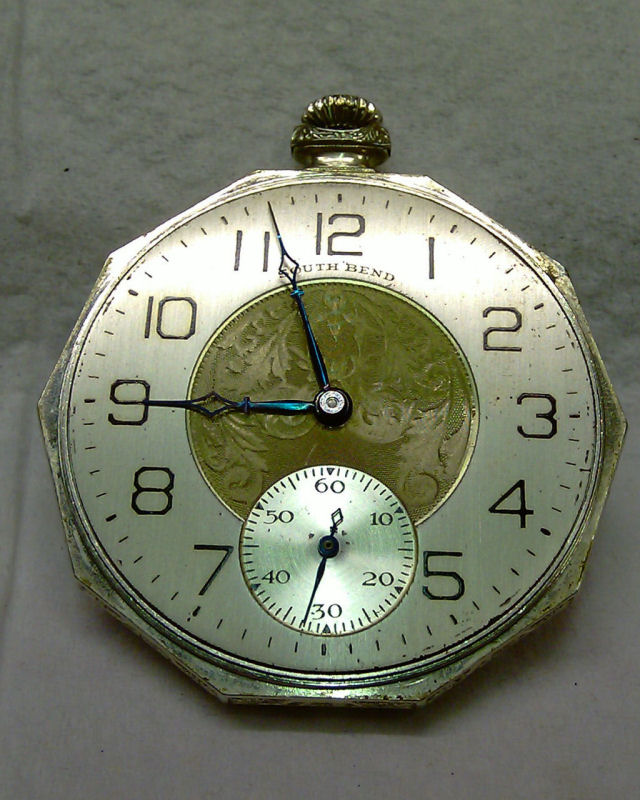 August 17, 2010, 07:29
Frank Kusumoto
Aughts coming through:
October 13, 2014, 16:54
Andrew Luu
Hi all
A co worker of mine has a 229 "The Studebaker"
It is similar to but different than what has been shown here.
October 13, 2014, 16:55
Andrew Luu
Dial Pic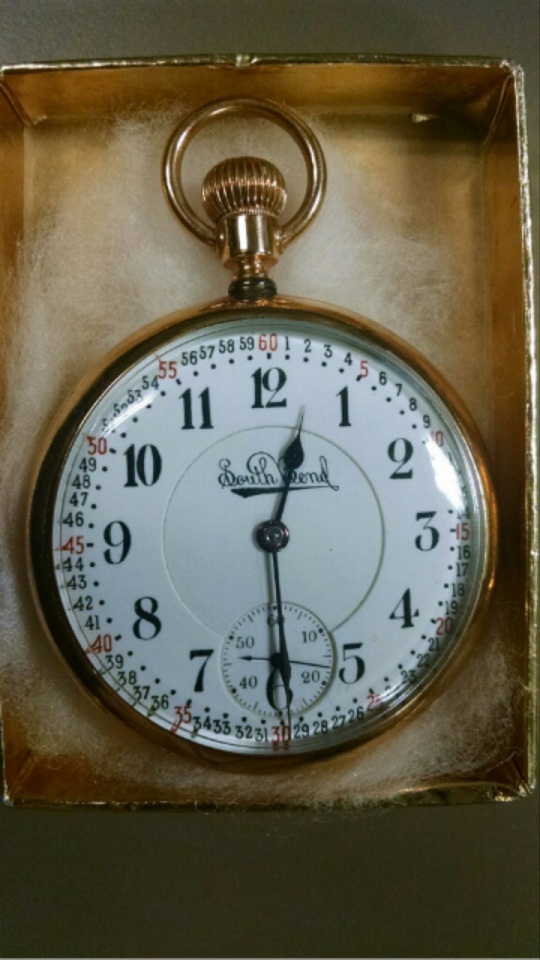 July 09, 2016, 21:56
Roger Stephens
I will add one to this thread. 18s.Grade 345 with a marginal dial
Roger