Internet Horology Club 185
Show us your Columbus
November 30, 2009, 16:42
Tony Dukes
Show us your Columbus
Recent pickup--Columbus 18s-adjusted
November 30, 2009, 16:43
Tony Dukes
Dial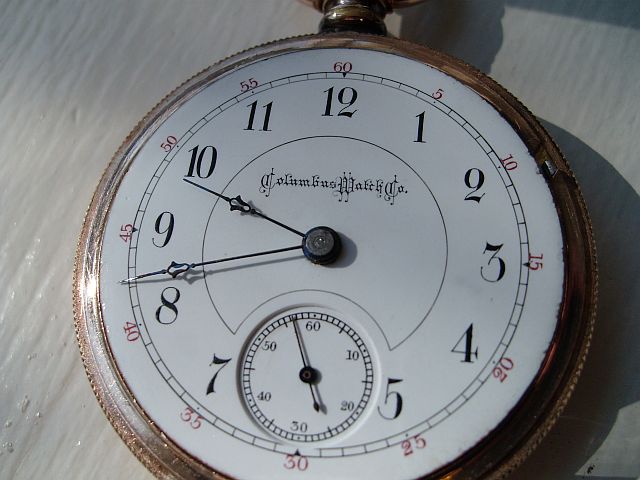 November 30, 2009, 16:45
Tony Dukes
Serial number--this watch was recently serviced by Chris Abell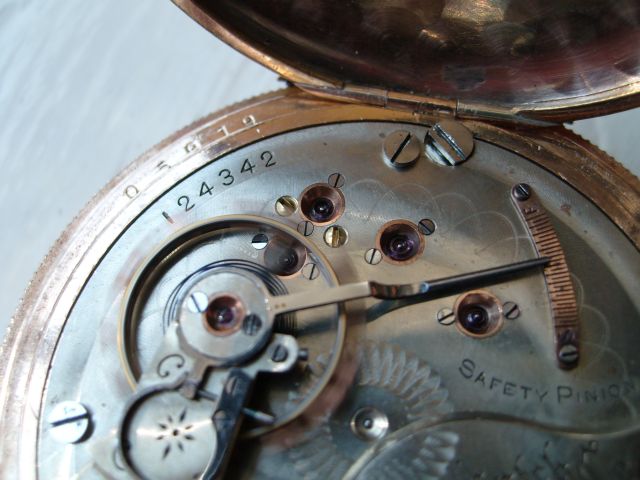 November 30, 2009, 19:07
Eric Unselt
Nice to know I'm not the only one collecting Columbi

.
My Log Dial: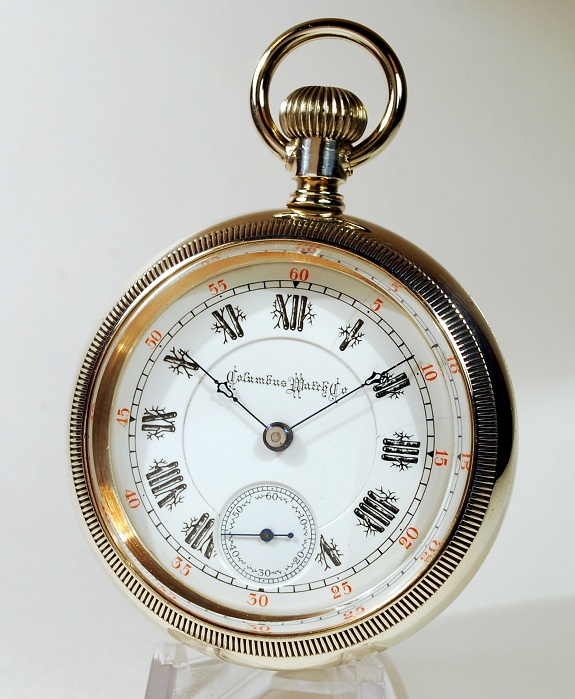 November 30, 2009, 19:08
Eric Unselt
In a Log Case: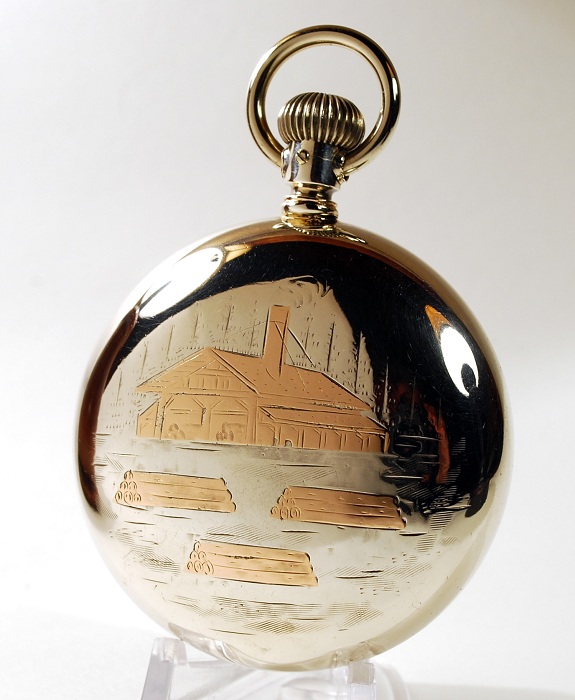 November 30, 2009, 19:10
Eric Unselt
Powered by a 15j Grade 302: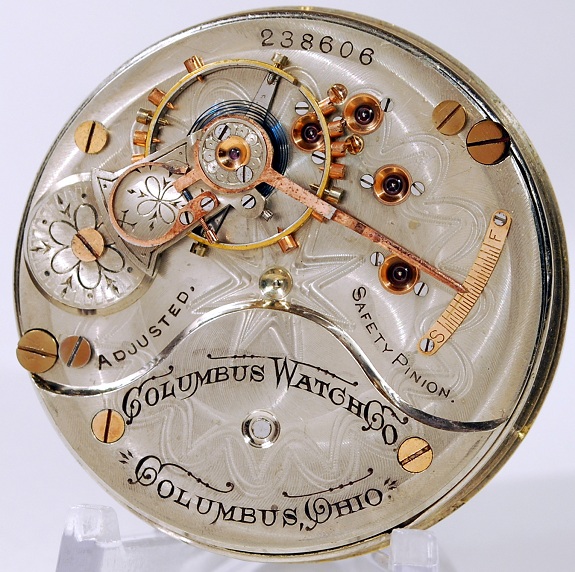 November 30, 2009, 23:56
Mike LaForest
That log dial is unbelievably beautiful! I saw one like it in pictures once. That dial is on a level all its own! I might even bookmark this page so I can return and drool from time to time. I didn't even mention those unique hands! What a watch!
I wonder if Columbus made that dial for the Woodmen of the World organization?
Mike
December 01, 2009, 00:28
Tom Brown
Nice watch Eric, I also agree that the dial is fantastic. I would think it was a WOW dial, Elgin made some that look just like that & some where I saw an ad once that they were for the WOW.
Tom
December 01, 2009, 07:11
Eric Unselt
I've never heard of the Woodsmen of the World. Who can tell me more?
December 01, 2009, 07:51
Tom Brown
Here is the link to their web page of their history;
http://www.woodmen.org/inside....e_Id=126&hhn_id=6406
I don't know if you like going to cemeteries but their members have some rather unique tomstones in the shape of trees or logs.
Tom
December 01, 2009, 09:34
Ernie Loga
Here is one of Columus size 18 watches. The serial number is only 202 away from Eric's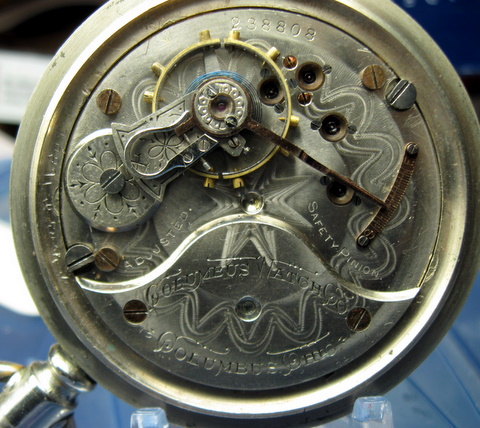 December 01, 2009, 09:35
Ernie Loga
Here is the dial of 238808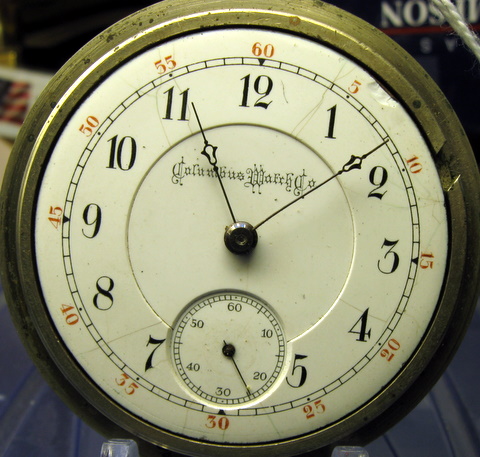 December 01, 2009, 09:37
Ernie Loga
Here is another 18s Columbus with serial number 38385.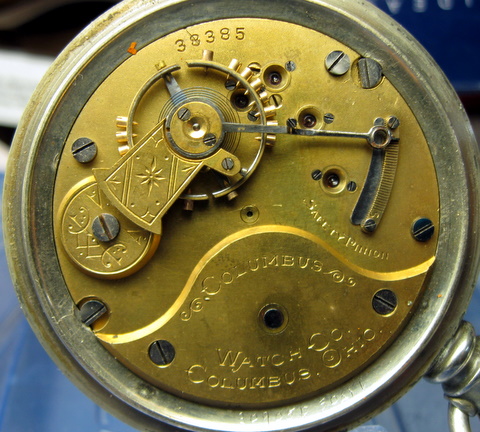 December 01, 2009, 09:38
Ernie Loga
the dial of Columbus 18s 38385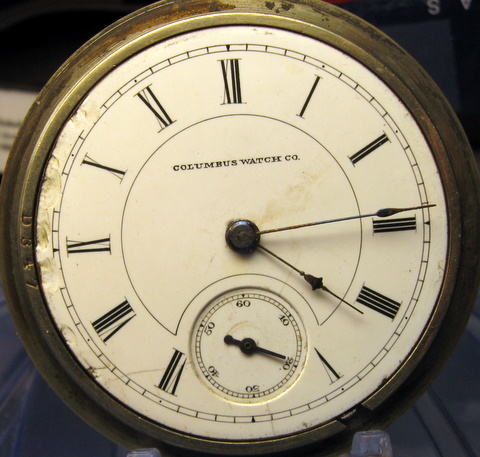 December 01, 2009, 09:39
Ernie Loga
This is a size 6 Columbus.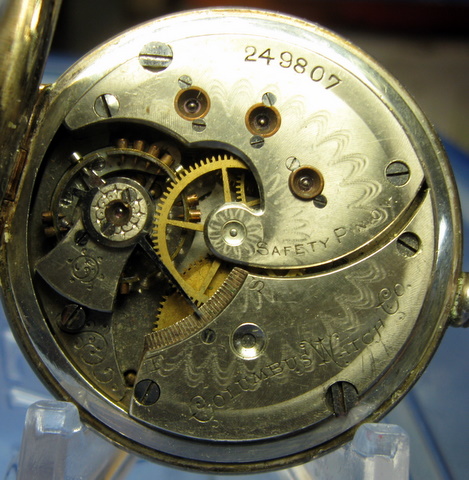 December 01, 2009, 09:40
Ernie Loga
this is the dial of the size 6 #249807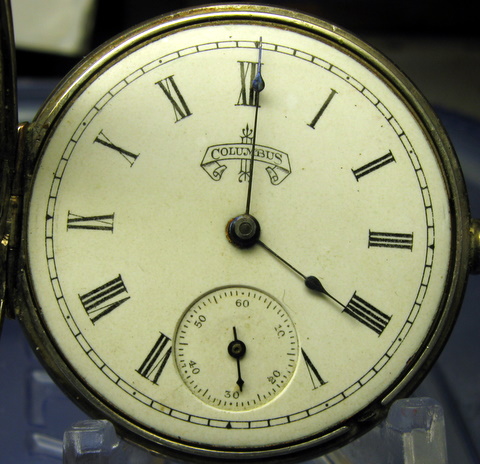 December 01, 2009, 09:42
Ernie Loga
Here is the size 6 case back.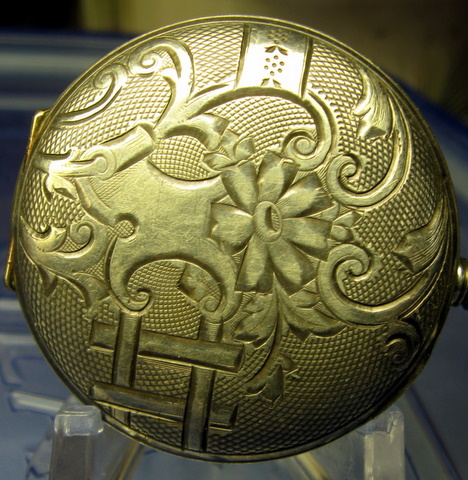 December 01, 2009, 12:33
David Abbe
This is the lead off picture of some of my columbus pieces from a historical bit linking the evolution of Columbus Watch Co. to South Bend Watch Co. that I posted at;
https://ihc185.infopop.cc/eve/f...?r=81610243#81610243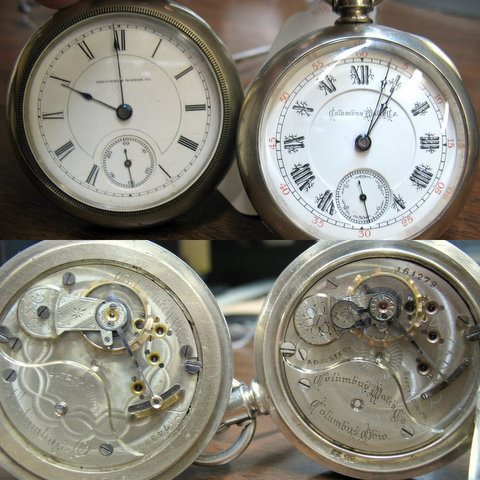 December 01, 2009, 14:25
Jerry Freedman
Choo Choo Dial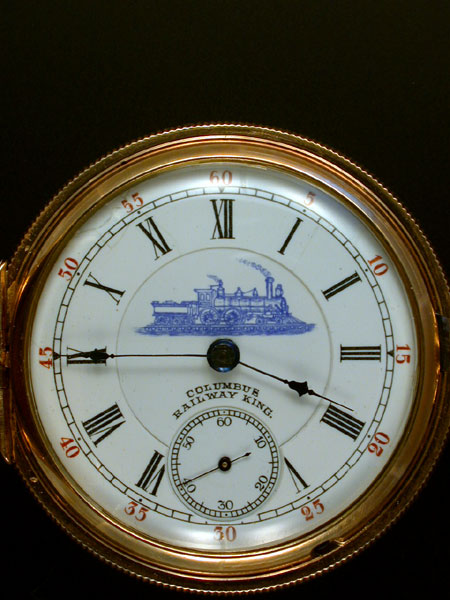 December 01, 2009, 14:26
Jerry Freedman
Columbus movement
December 01, 2009, 22:31
Bruce Byrd
Dial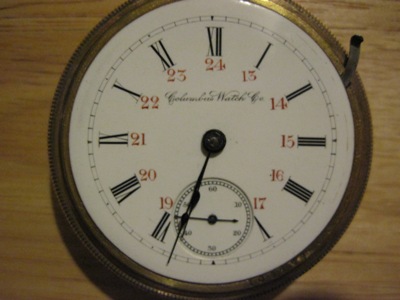 Bruce Byrd
December 01, 2009, 22:32
Bruce Byrd
Movement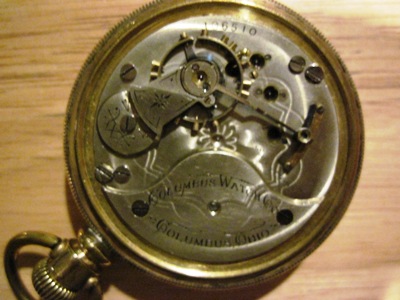 Bruce Byrd
December 02, 2009, 15:42
Eric Unselt
Nice dials, Jerry and Bruce. I didn't know Columbus made a 24hr dial.
I didn't realize the Log Dial had two variants: notice that mine has the seconds arranged radially, while Dave's are horizontal.
December 03, 2009, 09:20
Claude Griffith
Have a Columbus Hunter, I finally found the missing regulator (they tended to break I think) and I need to send it in for clean/oil but the private label double sunk dial is near mint.
December 03, 2009, 13:58
Tony Dukes
Claude,
What does your private label Columbus dial say?
Tony
December 03, 2009, 14:21
Claude Griffith
C.H. Thompson
Marshall, Mich
I think C.H. Thompson was a businessman in Michigan at least that is something I think I dug up at one time.
The serial number is 178280 and it is marked adjusted and safety pinion along with Columbus Watch Co., Columbus Ohio. That would put it around 1891-92 and I think it is grade 34, 15J movement if my memory is correct. And from the RR guide book it was RR approved which most decent 15j adjusted watches were. It has a very nice brass case, it's not gold but as you can see it has shine on the inside so I am not quite sure what it is. It isn't worn out because the detail is nearly unharmed with age/wear so the watch does not look like it was abused over the years but during servicing someone took the regulator spring off and did not put it back or even put the two screws back so I had to track the spring and the screws down.
December 03, 2009, 16:29
Peter Drago
I realize this cannot compete with the previous entries, nevertheless here is a bad picture of my one and only Columbus P.W.
Peter

December 03, 2009, 17:03
Claude Griffith
You pictures look much better than mine, looks like it has the same dial as mine with the exception of the private label, nice looking watch.
December 03, 2009, 17:58
Tom Brown
Claude
If you are interested, you watch is from C. Herbert Thompson, according to the 1900 census for Marshall, Calhoun Michigan he was born in March of 1848. His wife (Cornelia) & son (Herbert E.) were living with him along with his 30 year old brother-in-law Floyd Bassett. Both CH & Floyd were listed as jewelers.
1883 C. Herbert Thompson bought the vacant lot near the old post office and built a two-story brick building. Mr. Thompson was a watchmaker and jeweler.
Sights and scenes along the Michigan Central Line
C. Herbert Thompson is a jeweler, born and bred. He has been associated with the business all his life. Born in 1848, he has lived in Marshall since 1860, and has been very successful in his undertakings.
Had another son, Louis B. Thompson who was an engraver.
Tom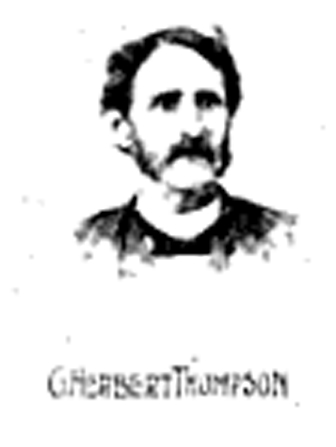 December 03, 2009, 19:44
Claude Griffith
I guess it makes sense that he was a jeweler and probably sold some watches with his own business logo. I have not seen any other watches with the same labeling, it is a nice watch and needs to be cleaned/oiled, it does run but who knows how long it has been since the last service. Thanks I will print that out and put it with the watch for the future.
December 03, 2009, 22:37
Frank Kusumoto
Decent two-tone movement, although the plates are a little washed out.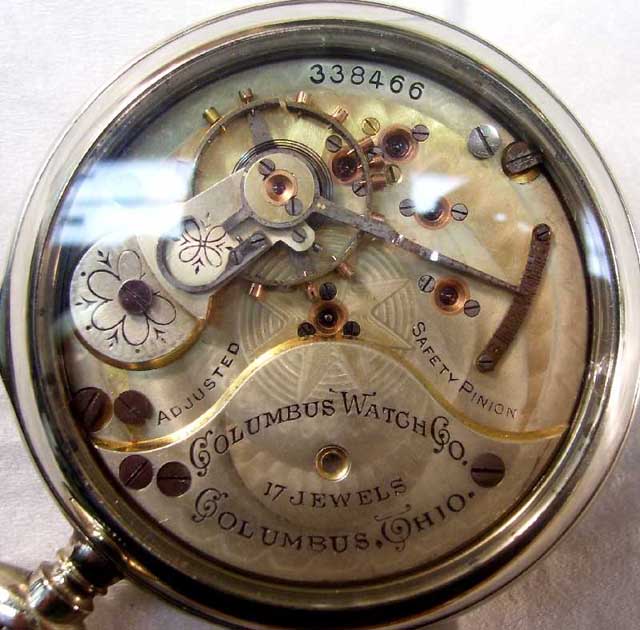 December 03, 2009, 22:39
Frank Kusumoto
Columbus 16s. For some reason I haven't seen many of these.
December 03, 2009, 22:41
Frank Kusumoto
Uncommon Private Label movement. The dial that came with the watch is just a typical fancy style Columbus dial. The case, which looks original, is sterling silver.