Internet Horology Club 185
Cleaning South Bend Watch Dial
August 01, 2008, 14:56
Ernie Loga
Cleaning South Bend Watch Dial
Here is my first attempt at cleaning a South Bend watch dial.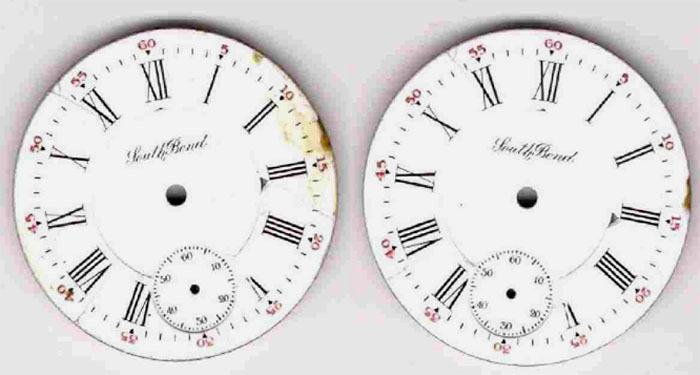 August 01, 2008, 17:30
Duke Robinson
Not bad. Can you tell us how it was done? Thanks for sharing. It's really an attractive looking dial.
August 02, 2008, 01:03
Ernie Loga
Hi Duke:
I used a good dish soap with an old soft tooth brush and scrubbed it. Then I used a small amount of bleach on the stains being careful so that it didn't stay on the numbers too long.
August 02, 2008, 15:42
Lindell V. Riddle

Ernie,

We have a comprehensive topic "Porcelain-Enamel Dial Cleaning" and the consensus is to use a commercial product known as "Comet Bathroom Cleaner" which is readily available, easy to use, pleasant smelling and does a great job. Personally, I have recommended it very highly ever since Aaron Bereiter first suggested its several years ago. At our house we use this excellent cleaner in our kitchen and bathrooms... that way it's always available when I want to clean a watch dial.

I say try it and I bet you will like it!

Lindell



August 02, 2008, 20:57
Ernie Loga
Lindell:
I read the thread and I agree Comet Cleanser does a great job. My Dad used to brush his false teeth with it. However, I didn't have any and thought I would try using Dawn. It was all I had at the time.
August 02, 2008, 22:08
Lindell V. Riddle

This product is not at all like Comet Cleanser, it is a very effective yet gentle cleaner containing no bleach or any harsh abrasives. Be sure to read the topic linked in my previous post above for more information.

(He actually used Comet Cleanser

on false teeth?)
August 03, 2008, 07:39
Ernie Loga
When I go to the store I am going to look for the Comet Bathroom Cleaner.
Yep, my dad actually used comet Cleanser on his false teeth. He claimed it worked better than anything else. He claimed it was the only cleaner he found that took the coffee stains out. He was a good Norwegian and drank at least three pots of coffee daily so I suppose his teeth got pretty stained from the coffee. He said that once he got used to the taste he started liking it.
Ernie
August 03, 2008, 12:49
David Abbe
The type of Tile cleaner Comet makes that cleans dials without stripping the numbers, etc, (pictured below) is totally non-abrasive. My Grocery chain (VONS) does not sell this label, but Wal-Mart always has it. Also you see my lifetime supply of hand, watch screw and tool rust remover. This is perfect for the job as it ONLY STRIPS RUST and oxodized metals! I bought it at handyman and the SKU# is on the bottle. It is used "normally" for stripping concrete driveways before they are re-coated.
August 03, 2008, 12:54
David Abbe
These two wonderful products "hard at work"
August 04, 2008, 08:04
Ernie Loga
Thanks David. I have some of that rust stuff. I bought it years ago to brighten the base metal on the dash of my 1942 Studebaker. It did a great job.
August 12, 2008, 08:14
Ernie Loga
I purchased some of the Comet Bathroom Cleaner and redid the dial.
Here is a photo after the Comet treatment.