Internet Horology Club 185
South Bend Watch 290
December 05, 2010, 17:51
Joseph Green
South Bend Watch 290
I recently was given a South Bend watch from my father and after doing some research it was made in 1903, Grade 290, size 16, Model 1, 17 Jewels and only 900 of that particular style was made that year. I am very pleased to have an heirloom to pass on. I already read up on the history about the company and learned that 300.000 series were made of poor quality according to an employee,
http://www.studebakerhistory.c...BendWatchHistory.pdf
, and simply they turned around immediately to produce better quality watches. My watch does not seem to be of poor quality and appears to be manufactured later that year in 1903, serial 385844. I love it and it looks beautiful, great condition, no rust, well kept and still works. If anyone knows more about South Bend watches and the value of this particular style please feel free post a reply.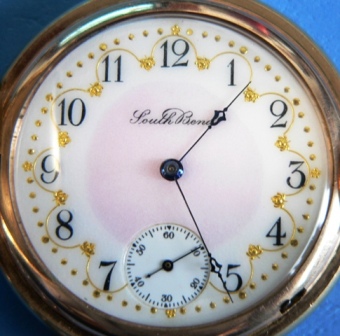 December 05, 2010, 17:54
Joseph Green
Opened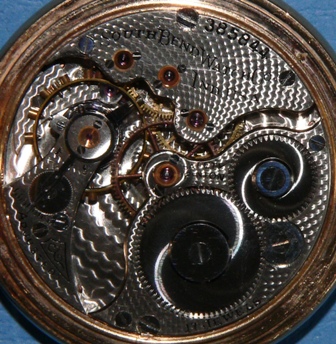 December 05, 2010, 17:57
Joseph Green
Cover
December 05, 2010, 17:58
Joseph Green
Watchmakers autograph.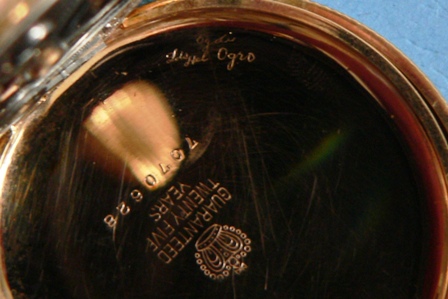 December 05, 2010, 17:58
Ray Hallenbeck
Welcome Joseph, I would say that the words poor quality certainly wouldn't apply to your watch. What a beauty, and to recieve it from your father is icing on the cake.
There are some South Bend experts here on the forum that I'm sure will be along shortly to help you out.
https://ihc185.infopop.cc/eve/forums/a/frm/f/364101939
Ray
December 05, 2010, 18:03
Joseph Green
Thanks Ray, I am glad to find a forum with people who are interested in antique watches. This is all new to me and I am happy to have a new hobby to ease my mind…
December 05, 2010, 18:09
Ray Hallenbeck
It may ease your mind now but sure to drive you crazy later

. This is the best place I've found to be in regards to watches, I think you will like it here too.
December 05, 2010, 18:21
Joseph Green
After reading some post one of them was describing that the fancy watch face such as the one I possessed was for women… Though this watch belonged to my Great Aunt who we all suspected it belong to her late husband and maybe we were wrong. However, the discussion and the description fit the bill but no matter it is a lovely watch and I intend on using the watch when I attend my stated meetings in traveling…
December 05, 2010, 18:50
Claude Griffith
I have two South Bend 290's, these would typically be a man's watch since women typically used 0 or 6 size watches. The 290 was a low production grade, the 294 was the 21j version. I don't think most would think a Columbus watch as poor quality but the designs were not as modern as the 3/4 or 3 finger bridge models. I collect South Bend, Hampdens and Elgins and I find South Bends as good watches. I like South Bends because you find extremely nice DMK effect on the movements.
December 05, 2010, 19:44
Keith Klimkowicz
Hi Joseph
Your watch is a 16 size hunter style grade 290 with 17 jewels and a beautiful colored dial. The grade 290 had a total production of 10,300 pieces in 12 runs. Yours with the serial number of 385844 was from the first run (385,501-386,400) of the 290 grade. This first run consisted of only 900 pieces.
Regards
Keith
December 06, 2010, 21:28
Jerry King
Nice watch Joseph, and I agree that the adjective used "Poor" is entirely wrong....It does not apply to your grade #290, South Bend....
The 'Fancy' dial has no gender implied meaning at all....these type dials were used by many watch manufacturers and only added a dressier touch to the watch. As Claude stated, Lady's generally used the smaller watches and this one probably did belong to your Aunt's husband....
Good Luck and carry this one with great pride....I sure would....
Regards,
Jerry
December 06, 2010, 21:52
Edward L. Parsons, Jr.
Welcome aboard Joesph, that's a beautiful watch. Great that it's being passed on as a family heirloom.


Best Regards,

Ed
December 07, 2010, 06:44
Claude Griffith
You will tend to find fancy dials a bit more often on hunter cased watches and they were an extra cost addition. These watches in their day were quite expensive and were a source of pride by the owner, to show how much watch they could afford. Think of the fancy dial in the same trend as a set of polished aluminum 20" rims on a Cadillac SUV, just a little flash for the ride. Many collectors are willing to pay a little extra for a watch with a fancy dial, especially if the dial as in good condition, which yours is. Fancy dials were not gender related, it was extra dress up to show people when you opened your watch, on Sunday or whenever you wore it.