September 21, 2013, 14:18
Rafal Woler
Studabaker 12s question
Have anyone seen Studebaker 12s (from one of late runs)with 5 adjustments on movement (instead of 8)? Is it uncommon, any kind of unusual thing? Also there is no Studebaker name on the movement, could it be a watch completed from parts from other watches?
September 24, 2013, 17:06
Rafal Woler
not much answers, so I will post picture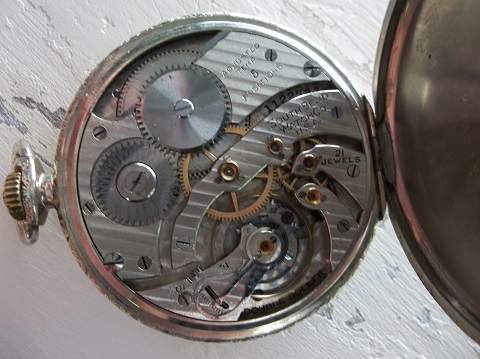 September 25, 2013, 05:57
Bila Wirriganwalters
I've had a few of these overtime and all the ones I have had and the others I have seen Rafal, have been marked with only 8 adjustments. I vaguely remember reading someones post about the 5 positions marking but I do not know if it was here or on another forum when I have been browsing. someone more learned with South Bend watches will probably answer your query. Also a serial number would be good, as sometimes it is hard to pick-up in the pictures.
Regards,
Bila
September 25, 2013, 10:55
Rafal Woler
serial number is 1122783 - database says Studebaker 12s from 1925.
September 25, 2013, 12:27
Dr. Debbie Irvine
Lin previously posted this explanation in another topic...

quote:


On the "8 Adjustments" thing, South-Bend used it on Studebaker mail-order watches beginning in 1923. Both Elgin and Hamilton used it later in the 1920s as well. It's usually taken to mean 5 positions, plus heat, cold and isocronism equalling "8 Adjustments" total.

Elgin used the same designation on their post WWII "571" models. Then in the 1950s Elgin even tried "9 Adjustments" which was probably all six positions plus heat, cold and isocronism. Interestingly though, different ads for Elgin watches have shown differing formulas. An early version of "new math" no doubt.

After all, advertising people are very inventive.



Hope this helps,

Debbie



September 25, 2013, 14:01
Rafal Woler
Thank you Debbie, that explain all.