December 27, 2012, 10:14
Greg Taylor
What does "HTG" stand for?
Could someone please tell me what the South Bend 0 size watch grade "HTG" stands for?
December 27, 2012, 10:51
Donald Trumble
Both symbols "HTG" and "HC" denote hunter style movements, those that set at the 3:00 position. As wristwatches became more popular many 0-size and smaller movements were cased as wristwatches. There are also survivors that began in a Hunter Case that were later modified so they could be used as a wristwatch.
South-Bend wristwatches with 0-size Hunter movements from Lindell's collection are shown below.
Don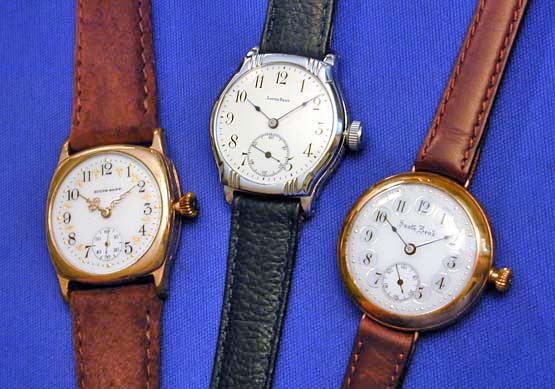 December 27, 2012, 12:37
Greg Taylor
Thank-you Melvin and Donald. The watch I was researching was in fact a Hunter cased 0 size with the pendant at 3:00 just as you said and the dial and hands look exactly like the watch in the center from Lindell's collection.