Internet Horology Club 185
Newly Discovered Meylan Repeater
July 28, 2014, 11:15
Jessica Goldstein
Newly Discovered Meylan Repeater
My name is Jessica Goldstein, and I am a student at Dartmouth College in Hanover, New Hampshire, USA. I am currently doing research on a Meylan repeater that I have found in our collections, and am having a hard time ascertaining information about it. I have attached all the files we currently have concerning the repeater. Do you know more information about how the watch functions, such as how the leap year works and the other various intricacies of the watch? Also if you know any information on the Meylan family and company that would be great. I am doing an exhibition on this piece so any information would be extremely helpful.
July 28, 2014, 11:16
Jessica Goldstein
Here is its catalog in our Hood Museum. I have found that the "H" in "H-3-58-d" is actually an "11" so it is a date.
Artist/Maker:
Claude H. Meylan, Le Brassus, Switzerland, Swiss, late 19th - early 20th century
Title:
Gold Watch
Date:
1900
Medium:
Slide-activated minute repeater, split-second chronograph; minute register; 18K gold open front case no. 8026; 40 jewel works no. 5915; perpetual calendar (handles leap years) and moonphase, white enamel dial, four sunken subsidiary dials (months, date, seconds and moonphase, day), Roman numerals, probably lever set (did not open face); engraved on back cover: "Presented to Joseph H. Maloy by J. Bertschmann / January 1918." Engraved back of cover: "C.H. Meylan / Switzerland / 18K / 8026." Scratched out same back of cover: "H-3-58-d" (repair marks?, March 1958?). In velvet-lined wooden case
Classification:
Scientific Instrument
Scientific Instrument - Time
Geography/Culture:
Europe, Switzerland
Period:
20th century
Dimensions:
Overall: 1 3/4 x 6 x 4 x 1 1/2 in. (4.445 x 15.24 x 10.16 x 3.81 cm)
Object Name:
Time
Credit Line:
Allen King Collection of Scientific Instruments, Hood Museum of Art, Dartmouth College​
July 28, 2014, 11:24
Jessica Goldstein
Here is all the information I have about the repeater.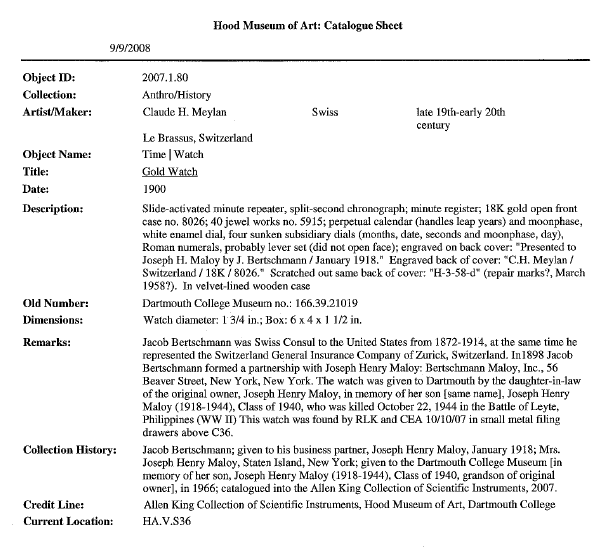 July 28, 2014, 11:24
Jessica Goldstein
Ctd.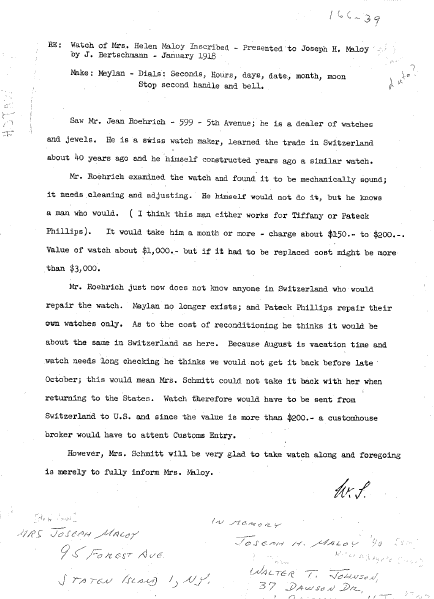 July 28, 2014, 11:27
Jessica Goldstein
More
July 28, 2014, 11:28
Jessica Goldstein
These letters were exchanged.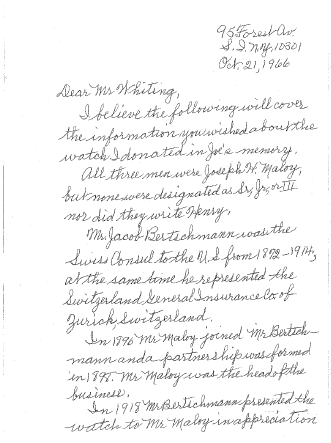 July 28, 2014, 11:30
Jessica Goldstein
Image
July 28, 2014, 11:31
Jessica Goldstein
Image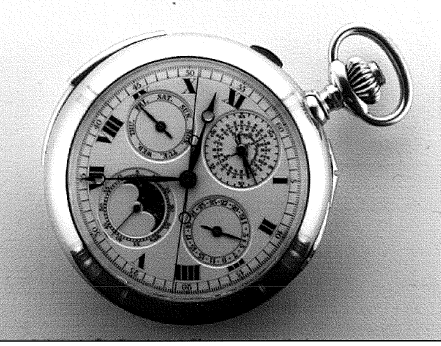 July 28, 2014, 11:32
Jessica Goldstein
Image
July 28, 2014, 16:43
Gerald Zimmermann
Hi Jessica
Welcome to the IHC 185!
A very fascinating, high quality and valuable watch.
First thought(without working through the documents): If not proven otherwise I would think that the watch was made by Charles Henri (Henry) Meylan, a well known and reputable swiss/american watchmaker.
I would like to see a better picture of the movement and the dial side.
Are there any markings (other than scratched repair marks) on the inner side of the back cover?. Is there a lion mark near the balance?
Regards
Gerald
July 29, 2014, 14:17
Gerald Zimmermann
This type of watches is called Grand Complication and was (still is) the high end level of production of the great manufacturers.
Additional to the normal timekeeping (minutes, hours and seconds on the sub seconds dial close to VI) the watch has three layers of complications:
The repeating mechanism - here in the most complicated variant of a minute repeater.
The chronograph mechanism - split second with the two long hands from the center and a 30 min register (the outer scale of the dial at XII
The perpetual calendar 1-31 days at the III, the days of the week at IX and the name of the month at the XII plus the indication of the moon-phase at the VI
Perpetual calendar means that the watch means that the mechanism is a horological implementation of the Julian calendar (tree 'normal' years with 28 days in February + one leap year with 29 February days.
The mechanism 'knows' which months of the year have less than 31 days and jumps automatically to the next month and to date 1 (including the 28/29 day difference. (365.25 days per year)
A semi-perpetual calendar does not realize the leap year (365 days per year)
A 'simple' calendar has to me adjusted manually on each month with less than 31 days.
Regards
Gerald
July 29, 2014, 14:53
David Abbe
Jessica, asking you to take extreme care in handling this watch is an understatement! It belongs in the Smithsonian, possibly with some family history to back up the watch. Otherwise Meylan may be interested in recovering it for their historical archives.
In simple terms it is a presentation watch that must have had considerable significance at the time as these were basically built to order and if not picked up at the factory, delivered through select Jewelers who in this example could have engraved the case.
July 29, 2014, 20:36
Jessica Goldstein
Thank you so much for your help. This watch truly is a great work of art. Do you know any personal information on Meylan? Or can you tell me anything about the Meylan watch company itself? We currently think that the watch was made by Meylan and Tiffany's created the case.
July 29, 2014, 20:58
Dr. Debbie Irvine

Thank you Jessica for putting together well-researched and detailed information regarding this watch.

Everyone, please post any additional images and/or information within this topic as it will become part of our permanent IHC185 archives. This is a unique opportunity to share this information so that it can be accessed readily now and in the future.

Utilizing our IHC185 "Find-Or-Search" feature and typing in the word "Meylan" brings up additional information regarding these watches…

CLICK FOR: Meylan

Let us keeping sharing our knowledge!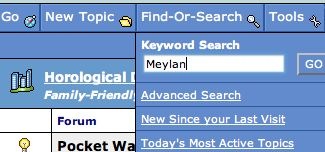 August 12, 2014, 22:06
Jessica Goldstein
Thank you so much for all of your help so far regarding the Meylan Repeater. As I previously stated, I am putting together an exhibit displaying the Meylan Repeater this spring. I have done a lot of research on it, and was wondering if anyone could help me with a few last components? I do not know very much about Jacob Berschmann, who was the one who gave the watch as a gift to the Maloy family. Does anyone know a way for me to research him further? I have exhausted most resources! More importantly, I would like to know more about the Maloy family (the family that donated the watch). If anyone has more information about the Maloy family that would be great! I know that several of the Maloy's attended Dartmouth. I think they might have quite a lineage at Dartmouth, as later their relative Gregory Johnson attended Dartmouth around 1971 (who was the son of Walter T. Johnson and his wife who was Joseph Henry Maloy's brother. Does anyone have a way of digging up this families lineage?
Thank you so much for all of your help!!
Best,
Jessica Goldstein
August 12, 2014, 23:19
Tom Brown
Some or all of this you might already have;
This is from "THE REDEMPTION
OF NEW YORK Told by New York Newspapermen for the PRESS SCRAP BOOK."
Alderman Joseph Henry Maloy, a Self-made Man. — President
of New Brighton Before Consolidation. — Successful as
an Insurance Broker and Has an Excellent Record as
a Banker.
Joseph Henry Maloy, Alderman from the Seventy-first District
(Richmond Borough), is a native of Staten Island, where his father,
Patrick, who came from Ireland in 1850, was a farmer. He was
born September 4, 1860, at New Brighton, and attended the public
school in that place.
When thirteen years old he went to work as an office boy for an
insurance broker. His ability won success. In 1896 he organized
the insurance brokerage firm of Berschmann & Maloy, with offices
at 16 and 18 Exchange place. Also he is Vice-President of the
United States Saving Bank, a Building and Loan Association, and
is connected with the Switzerland General Insurance Company, and
is a trustee of the Westerleigh Collegiate Institute.
Mr. Maloy is a member of the Catholic Club, the Knights of
Columbus and the Catholic Benevolent Legion. He is a self-made
man in all that the term implies. Mr. Maloy married in June, 1885,
and is the father of eight children, of whom seven are living. He
was President of New Brighton before it was taken into the greater
city.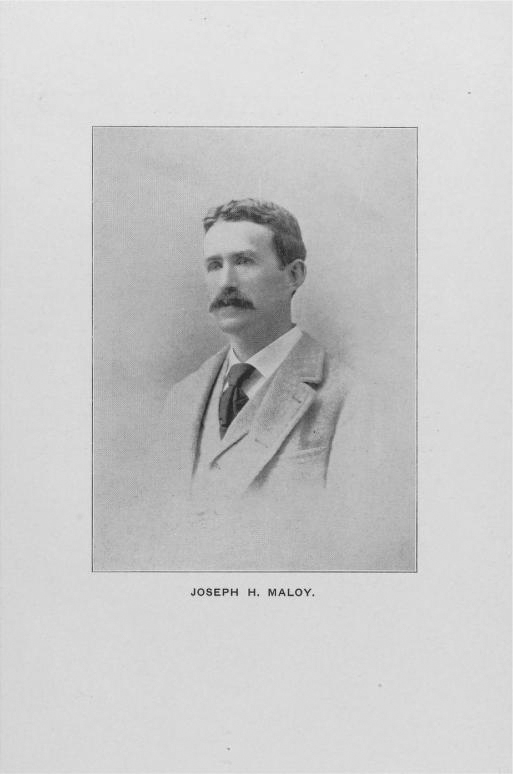 August 12, 2014, 23:43
Tom Brown
This is Joseph Maloy's passport application, I am not sure if it is readable in the image.
It states he was born 4th day of September 1860 in New Brighton NY. His permanent residence is in New Brighton NY. His occupation is Insurance Broker. His father is a naturalized citizen. He is 49, 5'10 1/2, high forehead, gray eyes, straight nose, medium mouth, oval chin, auburn hair, fair complexion, regular face.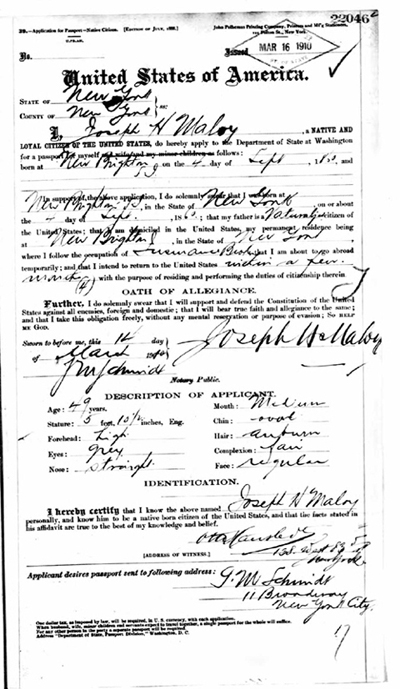 August 13, 2014, 00:29
Tom Brown
1900 Federal Census New York NY
Joseph H. Maloy Insurance Broker, wife Hanna, children Isabelle born about May 1887, Joseph born about Nov 1890, Edward born about Jan 1891, Gertrude born about Dec 1893, William born about April 1894, Cathellen born about June 1897, Frank born about April 1900.
August 13, 2014, 00:47
Tom Brown
1910 census lists the same people living together & Joseph's occupation is listed as Insurance. Listed as West New Brighton.
1920 census Richmond Borough NYC.
Joseph listed as Insurance Proprietor. Hanna, Isabelle, Kathleen, & Frank living at home.
1930 census Richmond County NY
Joseph listed as Insurance Broker. Hannah, & Frank living at home. I forgot to list this but in all these census records there is also a niece listed as living with them, Thersa Darsey, who was 42 in 1930.
In 1940 census Richmond Borough Joseph is about 79, he is listed an an Insurance Official. He is living with his daughter Gertrude Beves, son-in-law Harold Beves, his grandson John Beves, grandson Joseph Beves, and granddaughter Betty.
August 13, 2014, 01:03
Tom Brown
The 2nd Joseph Henry Maloy listed in the 1900 census was born Nov 7, 1889 in NY, he died Sep 5, 1924 in NY.
He was married to Helen Irene Mc Williams. Amongst their children they had Joseph H. Maloy who was born in 1918 & died in June 29, 1942 in the Philippine Islands. According to his WWII enlistment he was single when he enlisted July 18, 1941 as a Warrant Officer. He is listed as 4 years of college. His civilian occupation is listed as manufacturer of automobiles. The form shows term of enlistment: Enlistment for the Philippine Department.
In the 1940 census for Richmond he is listed as living with his mother Helen who is listed as a public school teacher. Also living in the home are her daughters Helen & Betty. Joseph is listed with the middle initial of "P". But often census records have errors in them.
August 13, 2014, 01:26
Tom Brown
Jessica, if you would like copies of any of these documents or any others I locate just let me know. Perhaps Debbie can forward your email address to me.
Tom
August 13, 2014, 06:27
Gerald Zimmermann
Tom
Thank's for chiming in !
email address forwarded
Regards
Gerald