Internet Horology Club 185
Swiss "A Hirsch Co." in Star Case
July 02, 2018, 08:24
Mike Krites
Swiss "A Hirsch Co." in Star Case
I found this at a flea market over the weekend.
Movement marked A. Hirsch Co. With no serial number I can see. 17 jewel pendant set with a Montgomery type dial with Love Jewelers on face. It is mounted in a Star Watch Case Co. case and doesn't seem to have been carried much. Has been running 40 hrs now and still going after the first winding. Has gained 15 seconds in that period of time. Seemed clean and took right off with a couple turns when winding. I'm sure it's just a cheap, mass production watch but I'm still very green starting to buy pocket watches and paid a small amount for it. Cannot find anything about it after several online searches and no reference in the guide. Pictures below. Thanks for any information.
July 02, 2018, 08:25
Mike Krites
Movement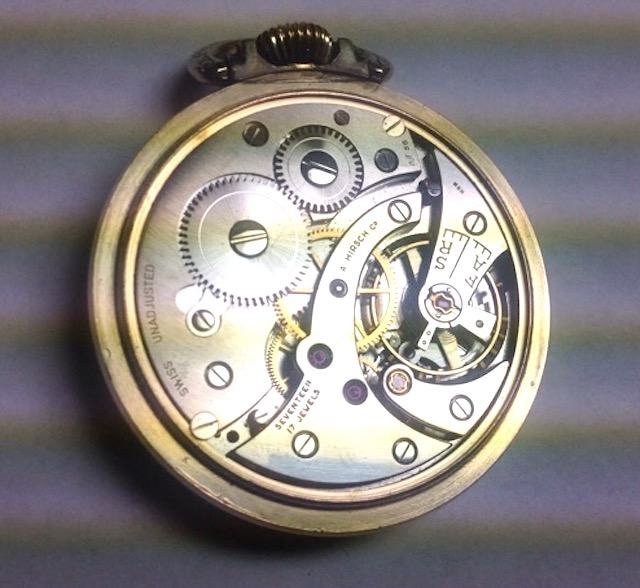 July 02, 2018, 08:26
Mike Krites
Case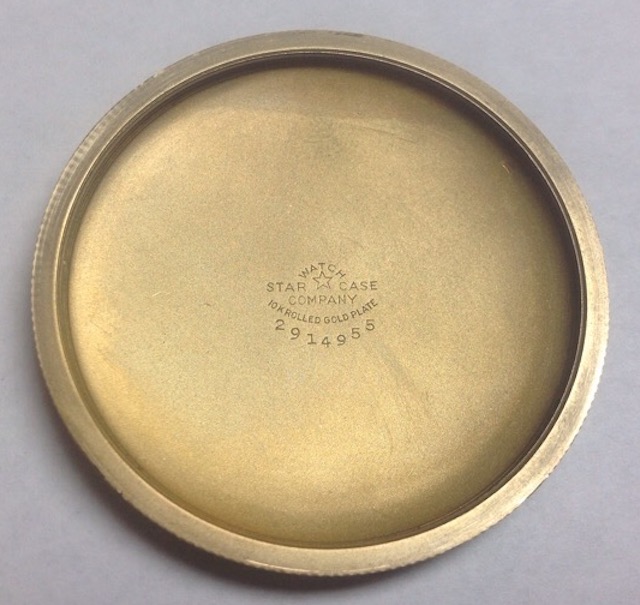 July 02, 2018, 08:26
Mike Krites
Case back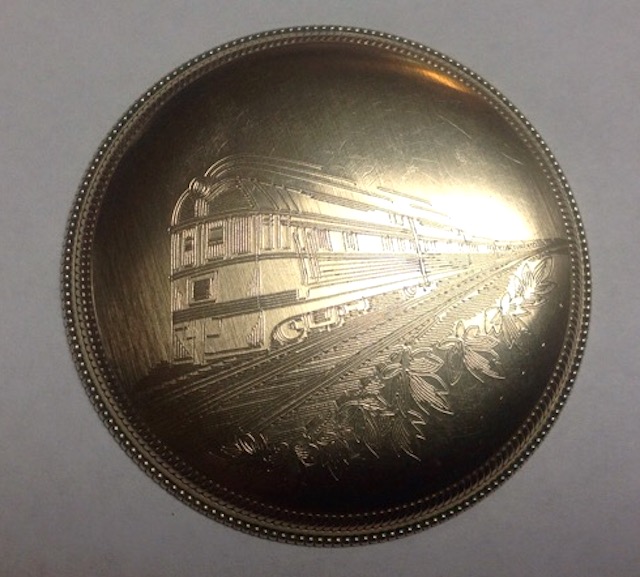 July 02, 2018, 20:47
Bila Wirriganwalters
Can not tell you much about it Mike, I know Hirsch and a subsidiary company of theirs (Allerton) was involved in a legal stoush with Bulova. Happened in the early 60's, for copyright infringements and unfair competition, apparently had been going on from the early 50's.
Apparently Hirsch & Company were re-casing Bulova movements in their own cases and then selling them as sort of their own, hence the Court battle.
Cannot tell you what Brand or Caliber your's is as I can not find my movement identification book at present. But any how, it is a nice looking movement, the perfect carry for everyday use with the added benefit of being shock-protected

July 03, 2018, 09:52
Mike Krites
Thank you for the info. Just seemed too decent to pass up. I'll pay more for the COA than I did the watch so will become an EDC with no worries. Thanks again.
July 03, 2018, 10:47
Mark Cross
Looks like a standard 17j Unitas movement that was popular in watches sold under the name of Elgin and Waltham back in the mid 70's.
I have an Elgin my wife gave me back in 1976 that has a movement that looks just like yours, and it's tougher than a pine knot!
Solid watch movements. You did good!
Regards! Mark
July 03, 2018, 13:27
Mike Krites
I've sure got a lot to learn but trying to develope an "eye" from all the great info and help here on this site.
July 03, 2018, 14:35
Mark Cross
We're ALL still learning, Mike, so you're in good company! :-)
Regard! Mark