Internet Horology Club 185
private label Agassiz ?
March 19, 2015, 16:27
Darcy Anderson
private label Agassiz ?
Hi new to forum, inherited this watch 25yrs ago and thought I would take some time to research it. Purchased in late 1800 J O Patenaude (in business Nelson B.C.1897) movement might be older then that. I am presuming it is Agassiz from photos ,it is close to a exact match for many late 1800s. There are no manufacture marks on back side of movement.(when did they start using this regulator ?)Have included 1 split shot my watch on left sighed Agassiz on right . movement sn#222219 -size 37mm-17 jewel
case sn #83460 e5761-t523. link to better pics
https://www.flickr.com/photos/...49/with/16678643028/
private label agassiz
any info would be greatly appreciated thanks Darcy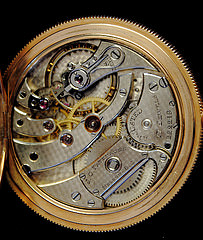 March 19, 2015, 16:29
Darcy Anderson
pic2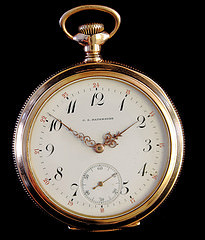 March 19, 2015, 16:29
Darcy Anderson
pic3
March 19, 2015, 16:30
Darcy Anderson
pic4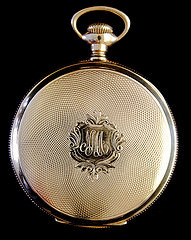 March 19, 2015, 16:31
Darcy Anderson
pic6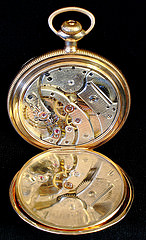 March 19, 2015, 16:32
Darcy Anderson
pic7 signed Agassiz not mine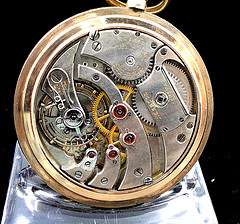 March 19, 2015, 16:33
Darcy Anderson
compare mine left signed Agassiz right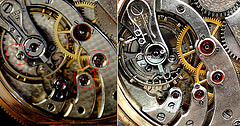 March 19, 2015, 17:56
David Abbe
The slight differences in jewel and hairspring stud mounting are factory choices for possibly some model variation or just "new" advances in design. In truth your example with pressed jewels is technically more stable. You have a beautiful, highly collectible, and VERY valuable watch!
April 11, 2015, 11:00
Victor Kienas
I have a private label Agassiz from O B Allan out of Vancouver for sale on ebay.it looks the same as yours and it actually has the Agassiz label under the dial on the top plate.i got it with a bunch of old watches from an old watchmaker in nelson.it runs great.