November 01, 2019, 11:40
John Kennedy
Hallmark ID
Hey all,
This is a hallmark on a curious Abra pocket watch. It has an octagon case. The dial has brass or gold(filled) dot inserts on the minute chapter. Six jewel movement with two adjustments. A real combination of attention to craft and economy. Anyway, I can't find this hallmark anywhere and want to know what it is. TIA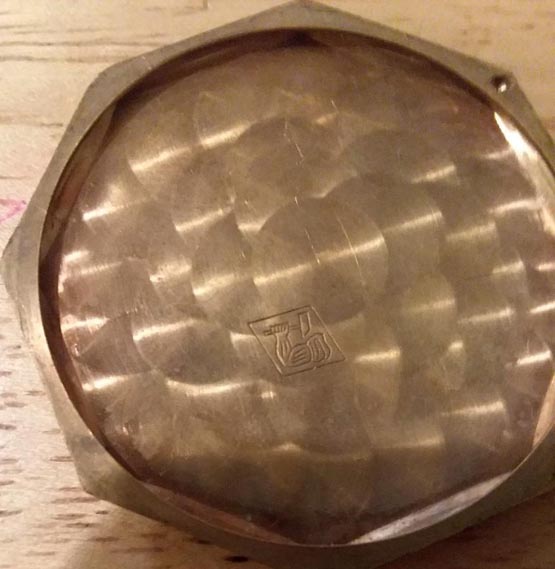 November 01, 2019, 11:59
Ethan Lipsig
Henri Sandoz et fils? By the way, I would refer to to the mark as a trademark stamp or a logo, rather than a "hallmark." Hallmarks, in my book, are government mandated stampings that show the metal content and, in the case of English hallmarks, other information.
November 02, 2019, 09:07
John Kennedy
That's helpful and makes sense, although if that is true then there is no clue as to the metal composition. Did Sandoz make cases for resale?
November 02, 2019, 10:59
Ethan Lipsig
I don't know whether Sandoz sold cases. I know next to nothing about Sandoz. I don't collect Sandoz watches, except for a modest collection of the Tavannes La Captive model and the similar Cyma model. Tavannes and Cyma were or are Sandoz brands. My little collection consists of
1. A silver example, signed "Cyma"
2. A silver and onyx example, signed "Tavannes La Captive"
3. A green-enameled silver "Tavannes La Captive"-signed example, shown below
4. A silver Dunhill PL exanple, signed "Chronometre Tavannes"
None of these watches have the arm-and-hammer stamping of your watch.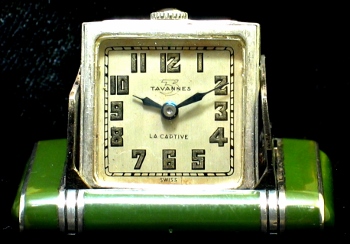 November 03, 2019, 12:50
Ethan Lipsig
I defer to you, Lindell. The only reason I suggested that Sandoz might be possibility is that it used an arm and hammer in some of its trademark stamps. The only example I saw on Microlisk's site didn't closely resemble the one initially posted in this thread. The example you posted is an identical or fraternal twin of that one.L
November 06, 2019, 09:07
John Kennedy
Thanks to you both. Comparing it with other hallmarks I doubted that it was indicated a precious metal. Abra was a legitimate watch maker and I don't think that there was any attempt to deceive. The dial and movement is plainly marked. As I said, it is a curious blend of economy and attention to detail. Six jewels with two adjustments? Regulator marked both A/R and F/S? Somebody here was trying!