Internet Horology Club 185
Private Label Swiss Pocket Watch
June 25, 2014, 14:14
Norman Mayberry
Private Label Swiss Pocket Watch
A friend sent 4 pictures of a Swiss made Pocket watch.It is a P.L Signed A.B Griswold on both dial and movement.Found some history on Griswold but would like to figure out movement maker.Case is marked 14k.Solid?or GF?Looks to be an American Watch Case Co case?Movement looks well made to me.Don't know what the 3 circles in lid represent.Any help would be greatly appreciated.Regards.Norm
June 26, 2014, 11:16
Norman Mayberry
Looks like my post isn't going to get any replies.Seems funny every other post gets replies but As usual I get nothing but lookers.[]
June 26, 2014, 11:28
Lorne Wasylishen
No Norm I think you just need some bigger pictures.
Not to say I could help but I zoomed to the max on the case and was still unable to make out the markings.
June 26, 2014, 12:24
Gerald Zimmermann
Sorry Norm, I usually do my best but on this size and quality of the pictures I would not recognize an Elgin.
If you could post the movement picture sized like the set of four.
Regards
Gerald
June 26, 2014, 15:20
Norman Mayberry
sorry guys,I'll try again.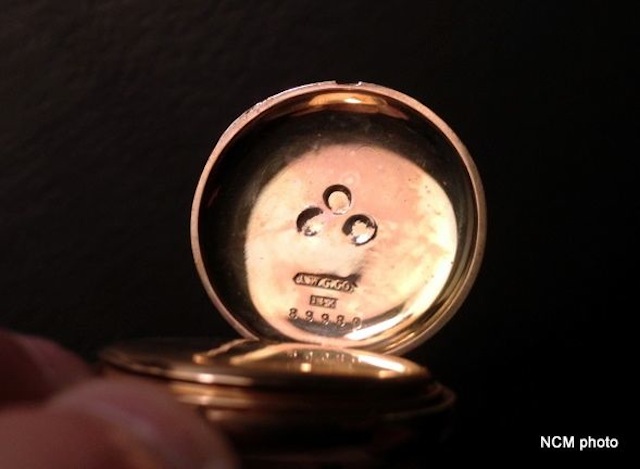 June 26, 2014, 15:20
Norman Mayberry
2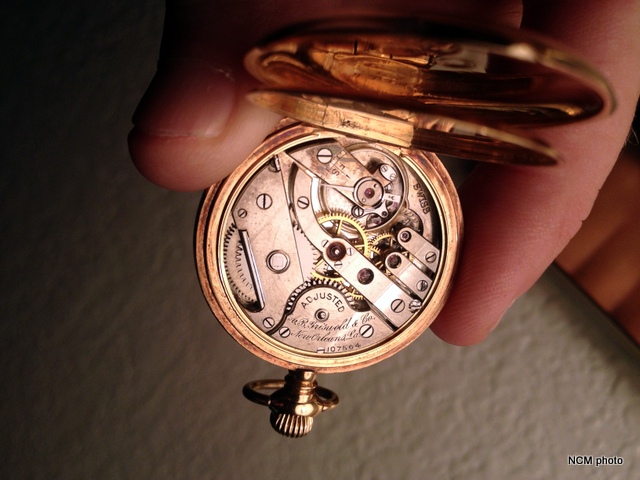 June 26, 2014, 15:21
Norman Mayberry
3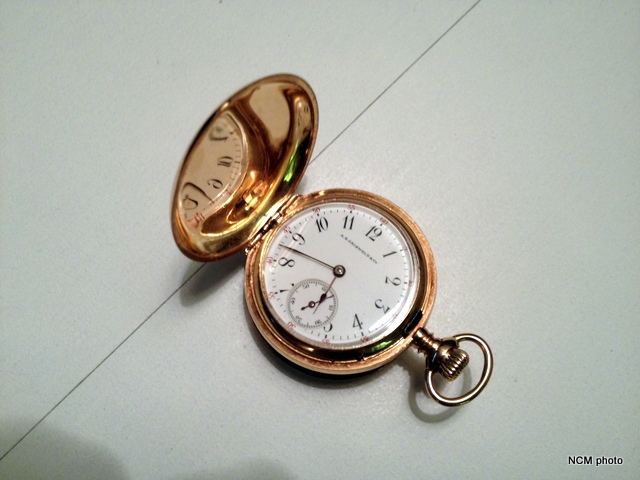 June 26, 2014, 15:24
Norman Mayberry
4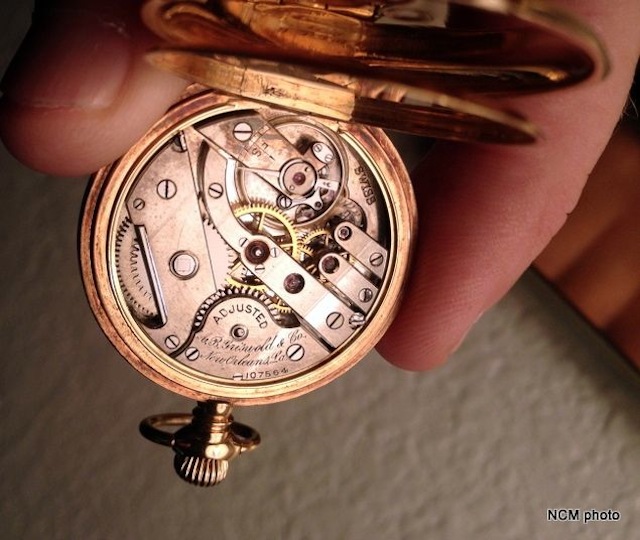 June 26, 2014, 16:48
Gerald Zimmermann
Hi Norm
That's much better

A pretty decent swiss movement, 17j swiss lever escapement made close to 1900. The escape wheel jewel looks like a later replace. It is not possible to attribute this movement to a certain maker, too many were using this layout. The movement was finished for the american market. It's a small size, could be a ladies watch.
Case was made by the US American Watch Case Company (New York) and I think it is 14k solid gold. The three circles might have been holes for jewel (diamond?) settings that were removed and the holes covered from the outside.
Regards
Gerald
June 26, 2014, 17:45
Norman Mayberry
Thanks a million Gerald.Never thought about the possibility the circles could have been jewel settings.I'll pass the info on my friend in Texas.Info made quite a trip,Texas to Georgia to Germany,back to Georgia and on to Texas.Thanks again.Best regards,Norm
June 26, 2014, 18:54
Lorne Wasylishen
Good call on the case Gerald.
I have recently seen two cases with diamonds installed post manufacture but this is the first with them removed.
U.S. AWCCo. ad from The Jewellers Circular May 1908 showing the logo.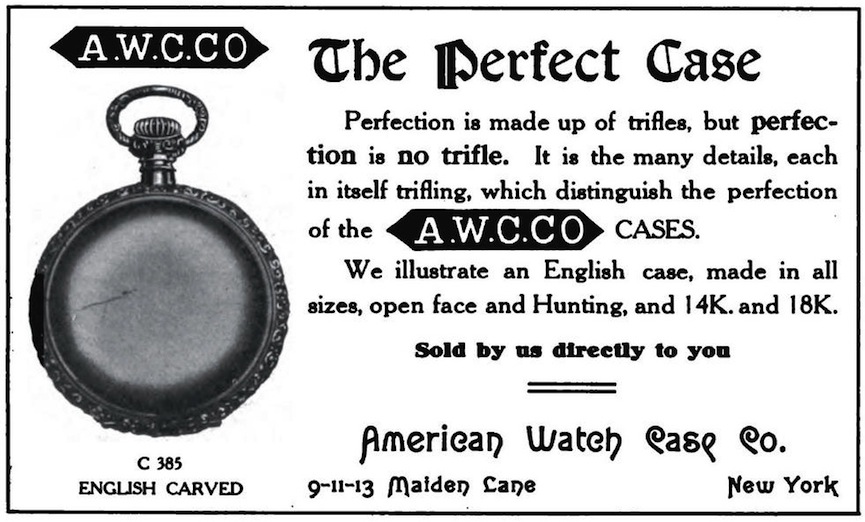 June 26, 2014, 19:01
Lorne Wasylishen
The Canadian AWCCo. 14K logo 2nd down, though somewhat earlier from an 1890 Canadian Trader magazine.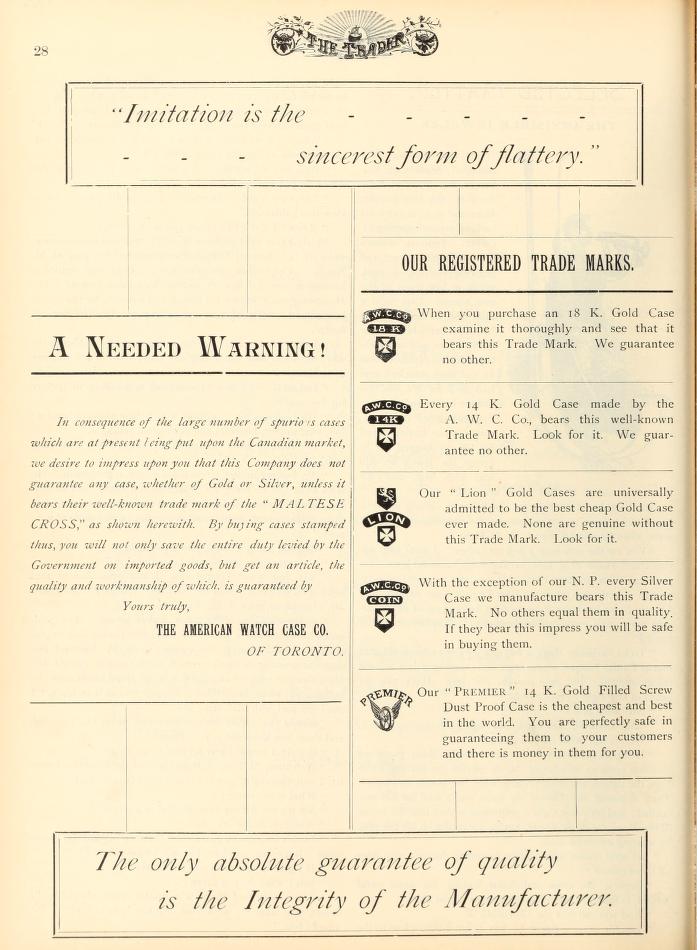 June 26, 2014, 19:03
Lorne Wasylishen
And the only thing I have found that denies connection between AWCCo. Canada and AWCCo. U.S.A.
June 27, 2014, 16:04
Norman Mayberry
Hi Lorne,Thanks for the info.You and Gerald are awesome.Here are a couple of things on A.B.Griswold the jeweler who sold the watch.Regards,Norm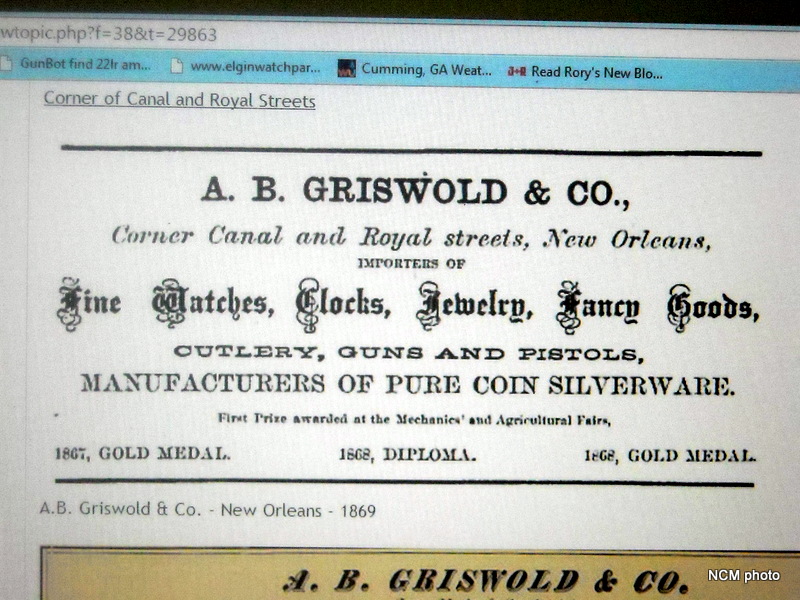 June 27, 2014, 16:04
Norman Mayberry
2