Internet Horology Club 185
Brandt Railroad Watch Grade CCCR Canadian
November 23, 2014, 21:40
Victor Kienas
Brandt Railroad Watch Grade CCCR Canadian
I just acquired a Brant railroad watch.on the movement it is signed Ls Brant+Frere.it is 23 jewels and adj 5 positions.the grade is cccr.serial is 2516471.it has the railroad dial with the name Brandt on it.it is in a well worn banner gold filled case,it runs excellent and the movement looks very good,the dial has a few cracks on the left side.the original case has a lot of brassing on the back from a lot of pocket use.i understand this was the official Canadian railroad chronometer and made around 1910.i understand it is actually an early omega.aparently this is very rare.can anyone tell me more about it and an aprox value
November 23, 2014, 23:09
Peter Kaszubski
picture will be great help
but looks like you got yourself Swiss fake
November 23, 2014, 23:25
Victor Kienas
I tried to post a picture before and it doesn't work for me.i don't think this is a swiss fake and I don't know where you get that from.i did some more research and found some more info on it.it is listed in the books as an omega and numbers all look legit and everything else.i would bet you $100 it is the real thing.
Victor Kienas
posted November 23, 2014 23:41
I tried to post pictures but it says I exceed max size.if anyone knows how to post some pictures for me,let me know and i will email the pictures to them.thanks
November 24, 2014, 00:31
David Abbe
Victor, page 239 of the "Gold Book" of named watches reports (cc below) two "Brandt Railroad watches of Swiss Manufacture which were accepted for use on the Canadian RR system. The 23 Jewel version should be what you were asking about. The values reported were "market" as of about 30 years ago. I am surprised at the low value for a 16 size lever set, 23 jewel 5 adj. railroad watch.
If (it is per the next posting and as it appears to be in writing) this is an Omega, 23J DDR. In a decent case and condition, the present value is at least US$600-1000.00. i.e. it is a collectible certainly worth keeping and restoring if possible.
Please e-mail the pictures to me at david@glopar.com and I will post them to help us all try to learn more about this piece.
Also, if you want a good free program for working on pictures and re-sizing them to post on IHC185 (<~100 KB), Google has a free program called Picasa. It is easy to learn and use for most things you wish to e-mail in a reasonable size and/or post on this site.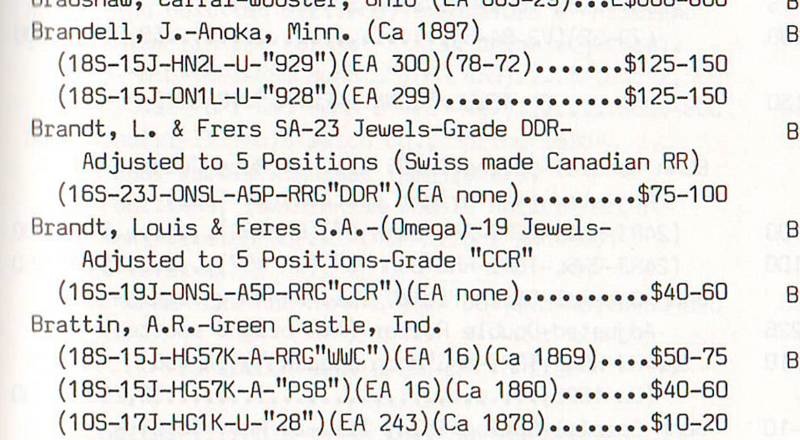 November 24, 2014, 00:59
David Abbe
Another beautiful Canadian RR market Omega DDR discussed last year by us;
https://ihc185.infopop.cc/eve/f...013942187#4013942187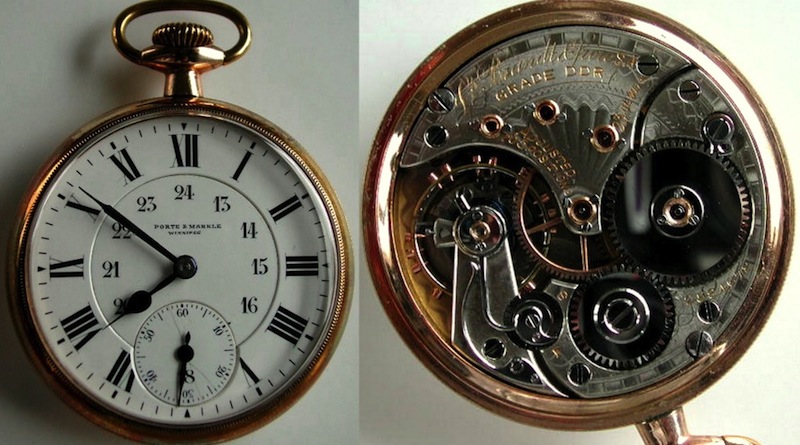 November 24, 2014, 01:22
Peter Kaszubski
with out picture is hard to determine what you have
so please do not get offended by me saying that you have Swiss fake, if your watch is like the one on Daves picture them we deal with real RRG watch.
November 24, 2014, 03:08
Lorne Wasylishen
Victor, a belated welcome to IHC, where are you located in B.C.? I am in Smithers.
The best value I can give at this point is that a picture is worth a thousand words.

P.535 of the 2014 Price Guide to Watches shows 23j, grade CCCR = RR grade, 15 GJS, GF OF …..$375 - 750 - 975
These are very nice watches. Attached is a cut from the P.W. Ellis Catalogue 1920 (P.27, Link in next post)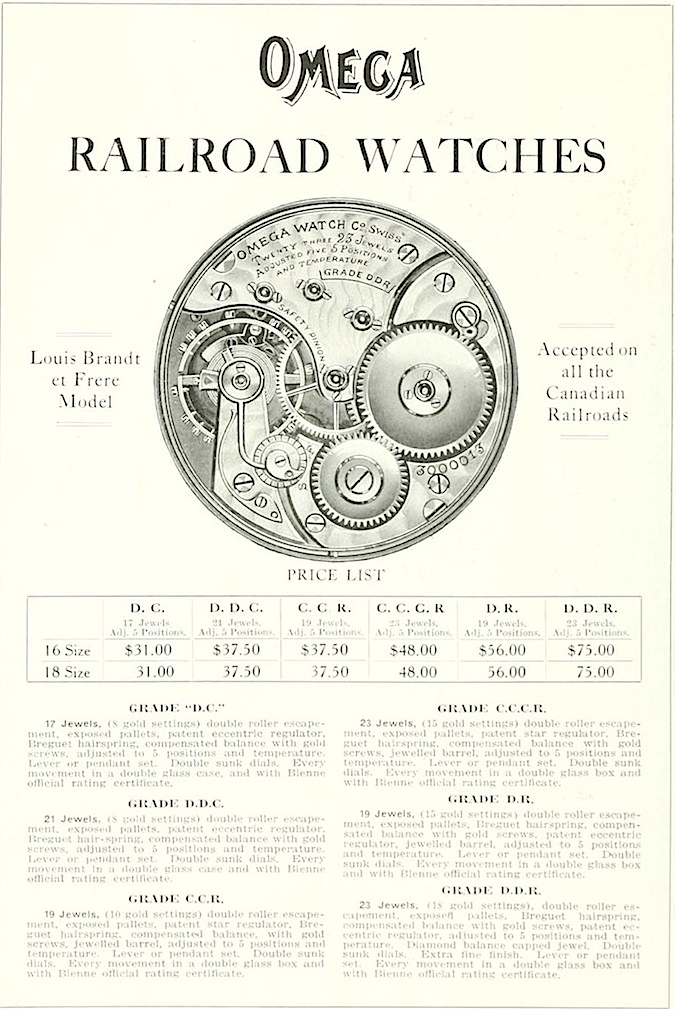 November 24, 2014, 03:15
Lorne Wasylishen
This is a cut of the some of the cases made by P.W. Ellis, the Banner being one of them.
Link to the
P.W. Ellis Catalogue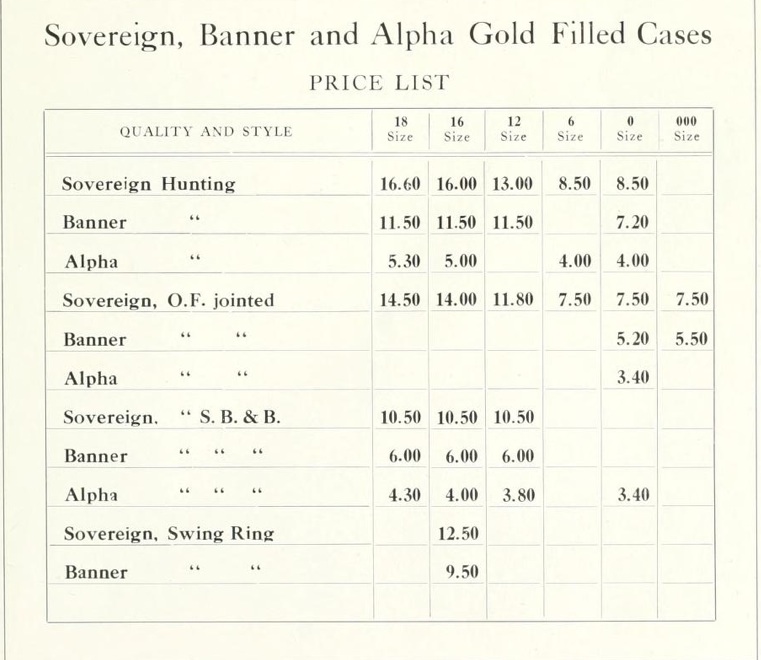 November 24, 2014, 03:19
Lorne Wasylishen
And a link to
Canadian Rail
with a list of approved watches including the image below.
There is some info in this article that is a bit confusing to me so read it with some caution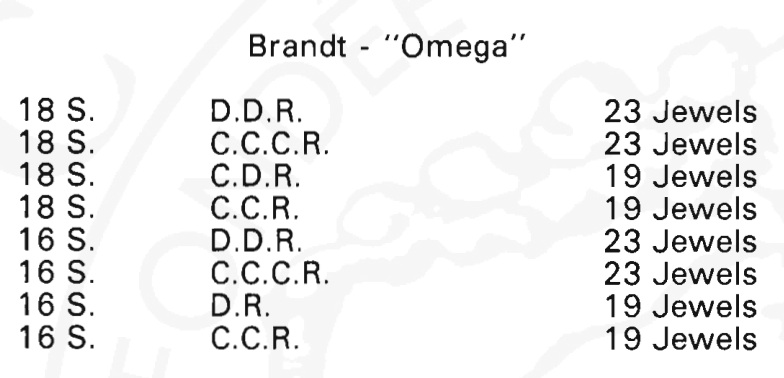 November 24, 2014, 08:10
Dr. Debbie Irvine

Victor,

Extremely large images cannot be viewed by those with slower internet connections or smaller screens. Due to those considerations and to avoid overloading storage capacity our system is set up to not accept poster size images.

>> Proper size: 640 X 480 Pixels
>> Resolution: approximately 72 Pixels/Inch



Click here: How to Photograph Your Watches and Clocks


In there you will find information about sizing your images and posting them on our site.



Click these other links:


HELP IN POSTING IMAGES FOR HOSTING ON OUR IHC185 DISCUSSION SITE

PICASA - EXCELLENT FREE IMAGE PROGRAM


Hope this helps,

Debbie



November 24, 2014, 09:06
Buster Beck
The Brandt Omega's DDR & CCCR grades are hard to come by today and are extra nice watches. Good dials on these watches are few and far between... We will look forward to the pictures.
regards,
bb
November 24, 2014, 12:00
Victor Kienas
the watch is the same movement overall as the pictures of the ddr but it is cccr instead.the dial is also different.a member should be posting pictures of it for me when he finds time.i emailed the pictures to him and he is going to post for me.
November 24, 2014, 12:42
David Abbe
Victor, the Price Guide shows both the DDR and CCCR at substantially the same value. The overall condition will determine where yours is in that value range.
November 24, 2014, 13:34
Lorne Wasylishen
quote:

Good dials on these watches are few and far between...
Back before I was aware of these watches I picked up 5 dials on ebay for $7.99 but didn't pay much attention.
A few years later it was "wait a minute" and one of them was the one pictured below. I suspect it is the same as Victor's dial.
A brief soak failed to make those lines disappear but I may try it again.
November 24, 2014, 17:12
David Abbe
This is Vic's Brandt 23 Jewel Omega CCCR. Vic told me that after he serviced it, it is running fine. It is definitely the real thing, and being a Hunter (

) movement with that 24 Hour Numeric "Monty" style dial and original "pinned" regulator arm, it is really up there in rarity as a desirable collectible! Just add a click wheel retaining screw to make it "perfect", but my bet is this is the way it last came out of a Canadian Railroader's Pocket!
. . . Another watchmaker I know has records of as many as 250 of these Hunters made in the range 2516300-2516550 does anyone have any record other 16S or 18s Hunter Cased 23J CCCR RRG Omega's?
. . . .I wonder Vic's (above) started out life in a hunter case?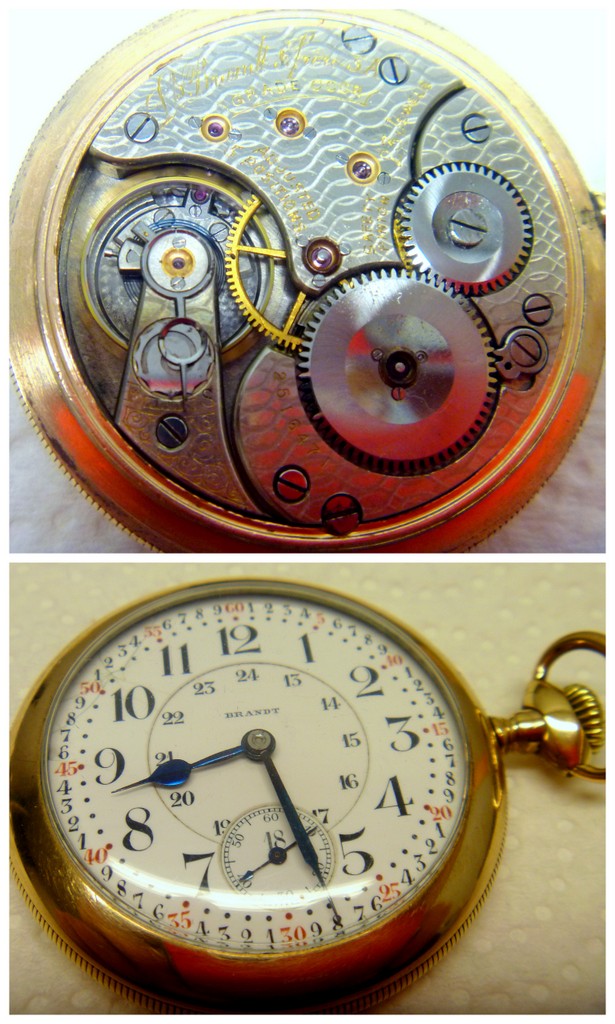 November 24, 2014, 18:16
Victor Kienas
it looks like this case never had another movement in it by the screw marks.this case has heavy brassing on the back from heavy use so has been with it for a long time.maybe was in a hunter case and it wore out.who knows.anything is possible.this old case still shines up fairly nice with a little hand polish.i was going to find a nice case for it but then thought I should just leave it the way I got it.i am sure it worked well for the train guy that had it.
November 24, 2014, 19:15
David Abbe
Vic, I would leave it as-is and enjoy it as a piece of history.
An interesting "factoid", it has been reported that Omega named snd signed these "Le Brandt & Freres SA" for sale in North America so they could be distributed separately from their main Omega Brand name market outlets.
November 25, 2014, 20:15
Theodore J. Brown Sr.
Very nice Brandt, Vic!Every time I see one of those, the more I want one.Did anyone else notice the unusual regulator on that one?I've seen many pictures of these Brandt/Omega RR's, but have never seen that type reg. before.Could that be because of it being a hunter?....Ted.
November 26, 2014, 08:56
Buster Beck
Such a nice piece !! I would be on the hunt for a correct hunting case like it would have come in to make it correct.
Is it a 18size ?? A Canadian member just sold a nice YGF 18sz hunting case on site that it would of looked sharp in and made it complete once again.
regards,
bb
November 26, 2014, 11:11
Victor Kienas
it is a 16 size.would it have been in a hunter case for sure.how would a person know for sure.
November 26, 2014, 13:22
David Abbe
At this point, I would guess that the first case was a hunter. The actual difference between the CCCR and the DDR is fanciness of the damaskeening and the regulators.
While this is a 16s, Omega had the same plate design for both 16 and 18 size "R" movements.
November 26, 2014, 16:15
Lorne Wasylishen
Victor, a hunter movement in an open face case like yours is often called a "sidewinder".
Hunter movements have the winding crown at 3 o'clock and the setting lever at about 4 o'clock (5 o'clock on 18 size).
Open face movements have the winding crown at 12 and the lever set at 1 (2 on 18 size).
Chances are you watch was originally sold in a hunter case but there is a small chance the purchaser may have requested an open face. We will probably never know but if meant for a hunter most collectors feel that is where it belongs.
Dave, p. 535 in The Guide distinguishes the DDR/CCCR as such:
DDR = RR grade, 18 GJS, 2 diamond end stones.
CCCR = RR Grade, 15 GJS.
GJS = (Gold Jewel Settings)