Internet Horology Club 185
London Verge Fusee
February 27, 2008, 17:21
Tom Brown
London Verge Fusee
Hello to All
I am attaching some photos of a pocket watch I just finished restoring, I was wondering if anyone might have any information on the maker, John Crofswell, London. All I have located is the year 1825 listed for him. Also from the case marks I thibk they are marked London 1813. Please correct any of this information if I am wrong.
The watch is in a sterling pare (sp) case with a bulls eye crystal. The side button to open the outer case is worn away, I am trying to think of how to make a new one. The dial is approx. 48mm in diameter.
So far after getting this back together & running it has kept good time. I know these are not rail road watches but I am a big hostory buff & I like getting these running again.
I look forward to any coments or information.
Tom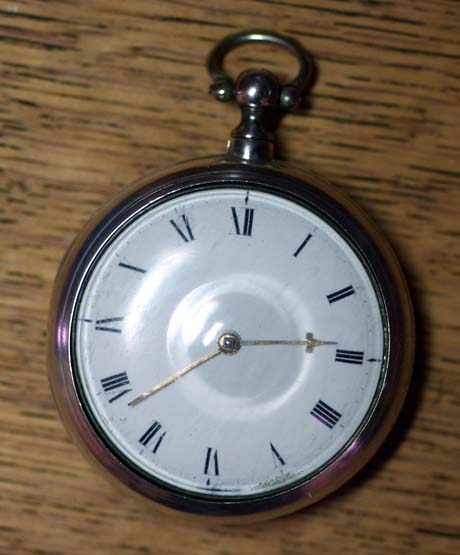 February 27, 2008, 17:22
Tom Brown
2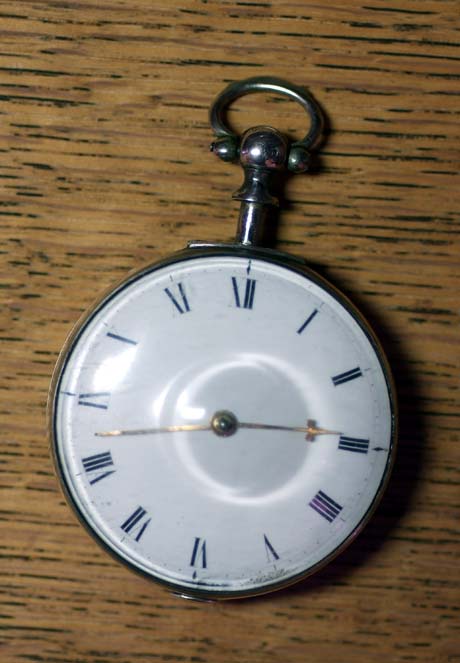 February 27, 2008, 17:22
Tom Brown
3
February 27, 2008, 17:23
Tom Brown
4
February 27, 2008, 17:24
Tom Brown
5
February 27, 2008, 17:25
Tom Brown
6
February 27, 2008, 17:27
Tom Brown
Sorry for all the typos in my post, typing is not my thing.
Tom
February 28, 2008, 15:43
John Woolsey
Beautiful watch Tom, Many thanks for posting the pic's for us!
It's great too that you're getting your hands dirty restoring watches like this, as many folks are scared whitless just thinking about touching them!
Well Done!
This type of watch case is termed a 'Pair Case' simply 'cos there's two of 'em!
You'll also find them on English Lever type watches and also the less common full plate cylinder watches.
I can find nothing of your maker in any of my books unfortunately, but Brian Loomes has recently published a completely updated volume of his 'Watchmakers of the World' publication.
It's a bit rich for me at the moment at around £60GBP, but if you've a few bucks burning a hole in your wallet, may be worth buying.
The year of the case I would put at 1833, because of the leopards head crest which was introduced in 1821/22, so fits in well with the info you have on Crofswell.
The casemaker is probably Joseph Wickes, as he used the incursive initals 'IW' between 15 March 1831 (Wenlock St, St Lukes), and from 11 May 1832 (52 Sutton St Clerkenwell) from which point there's no further mention of him registering the mark again, so it's likely he was using it at the time of the hallmarking.
Unfortunately many other casemakers were using the same mark, but Wickes is the only one that fits the assay date.
Great watch!
Best regards
John
February 28, 2008, 20:25
Tom Brown
John
Thanks for the great info, I was wondering if this was a Wickes case. I have Loomes book but it also has no mention of Crofswell, I found the date on him from the internet.
I enjoy working on these watches, I have another one that is finished except I need a new hairspring & then a case for it. It has a very fancy handpainted dial with a carriage on it.
I also finished another one late last year & found a descendant of the maker living on the Jersey Isle & gave it back to his family. They were really excited to get it.
Thanks again!
Tom
March 08, 2008, 09:25
John Woolsey
Tom,
It's Great that you enjoy working on these watches and get them running again - they certainly sort the men from the boys because you Have to be a 'Watchmaker' to repair them to a standard they'll even run!
No 'bolt on bits' from a similar production run movement with these babies!
Good luck with the hairspring and case, although think the spring will be the easier fix!
What a superb gesture, to restore a watch then hand it back to the same family it was created by!
Awesome!
Best regards
John
March 10, 2011, 10:50
Malcolm Gerald Hill
I notice that the watch case has been possibly identified as being made by Joseph Wickes a london watchmaker who traded from the Islington Road and who was my 3rd great grandfather and also the father of Valentine Wickes my 2nd great grandfather also a watch maker.
If anyone has any details about these two I would be very grateful
regards malcolm


malc_hill
March 10, 2011, 11:57
Tom Brown
Malcolm
Any idea if this was Valentine? It is from the 1825-26 Pigot's Directory for London, England.
Tom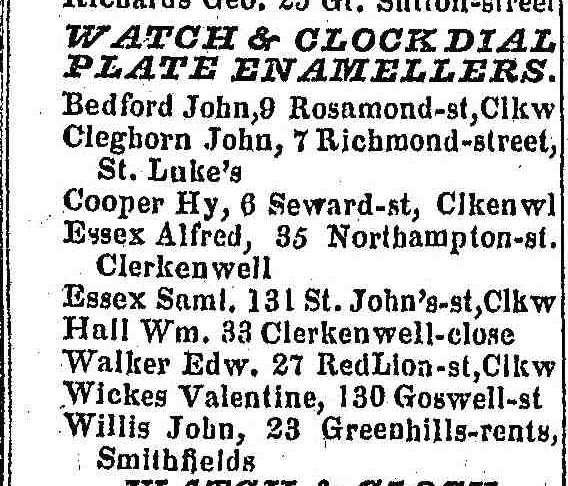 March 10, 2011, 12:01
Tom Brown
These are the Wickes listed in the 1848 London Post Office Directory.

March 10, 2011, 12:09
Tom Brown
I also found where Valentine Wickes married Mary Gunn Jan 6, 1840. Wickes is listed as an enameller & his father is listed as Joseph Wickes Watchmaker.
Tom
March 10, 2011, 15:21
Malcolm Gerald Hill
Thanks for that it is valentine Wickes B 14.12.1799-22.3.1893.In 1825 when his son Valentine Wickes junior was born the baptism registration at St Mary's Church Islington shows that he was living at 1 Gee Street Goswell Street and at the time he shows his occupation on the registration as an Enamaller.
I have never seen the Directory however for that time.


malc_hill
March 10, 2011, 15:30
Malcolm Gerald Hill
I have just checked my tree Tom and your right he did marry Mary Gunn on that date she was his second wife as he married Mary Barrett first in Feb 1824.
I have found a bit about his father Joseph but not anything like Valentine Wickes.All I know about Joseph is that he is listed in the Directory for Watchmakers and Clockmakers of the World in 1786.He married a Grace Hancock in October 1791 in Islington Middlesex and in 1811 he had premises in Lombard Street in London.
What I would like is any information about hsi early years,for example who he was apprenticed to and any information about his father who may also have been a clockmaker.As through Joseph wickes,Valentine Wickes and Valentine Wickes Junior it was already in 3 generations
Any help would be appreciated.
Thanks for what you have supplied already
regards malcolm


malc_hill
March 10, 2011, 18:18
Tom Brown
Malcolm
I will email you about this with copies of what I have found.
Tom
March 14, 2011, 11:14
Malcolm Gerald Hill
Tom thanks for your posting but we have just got back froma weekend on the coast and my wife unfortunately deleted your email by mistake as she had several hundred to go through.Sorry to put you to the trouble but could you possibly resend it.
Thanks once again
regards malcolm


malc_hill
March 14, 2011, 16:18
Jerry Freedman
I think the year mark is 1813. The leopard has a crown which was dropped in 1822 and later.
October 29, 2014, 14:25
James Wickes
Hi Tom Brown
I am new to this site. I found your message on the internet Re: John Crofswell Can't help there but I am the 8th great grandson to Joseph Wickes born 1726. His son was John Wickes born 1756, his son was John Haughton Wickes Sr. and his son was John Haughton Wickes Jr. all 4 generations were Clockmakers. The last 3 all lived on Clements Lane London. and had a shop at 27 Cannon Street London. I am looking to obtain a clock or watch made by anyone of them to have in the family and to past on to my grandson upon my passing. If you ever come across one please contact me. Best wishes James Wickes
October 29, 2014, 19:01
Ken Berry
Hi
Brittens fifth edition has an entry for Wickes
"Wickes Wm Threadneedls St 1680 Geo Wickes his son removed to Leadenhall St and from thence in 1720 to the King's Arms Pantone St; for continuation of this business see Wickes & Netherton, Parker & Wakelin, Wakelin & Taylor, Wakelin & Garrard, and Garrard Robt. John (Wickes) 27 Cannon St livery CC 1786; 8 Clements Lane, 1804. John Haughton 8 Clements Lane 1806; livery CC 1810; J. H. Haughton & son same address 1810-35. W. G. 114 Leadenhall St 1823. W 8 Skinner St Clerkenwell 1835
There is a bit more but the spelling changes to Wicks.
Sorry Tom can't see any entry for Crofswell or even crosswell
November 27, 2014, 20:32
Victor Kienas
I believe the case was made before 1821 because it looks like the leapards head has a crown on it.pre 1821 always had a crown on it.nice job.i love restoring these fuse verge watches also.i have about 25 or so movements I am working on and also have about 20 working that I have nursed back to life.my oldest is a French verge by the noted Romilley,it doesn't have a serial # on it so it must have been one of his first.another thing about it is very rare because it has a English style very wide footed balance cock.all the other ones I have seen are the 2 footed balance cocks.this is authentic with signed dial and movement.i date it to the first years of his making in about 1750.i also have a French 4 case verge from the 1700s with square pillars.i love these verges but every one is different so you cant take parts from another and put them into what you are working on without modifying them.glad to see someone else is fixing these and enjoying them