Internet Horology Club 185
Help To ID early Swiss 12 L movement
April 22, 2017, 11:35
John Willis
Help To ID early Swiss 12 L movement
Recently acquire this watch, Sterling silver with three bears British Import marks tells me it was made prior to 1907 in Switzerland for import to England. Was made into a WW at sometime. Case is very good quality and quite heavy and sturdy. Marked .935.
Watch has very nice quality movement. I have not taken it apart but cannot find any ID marks, Does have a couple numerical marks on it. You will note the Wolf Teeth and presence of the end caps. Would appear it might have had a Geneva Stop Work fitted at some time. Has bimetallic balance with Breguet hairspring.
It is fitted with a pressed on dial (no feet) sans seconds chapter. A ring surrounding the dial has tiny slots at the 12 and 3 positions. This arrangement allows the movement to be used as either an open or hunter movement.
Movement runs but need service. Would appreciate any help you may have.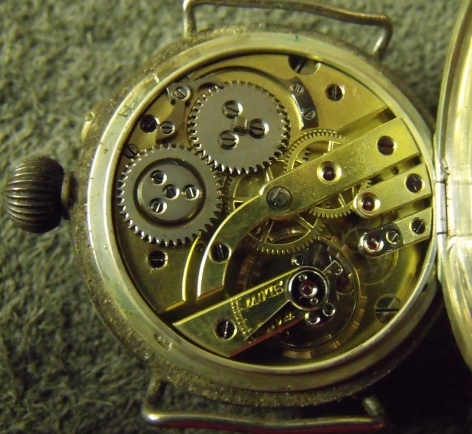 April 22, 2017, 11:36
John Willis
Another pic.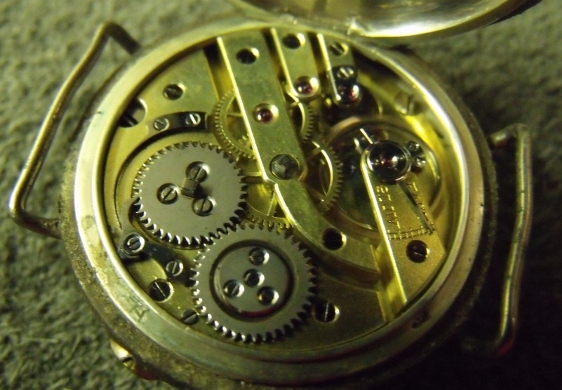 April 22, 2017, 11:38
John Willis
Another. Hopefully you can seethe tiny slots in the ring around the dial. Has any body ever seen this on a watch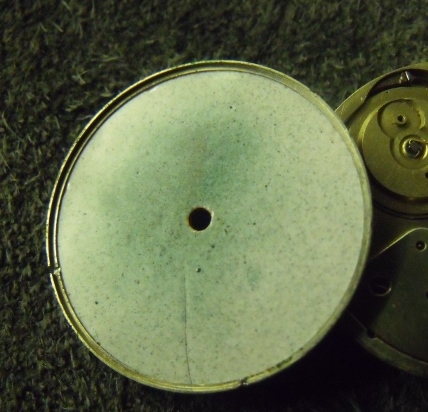 April 22, 2017, 11:40
John Willis
Another: you can see where a Geneva stop works may have been fitted but see no evidence it ever was.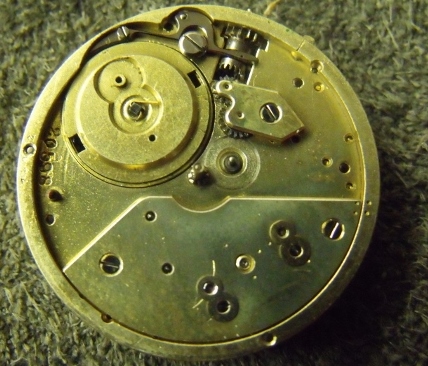 April 22, 2017, 11:41
John Willis
Another as found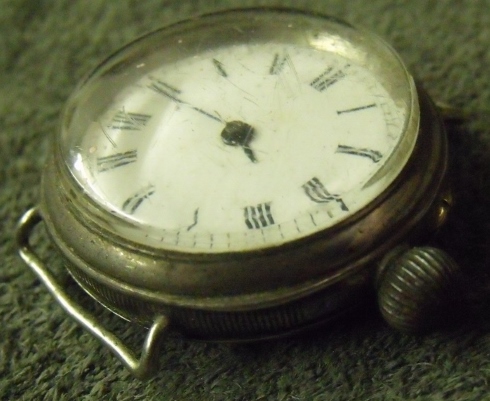 April 22, 2017, 16:18
Enrico Busuito
this is a LeCoultre ebauches
regards enrico
April 23, 2017, 18:55
John Willis
Hi Enrico; Thank you for the information. Any more info.? Cal. no. etc. Do you know if they used the "switchable" dial on other movements? Thanks again, John
April 24, 2017, 23:09
Enrico Busuito
I'm sorry but I do not know the exact caliber. Lecoultre has over 1000 different calibers. The snaps on dial , and wolf teeth were reserved for high grade caliber.
regards enrico
April 25, 2017, 06:56
John Willis
Thank you Enrico for the help. I have it torn down and it looks very good. It is a very nice movement.John
May 21, 2017, 19:58
John Willis
Hi: Not sure if anyone will see this but I need some advice here. After cleaning this watch it is not carrying the hands properly. (Did so prior to cleaning).It has an arbour that fits through the center wheel (center wheel staff is hollow) which then holds the cannon pinion. I am not sure where the friction is at play. It makes sense to me that it would be between the center arbour and the center staff as opposed to between the Cannon pinion and the center arbour. If this is so how does one correct the loss of friction at this point. Hope this makes a little sense to someone. Thank you
April 09, 2018, 19:19
Victor Kienas
I just finished one with the same type of cannon pinion type you have..all you have to do istap the cannon pinion down against the shoulder of the sleeve that the pin runs through .the back part of the pin with the square head on it must be on something solid under it and the cannon pinion facing up..then gently tap the cannon pinion down so it makes contact and pressure on the sleeve that the gear is held in place with..do it gently and then turn the square head on the back to see how much resistance there is..you have to be carefull not to put to much resistance on it, because if you do, you can break of the teeth of the setting gears when you try to set the time..so basically you have to tighten the fit of the cannon pinion to the small shaft with the square head on it..