February 08, 2006, 16:07
Jerry Freedman
Patek Phillipe Help!
I have been offered this watch, and I know nothing about Patek Phillipe. This is a 16S, open face watch in a plain case. The watch looks to me as if it were made for export to the USA. The name uses Co. instead of Cie. I believe it was cased in the USA. No makers name is on the case. Also, the regulator uses F and S rather than A and R. There is some dial damage at 27 . Serial number is 62066, while case is 62055. Here are 4 pictures. When was it made? What is it worth? Is it a good movement? HELP!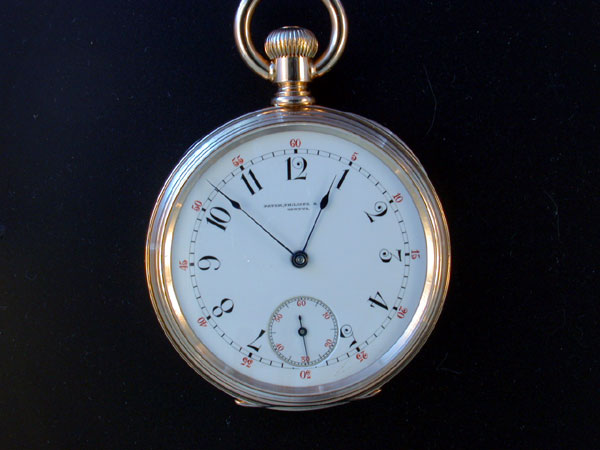 May 16, 2006, 16:47
Lowell Fast
How about a shot of the plate under the dial?
Lowell
May 16, 2006, 19:03
Sheila Gilbert
The one on page 536 in the 1006 Guide is almost identical to yours, and says, Patek Philippe & Co. signed on 18k cuvette, early stem wind, moustache lever, wolf tooth winding, 18J, gilt movement, S# 45,483, 49mm, Ca. 1875
There are a few differences though, small ones.
Could they be the same?
May 17, 2006, 10:14
Tom McIntyre
It is an early Patek. If you want to discuss value, it should be posted in the Perils forum.
I had an
earlier one
that is posted on my web site.