November 25, 2014, 12:37
Bob Rehberg
M. Gunzinger & FILS with chain and bird fob.10j. 2 adj.
Wondering if anybody can fill me in on this watch. I need to immediately sell and need a place to start.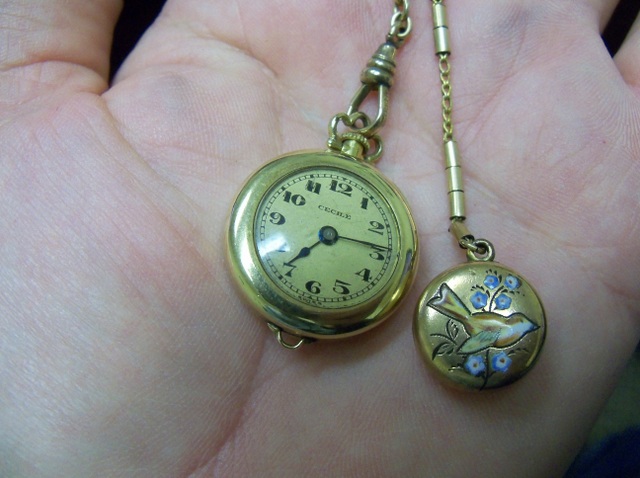 November 25, 2014, 13:49
Gerald Zimmermann
Hi Bob
A nice swiss fob or lapel watch from the 20's
The movement is a very common type of 10j cylinder-escapement which was made in large numbers by manufacturers like FHF (and others); finished and cased by many small watchmaking companies and exported and sold worldwide.
Melchior Gunzinger founded a small manufacure in 1900 in Welschenrohr; switzerland. His son Joseph Gunzinger took over the company 1920 and the name changed to Gunzinnger Freres (brothers). 1924 he registered the trademark 'Technos' and started to build and trade watches with this label with growing success. 1970 the company was sold to the General Watch Co (450 employees, exporting mainly to Brasil and Japan)
'Cecile' was a trademark registered for Porter Watch Co; importers; New York.
Regards
Gerald
November 25, 2014, 20:15
Bob Rehberg
Thanks Gerald, I really appreciate the history lesson on this watch. Winds and runs nice. Going to list if I can find some similar watches and what they sell/sold for.
Have a great day!